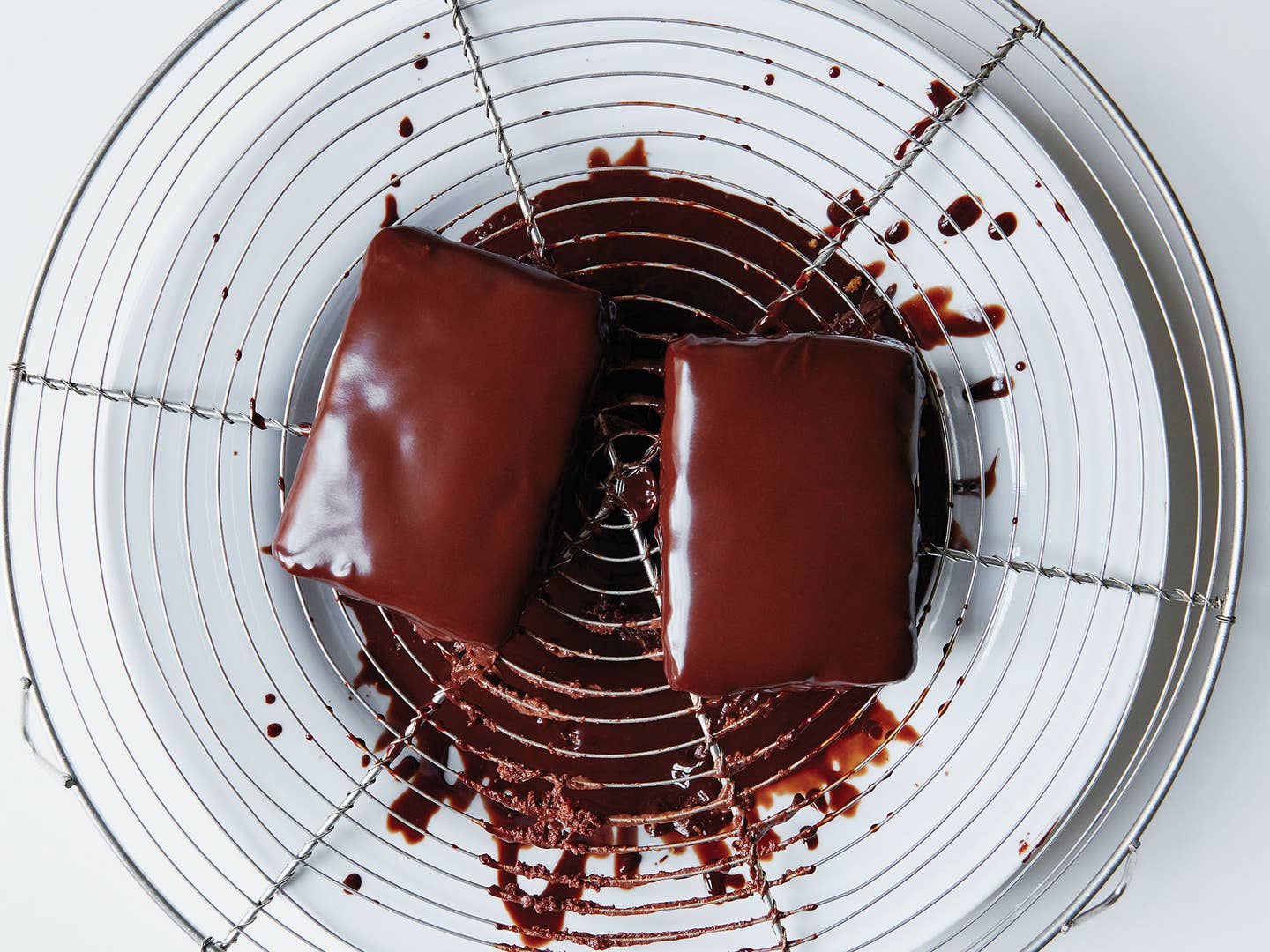 Recipes
Dorie Greenspan's Frozen Chocolate Mousse Recipe is the Dessert to Make All Summer Long
Part ice cream, part frozen Three Musketeers bar, with no special equipment required
Do you like frozen candy bars? Of course you like frozen candy bars. For the same reason we love frozen chunks of candy in ice cream: nothing else gives that perfect mix of chewy, crunchy, and creamy texture. Here, then, for your frozen candy needs, is the deluxe version to make at home. One you'll turn to on every warm day of summer.
Dorie Greenspan calls it a marquise au chocolat, which is a Frenchy-French way of saying frozen chocolate mousse. It's a pillowy rectangle of fluffy, creamy, intensely rich chocolate that's set in the freezer and then left to soften slightly like melty ice cream. It's coated in an even richer layer of chocolate ganache. It's full of stuff, like crushed cookies or candied ginger or nuts or whatever else floats your boat. In other words, it's a giant ice cream bar full of candy bits, or a giant frozen candy bar full of ice cream.
You make the mousse by gently combining whipped egg yolks and sugar with melted chocolate and then, eventually, whipped crème fraîche, for a thick mix that sets when frozen much like ice cream, but holds its shape even when soft and melty. (In other words, this is basically a chocolate ice cream recipe with no ice cream maker required.) Once mousse sets in the freezer for a few hours, you can remove it from its molds—wax paper or plastic wrap lining the molds makes this a breeze—and then drench it in ganache to smooth out any wrinkly edges.
As for the chunks, they're really up to you. Greenspan loves Biscoff's speculoos cookies, but graham crackers, Marcona almonds, candied citrus peel, and Jordan almonds are all fair game. The recipe is easy enough that once you get started, you may find yourself whipping up a different marquise every week. Summer can't come soon enough.