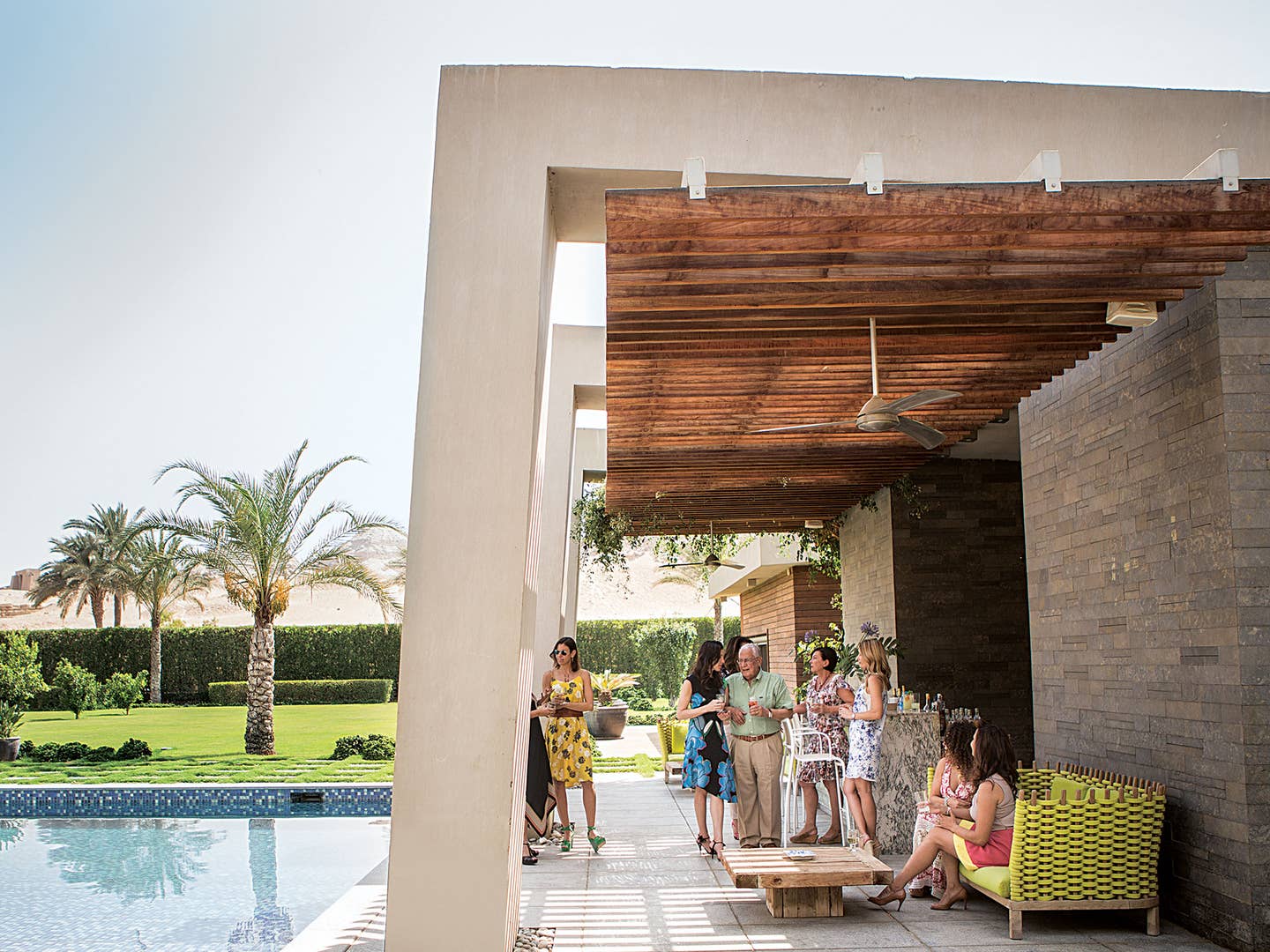 Culture
Lunch at the Desert's Edge
Cookbook author Suzanne Zeidy prepares a leisurely meal, with the pyramids of Egypt as her backdrop
Lunch here in Egypt is a big deal. Bigger, indeed, than dinner, which is typically just some meze (finger foods) and drinks. On Fridays, especially, the beginning of the Islamic Sabbath, we bring out our nice china and cook a lunchtime feast. Making more food than your guests can possibly eat is the Egyptian way.
That's why I've gathered family and friends for lunch on a hot day at my house in Abusir, a town just south of Cairo. We've been cooking for hours. The night before, I made mango sorbet spiced with anise, cardamom, and clove, and baked pistachio tuiles to serve with it. It's a more stylish way of using the country's fine mangoes—we have more than 20 varieties—which are usually served simply sliced for dessert. My own version of the rotisserie chicken you find at Cairo's street stalls has been slowly rotating over a fire. I've flavored them with herbs and slipped sumac and lemon zest under their skins to make them a little more special.
The queen of lunch when I was growing up was my Aunt Abla. Every Friday in the late afternoon, a roving cast of 20 or so friends and family, including my father, my older brother Helmy, and me, would start trickling into her apartment in Cairo. Abla was known for traditional dishes like mahshi kronb, cabbage leaves stuffed with rice; mulukhiyyah, a gelatinous soup made with bitter greens; a big turkey; roasted beef; and rice, of course. She was an extraordinary hostess, but she wasn't alone; in Egypt, where there hasn't been much of a restaurant scene, social activity and good meals are found mostly in people's homes.
My family has since moved out of Cairo's city center, which has become more cramped than it was when I was young and could ride a bicycle through the streets. My father lives near me in Abusir; my brother and his wife are next door, and we share a garden where we have the space for a domed outdoor clay oven that we use for baking aish baladi. It's one of the few strictly traditional items I make. Balad means "my country" in Arabic, and these whole-wheat flatbreads are sold on every corner in Cairo and eaten at every meal. I also like to serve another traditional dish, a simple salad made of purslane—the lemony succulent grows like a weed in Egypt, so much so that it's not sold in stores. I toss it with fresh herbs, walnuts, goat cheese, and a balsamic-mustard dressing perked up with horseradish.
When my dad hosted the big Friday lunch, he liked to experiment: He would play around with the fillings of b'stilla, a poultry pie that probably originated in Morocco but is now found all over the Middle East. In Morocco, the pie is made with layers of warqa, an ultrathin pastry, but here in Egypt, we use the slightly thicker phyllo dough. Dad would add ginger to the chicken filling for an Asian twist, or replace the poultry altogether with spicy beef and chiles. Today, he helps me make one of his favorite creative versions of b'stilla, with a spiced mixture of braised veal and pearl onions between flaky layers of phyllo. As the sun burns bright in the sky, we pass it around the table along with the salads, roasted chickens, and colorful tahini dips—my riffs on the classic sesame and garlic spread modernized with beet, carrot, and parsley to bright effect.
From my house, you can see the town's 4,000-year-old pyramids in the distance. When you think of Egypt, you might think of the iconic pyramids in Giza, but there are more than 80 of them spread throughout the country. Some people think the ones in Abusir look like rubble, but I see something more uplifting. When I look at them I remember what my brother once said when we were staying at home during a time of unrest. "These pyramids have seen so much change. Time just goes on and on." In our lifetime, the food and backdrop of our Friday luncheons have changed, and will probably change again when our children and grandchildren start hosting them, but the profound pleasure of making a meal with your own hands is eternal.
See all the recipes from Lunch at the Desert's Edge in the gallery, below.
Suzanne Zeidy is the co-owner of street-food-inspired restaurants in Egypt. They share the same name as her latest cookbook, Cairo Kitchen (Hardi Grant Books, 2015).