Recipes
Grilled Vegetable and Barley Salad
Say hello to your new lunchtime staple.
Serves

serves 8

Cook

2 hours 30 minutes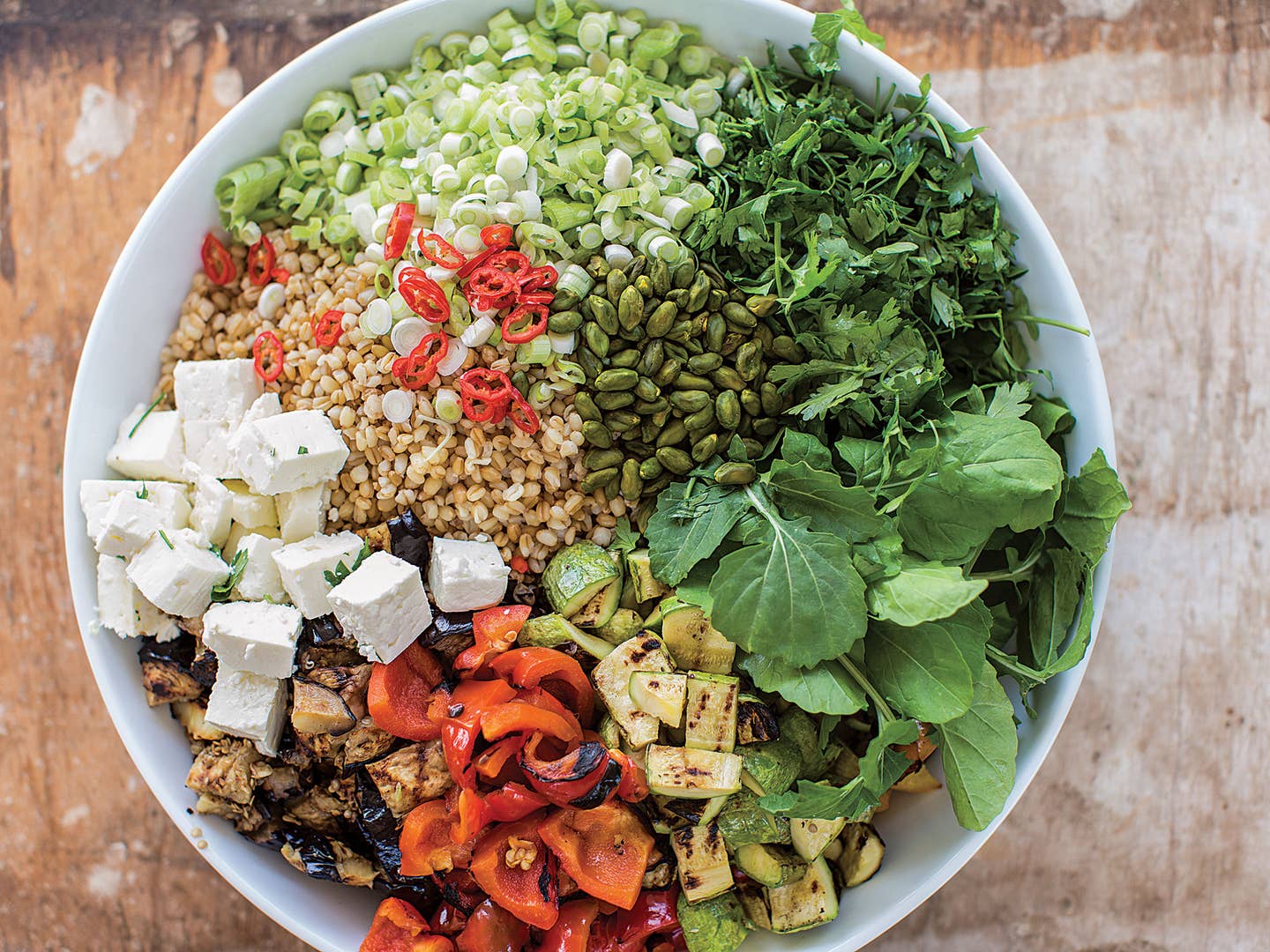 In Egypt, barley is typically eaten in a pudding for breakfast or dessert, but in this recipe from Suzanne Zeidy, it's turned into a hearty salad with grilled vegetables, feta, and pistachios. Grain bowls like this one are a great way to clear out your fridge. Add just about any leftover cooked veggies, and dress with a light vinaigrette for a quick and easy desk lunch. For more ways to add smoky, flame-kissed flavor to salads and sides, check out all of our grilled summer salad recipes.
Ingredients
2 1⁄4 cups pearl barley
2 large zucchini, cut lengthwise into 1/2-inch-thick slices
1 medium eggplant, cut crosswise into 1/2-inch-thick slices
2 red bell peppers, stemmed, seeded, and halved
1⁄2 cup extra-virgin olive oil, divided
Kosher salt and freshly ground black pepper
1⁄4 cup fresh lemon juice
1 tsp. ground cumin
1⁄2 tsp. ground coriander
1 clove garlic clove, finely chopped
2 oz. feta cheese, cut into 1/2-inch cubes
1 cup loosely packed arugula
1 cup coarsely chopped cilantro
1 cup cup coarsely chopped Italian parsley
1⁄4 cup pistachios
4 scallions, thinly sliced
1 long red chile, stemmed, seeded, and finely chopped
Instructions
Step 1
In a large bowl, soak the barley in water for 1 hour and then drain. Meanwhile, light a grill. Brush the zucchini, eggplant, and peppers with 1⁄4 cup of the olive oil and season with salt and pepper. Grill the vegetables, turning occasionally, until tender and charred, 10 minutes. Transfer to a board and cut into 1⁄2-inch pieces.
Step 2
Bring a medium pot of salted water to a boil and add the barley. Turn the heat down to medium and cook until the grains are tender, about 45 minutes. Drain the barley and set aside to cool to room temperature.
Step 3
In a large bowl, whisk the remaining olive oil with the lemon juice, cumin, coriander, and garlic, and then stir in the reserved barley; season with salt and pepper, and transfer to a platter. Arrange the grilled vegetables, the feta, arugula, cilantro, parsley, pistachios, scallions, and chile over the barley, and serve at room temperature.