Recipes
Veal and Pearl Onion B'stilla
A hearty take on North Africa's flaky meat pie.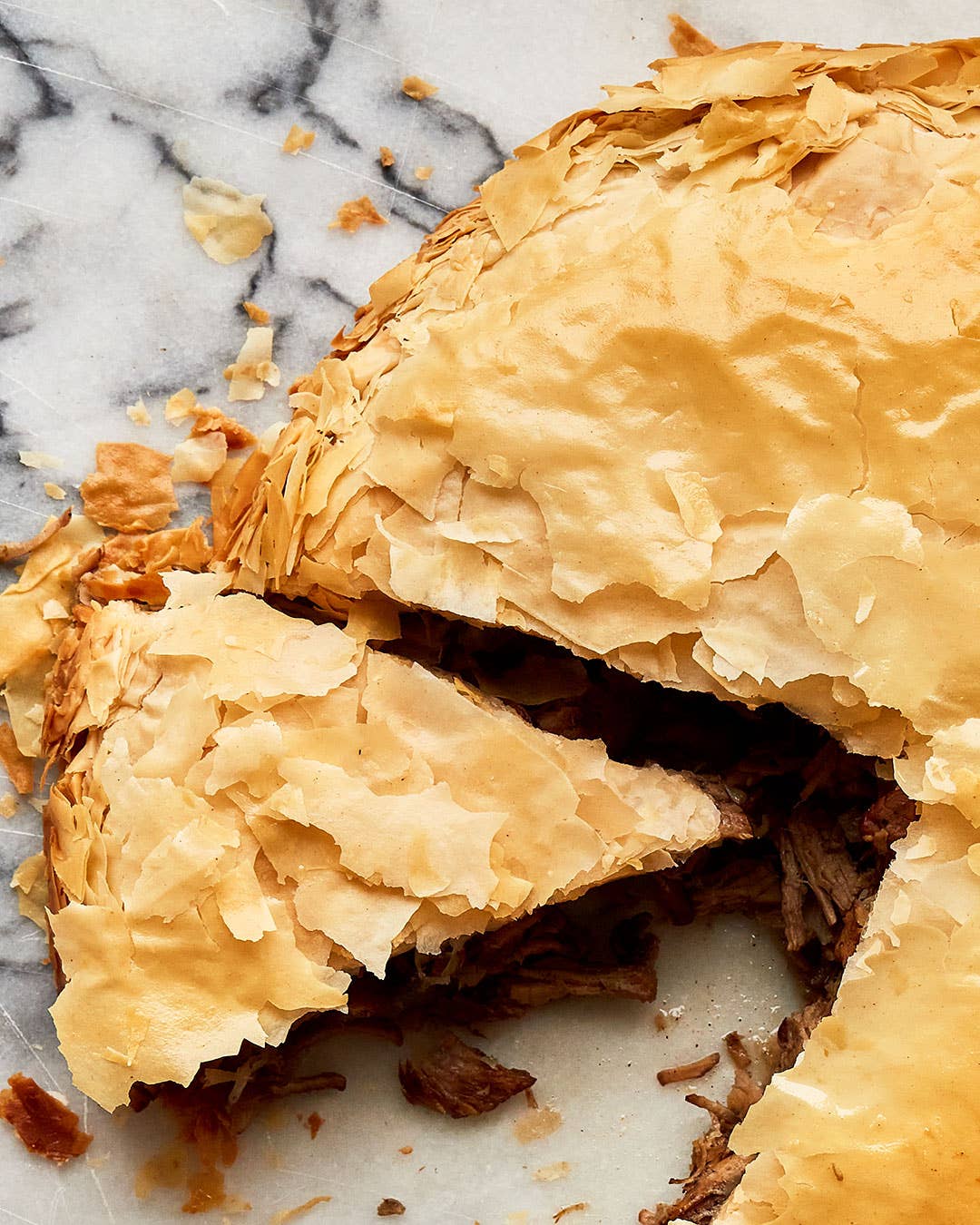 B'stilla, a North African meat pie, is traditionally made with poultry. Cookbook author Suzanne Zeidy's take includes veal and caramelized pearl onions. When ordering the veal for this recipe, have your butcher remove the bone.
Ingredients
3 Tbsp. olive oil
10 Tbsp. unsalted butter, melted, divided, plus more as needed
1 lb. pearl onions, peeled
2¾-lb. boneless stew veal, cut into 2-in. chunks, patted dry with paper towels
Kosher salt and freshly ground black pepper
1 tsp. freshly grated nutmeg
1 tsp. ground allspice
1 serrano chile, seeded, and finely chopped
4 cups veal or chicken stock
16 phyllo dough sheets (8 oz.), thawed
Instructions
Step 1
To a large pot set over medium heat, add the olive oil, 2 tablespoons of the butter, and the onions and cook, stirring occasionally, until soft and deep golden brown, about 20 minutes. Using a slotted spoon, transfer to a bowl and set aside. To the empty pot, add the veal and turn the heat to medium-high. Season with salt and black pepper to taste and cook, stirring occasionally, until browned all over, about 12 minutes.
Step 2
Add the nutmeg, allspice, and chile and cook, stirring frequently, until fragrant, about 1 minute. Add the stock and reserved onions and turn the heat to high. When the liquid boils, turn the heat to medium-low and cook, partially covered and stirring occasionally, until the veal flakes when poked with a fork, about 1 hour 15 minutes. Remove from the heat; when cool enough to handle, coarsely shred the meat, adding it back to the sauce; set aside.
Step 3
Position a rack in the center of the oven and preheat to 350°F. Using some of the remaining butter, grease a 9-inch springform pan. Line the bottom of the pan with 1 phyllo sheet, letting the excess creep up the sides, then brush with melted butter. Repeat with 7 more phyllo sheets, brushing butter between the layers and rotating each new sheet one quarter turn so that the crust overlaps decoratively.
Step 4
Using a silicone spatula, spread the veal mixture over the crust in an even layer. Fold the overhanging phyllo down onto the meat and brush with more butter. Drape 1 phyllo sheet on top of the pie, brush with butter, then top perpendicularly with another sheet. Repeat with the remaining sheets, brushing each new layer with butter, then tuck the phyllo corners down the sides of the pan. Brush all over with butter and bake until crackly and golden, about 40 minutes, then transfer to a wire rack to cool for at least 10 minutes before unmolding. Serve warm or at room temperature.