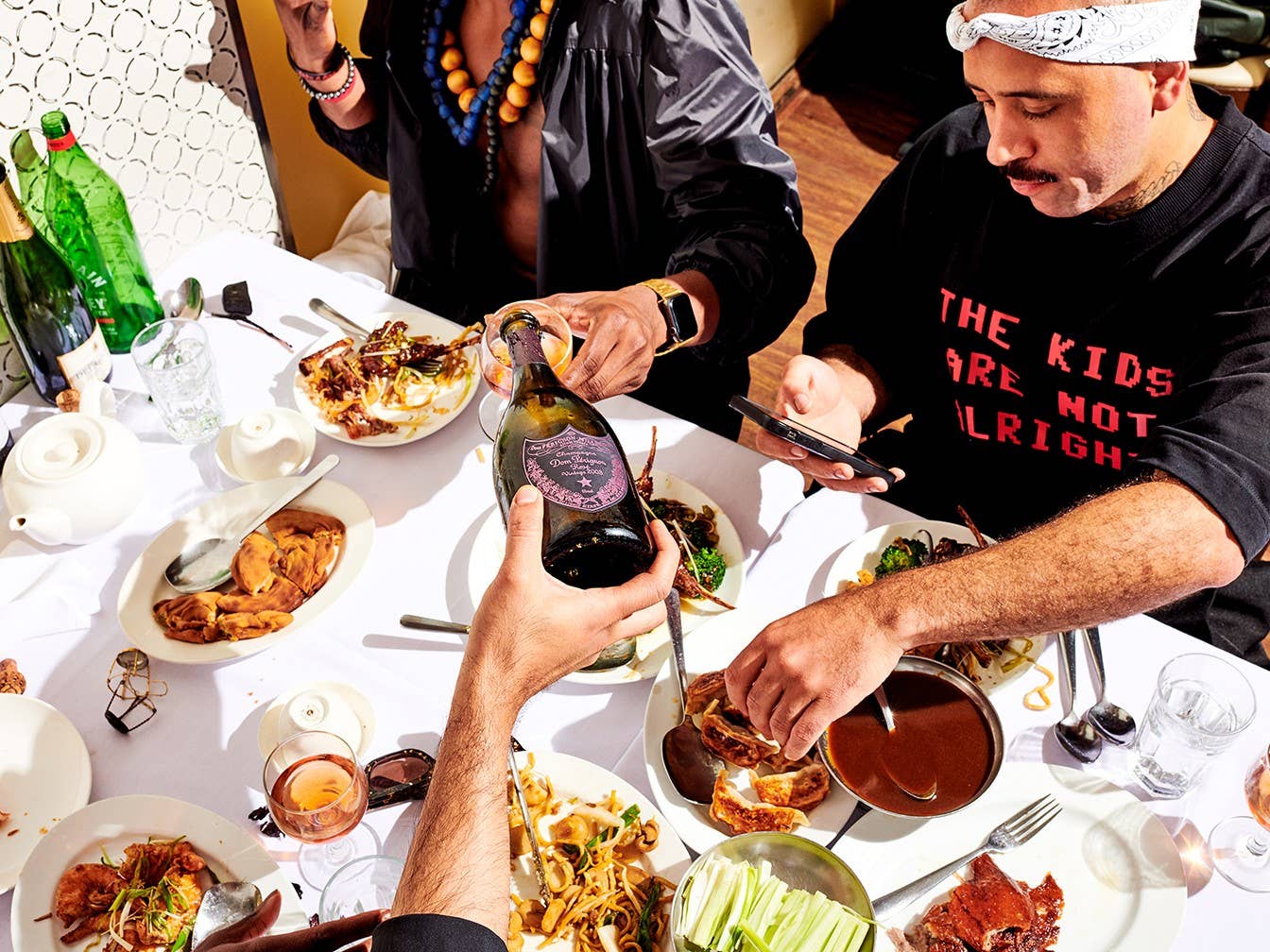 Culture
Meet Manhattan's New Guard of Wine Pros
How four friends are redefining their industry's stuffy reputation through BYOB Champagne lunches at a Chinatown institution.
Peking Duck House on Mott Street in Manhattan is a local institution, and not just for its legendary food—for four wine professionals native to New York City, it's a place of community in every sense of the word.
"Growing up, the Chinese food spot on my block was the only restaurant that took food stamps," says Kelvin Uffré, a wine and spirits specialist, educator, and advocate who was raised in the Bronx. "That made such an impact on me—I will never forget the respite that gave my mother from cooking and dealing with three children," he adds, noting that Chinese restaurants are often integral in materially disadvantaged communities. As he got older, Uffré and his friends ventured into Lower Manhattan's Chinatown, skipping class to explore the area and hit the comic book shops between bites of street wings and noodles. Peking Duck House—opened in 1978 by Shanghai-born chef Wun Yin Wu, who still operates the establishment with the help of his extended family—was one of the many neighborhood gems they discovered along the way, and Uffré has been going back ever since.
Fellow wine professionals Óscar García Moncada (wine and spirits director for 67 Wine and Spirits), Mozel Watson (owner of Wines by Mozel), and Marquis Williams (founder of Highly Recommended, a digital wine club and consulting company) each found their way to Peking differently, all quickly becoming loyal regulars. Williams, who has been dining at the restaurant for the past five or six years, estimates having visited well over 300 times to date. Together with Uffré, the tight-knit group have established a monthly lunch club inspired in part by Peking's BYOB policy, pairing Champagnes from their own personal reserves with a feast of go-to house specialties like fried honey spare ribs, salt and pepper shrimp, and of course, the Peking duck.
Wine Migos, as they have come to be known, only ramped things up (as safely as possible) as Peking Duck House emerged from the COVID-19 shutdowns, which were especially devastating to bars and restaurants. "With all the anti-Asian hate crimes that happened here during the pandemic, it felt amazing to not only provide monetary support but to also stand in solidarity with our friends at Peking," Uffré explains. "When I say 'we take care of each other,' I mean we see each other and the feeling of being seen in this industry is like coming up for air. Even though we all come from different intersections, our shared experiences make us New York fam."
According to Peking Duck House assistant manager Steven Shi, Williams and friends (both within and outside of the Migos crew) have made quite an impact on the business through their visits and frequent word-of-mouth advertising. "We really do appreciate [their] efforts to bring us business, especially during this pandemic," says Shi, who has worked at the restaurant for 11 years. The management's BYOB policy wasn't exactly a choice—Peking Duck House's proximity to a local church hinders its ability to hold a liquor license, Shi tells SAVEUR—but it has fostered a unique environment for the Migos and other wine industry professionals to freely create and enjoy food and drink pairings they might not have otherwise discovered, especially given the restaurant's decision to not charge a corkage fee. "We want [our] customers to be able to enjoy the wine while dining in and not worrying about the extra charges on the bill," Shi explains.
In addition to camaraderie, the Migos find a bit of escapism from the usual buttoned-up (and, at times, elitist) wine scene in their regular lunches. The conversation sometimes turns to the industry's exclusionary reputation and how the new generation of wine professionals is seeking to reset the tone. "For us, Peking is a way to get out of the formal, often white-dominated spaces where the sharing of beverage knowledge happens," he says, adding that it's also about "how we push for change with the currency we have."
Typecasting is another symptom of systemic social issues that Wine Migos want to actively shift. "We are trying to break this assumption that only European cuisine can be paired with fine wines—the food [at Peking] offers an amazing form of intercultural exchange while having a feeling of freedom and expression very rarely found in many dining establishments in New York City," says Moncada. "We use our experiences to show our friends and wine clients that Asian cuisine is an intricate part of our culture, no matter what your background might be."
Self-expression is key in this movement, particularly as the wine world in America evolves from the antiquated standard of service in a stiffly-pressed suit. Each Wine Migos gathering is also a celebration of redefining the narrative through fashion. As our shoot for this story began, Uffré and Moncada both emerged from the restaurant's lower level having changed into fresh looks by menswear designer Willy Chavarria, best known for his nods to Chicanx and Latinx cultures, while Williams wore a shirt of his own design paired with his signature bucket hat (Watson arrived already sporting a Chavarria ensemble). Collectively, the four opt for polished meets playful, with clean, voluminous lines, rich textures, and a bold accessory or two.
With everyone dressed for a party, the lunch kicks off. A server brings a handful of wine glasses, and Williams begins pouring. The energy and joy are palpable. Plates begin to arrive, and the table fills as quickly as each glass empties. Moncada's affinity for the salt and pepper fried shrimp generally inspires his wine pick each month: "I look forward to eating this dish days before we meet—I absolutely love the salty, crispy, and crunchy flavors of the shrimp with the slight heat of the pepper." For a "heavenly pairing," his go-to champagne is a blanc de blancs, either a non-vintage Delamotte or Robert Moncuit's Grand Cru "Les Grands." "The notes of bright exotic lemon, orange skin, and chalky nuances are just perfect," says Moncada.
Watson is a die-hard fan of the beef lo mein—a stir-fried combination of sliced steak, water chestnuts, bean sprouts, mushrooms, and egg noodles—and he often reaches for Ruinart Blanc de Blancs, its fine bubbles "act[ing] like tiny knives cutting right through the noodles." Each of the ingredients accentuates the wine's round creaminess and bright green apple notes. "It doesn't matter what's on your fork," Watson says. "It's a perfect match."
For Williams, the fried honey spare ribs steal the show, and an equally standout bottle like Dom Pérignon's 2003 rosé usually does the trick: "Lush berries and red fruits complement the sweetness of the ribs, yet [they] don't overpower," he says. The sharp acidity, according to Williams, cuts through the fat of the meat, washing over the palate and prepping it for the next rich bite. (Shi, who also counts the spare ribs among his menu favorites, shares the secret: "[they're] marinated for two days.") Moncada has paired the tangy flavors with two non-vintage rosé champagnes: Pierre Paillard "Les Terres Roses" Bouzy Grand Cru Extra Brut and Leclerc-Briant Rosé Brut, both of which offer a spicy red fruit element (thanks to the use of Pinot Noir in the blends), offsetting the ribs' sticky sweetness.
And to accompany Peking Duck's famed namesake dish—which, according to Shi, was served to Chinese emperors centuries ago and involves a strict and elaborate preparation—Uffré's choice makes (almost) as much of a statement as each guest at the table: a Leclerc Briant Blanc de Meuniers Brut Zero. "The bracing, saliva-inducing quality of this champagne primes the mouth for the [duck's] fatty sweetness," Uffré shares, layering his house-made pancake with the fragrant oven-roasted meat and its accoutrements. The texture of the thin, crisp duck skin is quite unlike any other in the city, and the restaurant's presentation is the stuff of Instagram legend. "It should be lathered," Uffré advises, adding more hoisin sauce to demonstrate. "Like me at Orchard Beach with a bottle of Banana Boat," he laughs, as he tops off each glass.