Recipes
Salt and Pepper Shrimp
The heat and aromatic spice of black pepper gets center stage in this simple Cantonese classic.
Serves

serves 4

Cook

25 minutes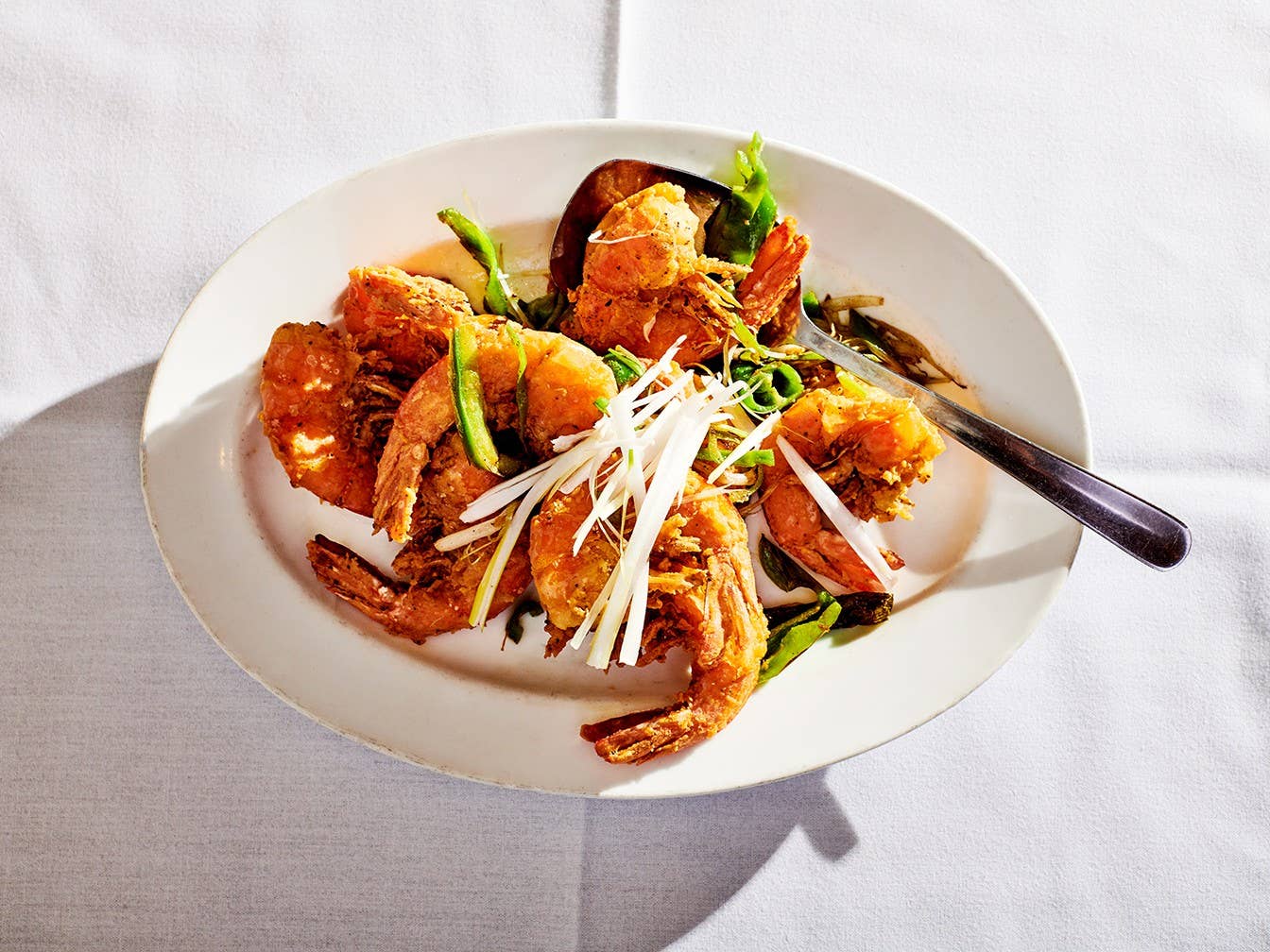 "I look forward to eating this dish days before we meet," says Óscar García Moncada, wine and spirits director for 67 Wine and Spirits, and one of the members of New York City's Wine Migos. The group of young wine professionals meets monthly at the BYOB Peking Duck House in Chinatown to share some of their best bottles of wine over Cantonese cuisine. "I absolutely love the salty, crispy, and crunchy flavors of the shrimp with the slight heat of the green peppers." Moncada's go-to pairing for this dish? Blanc de blancs champagne, such as non-vintage Delamotte or Robert Moncuit's Grand Cru "Les Grands." "The notes of bright exotic lemon, orange skin, and chalky nuances are just perfect," he says.
Ingredients
1 lb. jumbo shrimp
2 tbsp. cornstarch
3 tbsp. canola oil, divided
1 tsp. kosher salt
1 tbsp. freshly ground black pepper
1 medium green bell pepper, thinly sliced (2 cups)
½ cups thinly sliced scallions
Instructions
Step 1
In a large bowl, toss the shrimp and the cornstarch together and thoroughly mix.
Step 2
Heat a large wok over high heat and add 2 tablespoons of the oil. When the oil begins to shimmer, add the shrimp in an even layer and fry without moving until the bottom side is bright pink, 2–3 minutes. Add the salt and pepper and, using a wooden spoon, toss the shrimp well. Making sure the uncooked side of the shrimp is on the bottom, continue cooking until the shrimp is evenly crispy and bright pink, 2–3 minutes more. Transfer to a plate and set aside.
Step 3
To the same wok, heat the remaining oil; when it shimmers, add the bell pepper and stir fry until the pepper is slightly softened and bright green, about 3 minutes. Return the shrimp to the wok and stir to combine. Transfer to a large plate, top with thinly sliced scallions, and serve hot.