Recipes
Honey Pork Spare Ribs
A long marinade and a quick fry are the keys to this sweet and tangy starter.
Serves

serves 4

Cook

8 hours 15 minutes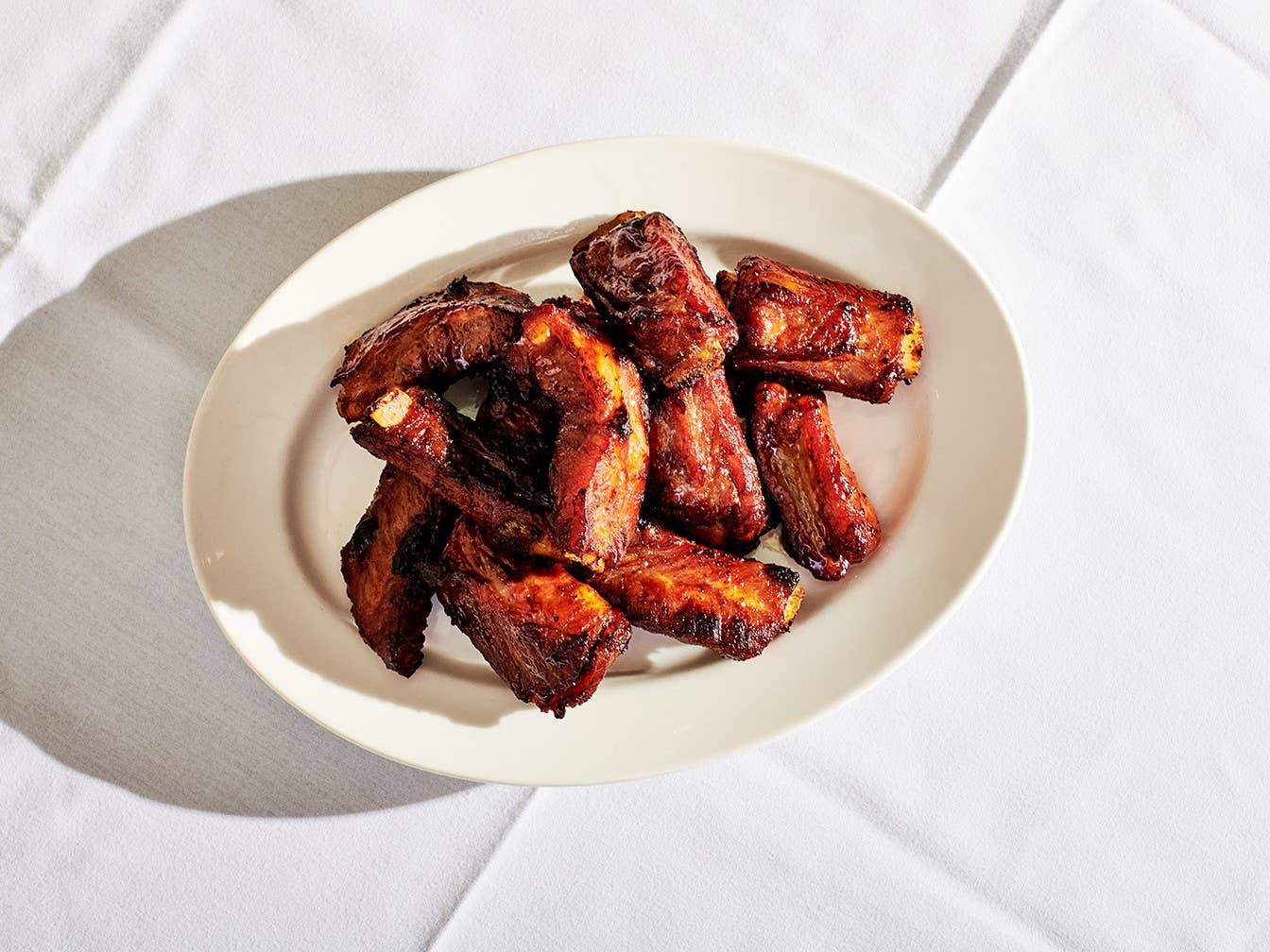 For New York City wine consultant Marquis Williams, it's the fried honey spare ribs that steal the show at Chinatown's BYOB Peking Duck House. Williams likes to pair the dish with a special bottle of champagne; Dom Pérignon's 2003 vintage usually does the trick: "Lush berries and red fruits complement the sweetness of the ribs, yet [they] don't overpower the dish," he says. The sharp acidity, he explains, cuts through the fat of the meat, washing over the palate and prepping it for the next rich bite.
Ingredients
¼ cups soy sauce
2 tbsp. black vinegar
2 tbsp. honey
2 tbsp. sugar
1 tsp. chicken bouillon powder
½ tsp. kosher salt
3 pods star anise
3 lb. pork spare ribs, cut into individual ribs
Canola oil, for frying
Instructions
Step 1
In a medium bowl, stir together the soy sauce, vinegar, honey, sugar, chicken bouillon, salt, star anise pods, and ¼ cup cold water. Stir well to combine, then add the ribs and toss to coat. Cover and refrigerate for at least 8 hours or up to 2 days.
Step 2
Line a large baking sheet with a few layers of paper towels and place it by the stove.
Step 3
To a large, flat-bottomed wok or heavy-bottomed pan fitted with a deep-fry thermometer, add oil to a depth of 2 inches, then preheat over medium heat.
Step 4
When the oil reaches 300°F, remove the ribs from the marinade, pat very dry with paper towels, then add them to the oil in batches. Cook, turning occasionally, until browned all over, 15–20 minutes per batch. Use a slotted spoon to transfer the cooked ribs to the lined baking sheet and keep warm while you continue cooking the rest. Serve hot.