Recipes
Peking-Style Lamb Chops
A lavish, meaty main from a beloved NYC Chinatown restaurant.
Serves

serves 6

Cook

1 day 30 minutes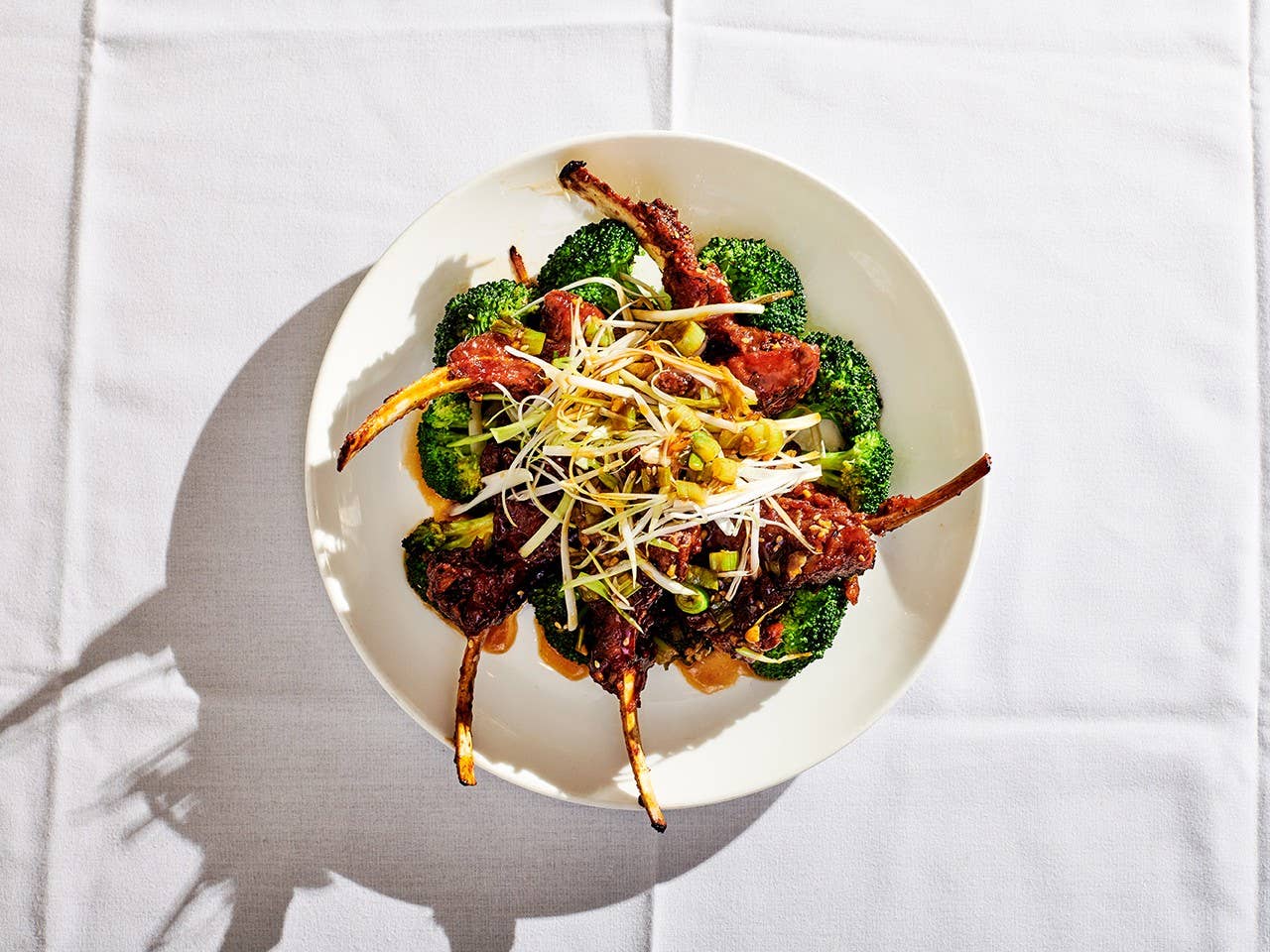 At Peking Duck House on Mott Street in New York City's Chinatown, these sizzling lamb chops are served atop a bed of lightly steamed broccoli. Pair them with plenty of steamed white rice for sopping up their salty-sweet and aromatic sauce.
Ingredients
Six 1-in. thick lamb rib chops (1½ lb.)
½ cups mint leaves, finely chopped
3 tbsp. canola oil, divided
3 tbsp. finely chopped fresh rosemary
2 tbsp. baking soda
1 tbsp. finely grated lemon zest
½ tsp. kosher salt
1 medium head broccoli (1 lb.), cut into florets
3 tbsp. soy sauce
2 tbsp. oyster sauce
1 tsp. sugar
One 1-in. piece fresh ginger, finely chopped (1 Tbsp. plus 1 tsp.)
1 bunch scallions, sliced on the bias (1 cup)
3 medium garlic cloves, finely chopped
Instructions
Step 1
In a large dish, combine the lamb chops, mint, one tablespoon of the oil, the rosemary, baking soda, lemon zest, and salt. Mix well, using your hands to rub the marinade all over the chops. Cover and transfer to the fridge to marinate for 24 hours.
Step 2
To a large pot, add 2 inches of water and set a steamer basket inside; set over high heat, and once the water comes to a boil, lower the heat to simmer and add the broccoli to the steamer basket. Cover and steam until the broccoli is bright green and the stems are just tender when pierced with a knife, 4–5 minutes. Using tongs, transfer to a platter and keep warm while you cook the chops.
Step 3
In a small bowl, stir together the soy sauce, oyster sauce and sugar;. set aside.
Step 4
Set a large stainless steel or cast-iron skillet over high heat and add the remaining oil. When the oil begins to shimmer, add the lamb chops in an even layer and cook without moving until a dark brown crust has formed on one side, about 2 minutes. Using tongs, flip the chops and continue cooking until the bottom side also forms a dark crust, about 2 minutes more. Transfer the chops to a plate and set aside. In the same skillet, add the ginger, garlic, and scallions and cook, stirring continuously, until aromatic and just beginning to color, about 2 minutes. Transfer the aromatics to a bowl and set aside. Return the chops back to the skillet, along with any accumulated juices and the reserved soy sauce mixture, turning the chops in the sauce a few times to coat. Cook until the chops are warmed through, about 2 minutes more.
Step 5
To serve, arrange the chops atop the broccoli, then drizzle over the remaining sauce. Top with the reserved ginger, scallion and garlic mixture and serve hot.