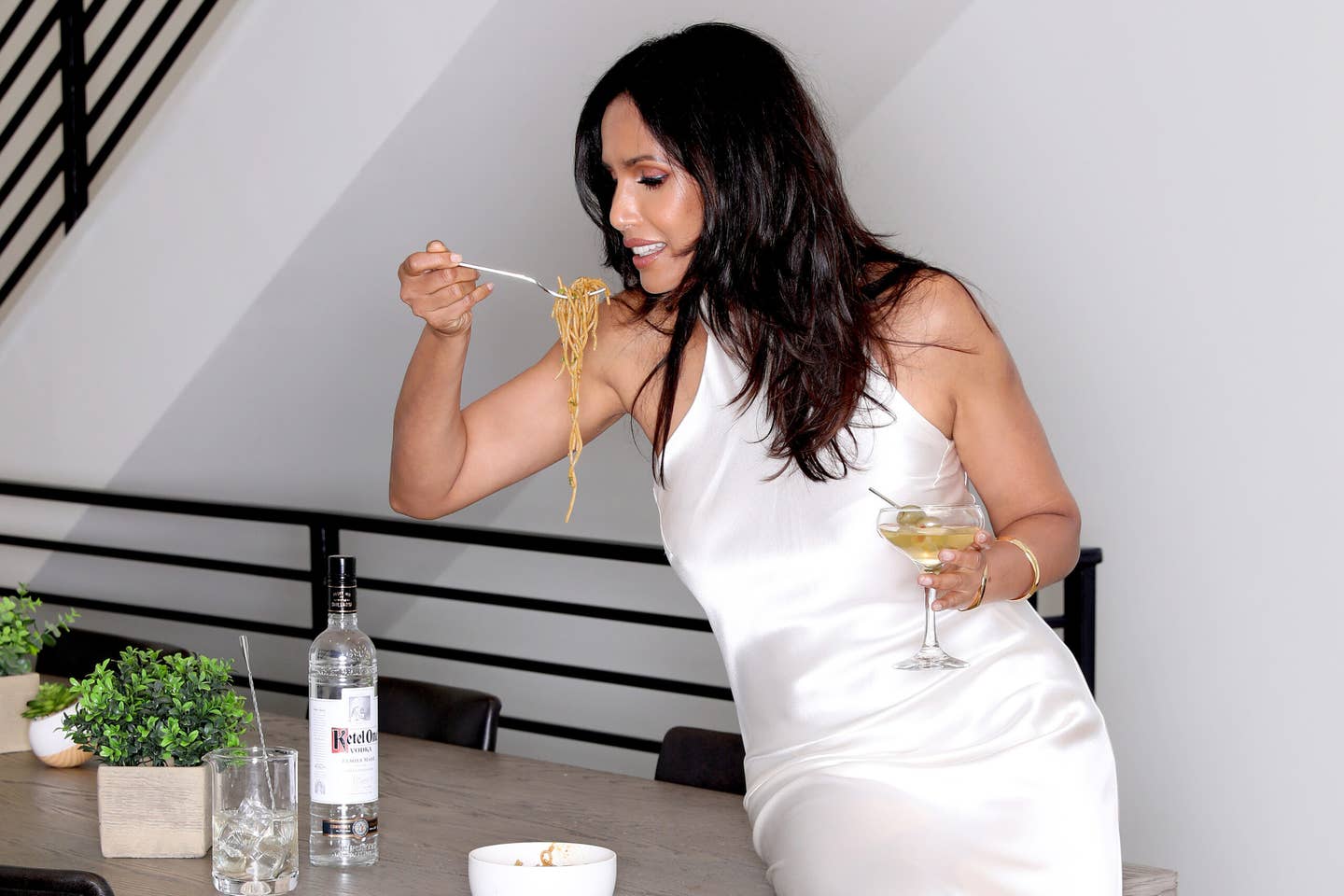 Drinks
Padma Lakshmi Makes This Spicy Swap To Give Her Martinis Extra Kick
And the salty snacks she pairs it with.
Playing host away from home can be touch-and-go, but Padma Lakshmi isn't exactly a stranger to bold choices. While on location in Houston for the third season of Taste the Nation, the TV host, journalist, and author threw an impromptu cocktail party for her crew to watch the Emmys (she scored a double nomination for her work on Top Chef) and had no shortage of vision for the perfect evening. Partial to savory and piquant flavors, Lakshmi's gatherings are generally a salt and spice fiend's fever dream, and a toast with her is not for the faint of palate. "I like to make drinks a lot, but I don't like sugary drinks," she tells SAVEUR in the midst of prepping for the get-together and sharing a recipe from her personal archives in the process.
Sweet cocktails are anathema to Lakshmi (a "headache in a glass," as she calls them), so easy-to-make drinks like a dirty martini are a go-to. For her, a structured and balanced spirit base that won't overwhelm a dirty martini's other ingredients is absolutely essential. Typically, she reaches for a good, solid vodka as a blank canvas for the briny (and sometimes spicy) elements used in her recipe and its variations. "What I love about a vodka martini is that it's just really crisp and clean—I think Ketel One is great because it's family-owned for over three centuries [so] they know what they're doing, [and] they don't use any GMO grains," Lakshmi shares. As a longtime advocate for the food and drink industry's bigger picture—whether historically, environmentally, or politically—being selective about what she incorporates into each recipe is always a priority.
According to Lakshmi, serving the spirit-forward classic with snacks is a requisite. "I like to pair appetizers that are also savory, so anything from mini grilled cheeses with a beautiful gruyere and a hot jalapeño jam (which has a bit of sweet, but with a kick) to roasted, spiced nuts and flautas filled with goat cheese and mushrooms." The fattiness of goat cheese, she adds, is an excellent companion to the vodka martini's bright finish.
Perhaps as crucial to the drink as the spirit itself is the choice of olives. Lakshmi favors Spanish olives in her recipe, but when looking for more depth, she's got a reliable secret weapon: "I'll use the escabeche [from] Mexican pickled jalapeños instead of the olive brine—I find it's a nice twist to give the martini a little punch," she says. As for quantities, "It depends how spicy you and your guests can tolerate." Her preferred ratio? "I like to use about a half to three-quarters of a teaspoon per martini, and a couple of nice, juicy olives along with a slice of the pickled jalapeño." Here's how to make Lakshmi's very own martinis and her favorite pairing snacks for your next cocktail gathering.