Fresh Bamboo Stir-Fry with Sweet Peppers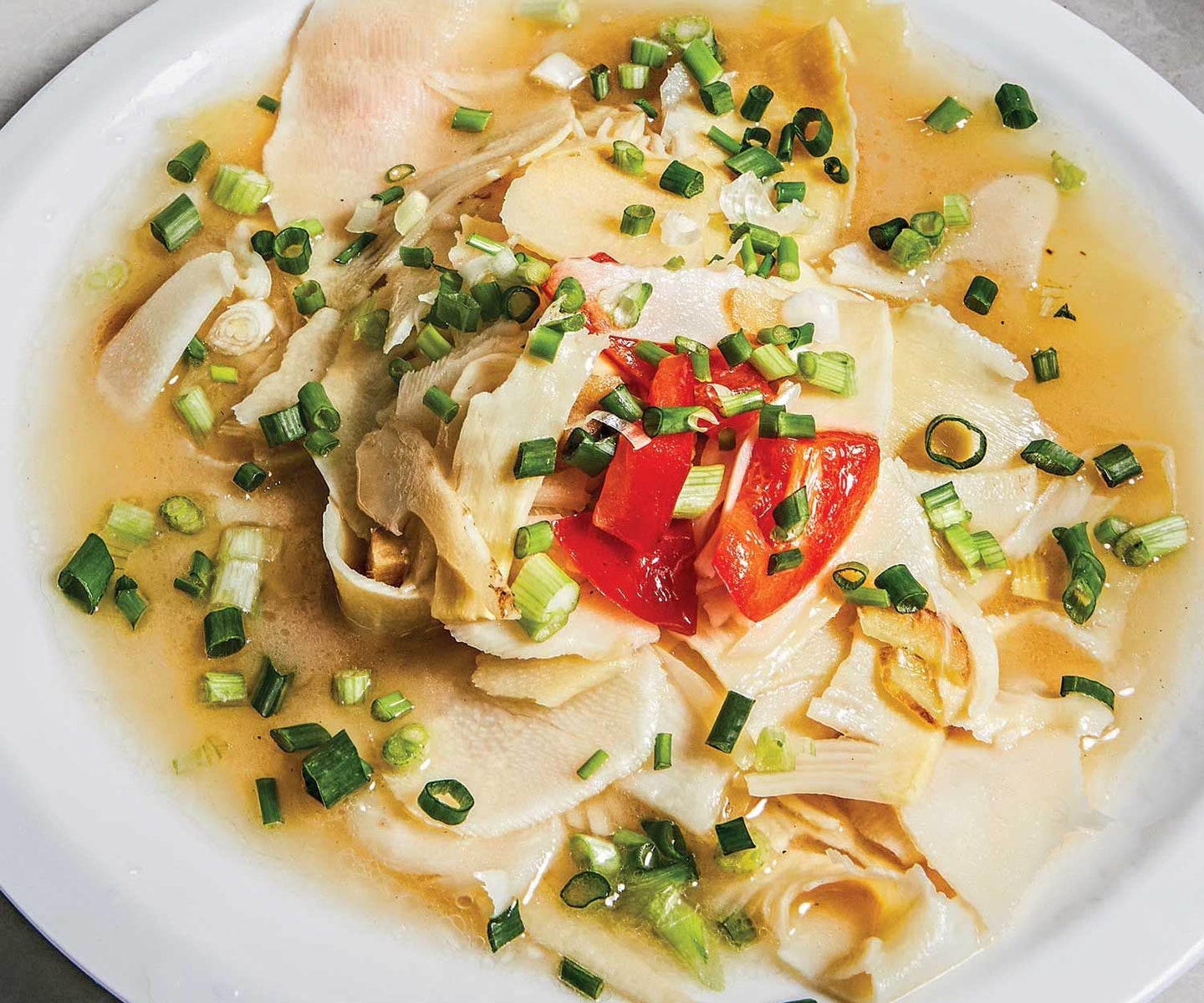 To remove the skin when preparing fresh bamboo, make a shallow cut lengthwise down the skin, then peel away and discard it. Cut off the in­edible thicker end of the shoot. Never wash fresh bamboo with water, which can give it an unpleasant flavor. Instead, use a dry towel to brush away any dust or dirt.
Featured in: What It Takes to Be a Bamboo Harvester in China's Sichuan Province
Equipment
Fresh Bamboo Stir-Fry with Sweet Peppers
Bamboo shoots and red bell pepper are cooked with ginger and garlic over high heat in this quick and easy side dish.
Time: 15 minutes
Ingredients
1 tsp. potato starch
2 Tbsp. lard or vegetable oil for stir-frying
One 1-inch piece fresh ginger (½ oz.), peeled and thinly sliced
3 large garlic cloves, thinly sliced
2 fresh bamboo shoots (1¾ lb.), peeled, halved lengthwise, and thinly sliced (2 cups)
1⁄2 small red bell pepper (2 oz.), cut into 1-inch pieces
Kosher salt
2 Tbsp. thinly sliced scallions, for serving
Instructions
In a small bowl, add the potato starch and 1 tablespoon plus 1 teaspoon cold water; stir well to combine. Set aside.
In a wok over very high heat, add the lard or oil, and swirl the pan to coat its surface. When the oil is smoking, add the ginger and garlic, and cook, stirring constantly, just until fragrant (avoid browning or burning the garlic), about 1 minute. Add the bamboo and bell pepper, and continue stir-frying until both are crisp-tender, 2–3 minutes. Season with kosher salt, pour in the potato-starch mixture, and let cook for 30 seconds more.
Transfer the mixture to a serving plate, top with the scallions, and serve hot.