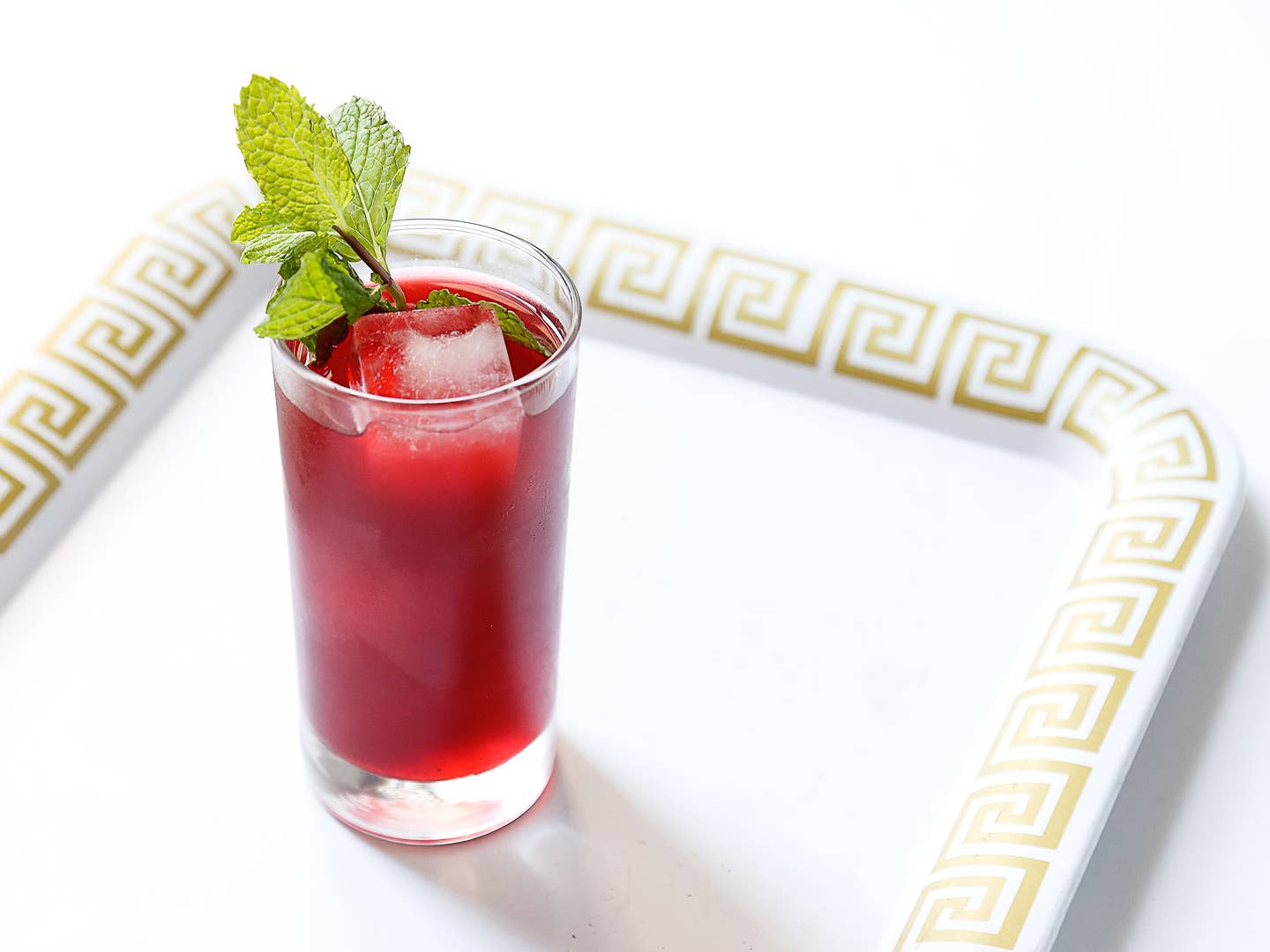 Drinks
How an Expat Toasts Thanksgiving Without Turkey
A seasonal cocktail for an American in Italy when there's no turkey in sight
Thanksgiving isn't just a meal, and it's not just one kind of holiday. So every week in November we're sharing Thanksgiving #saveurtraditions from friends of SAVEUR. Today: Roman blogger Elizabeth Minchilli on her go-to Thanksgiving tipple.
American holidays are funny things for an American expat in Italy. Sometimes they mean a lot. And sometimes it's just another Thursday.
I've gone all out before, making a huge Thanksgiving feast at our country home in Umbria. In mid-July, I'll make a point to call our neighbor to order a farm-raised turkey (or a goose, or capon) worthy of our wood-burning oven. But inevitably, there are always last minute frantic phone calls since it's hard to plan that far ahead—the turkey will get sick, or grow too big for my oven, or something-or-other will go wrong. But when I'm determined, I'll make due with a few chickens, invite over enough people over to eat it all up, and all will be fine.
I'm not sure why I run hot and cold about holidays. It's partly the hot and cold, literally, I think. Some falls in Italy end up so unseasonably warm that it just doesn't seem like it should be Thanksgiving quite yet. It's also that—and this is the biggest part—Thanksgiving is just not a holiday here. And here is very much my home.
But whether or not I end up making some sort of Thanksgiving meal, I do start to roll out my favorite festive cocktails by mid-November. One of my favorites is a very easy seasonal pomegranate drink. I first made it several years ago when my friend Mona Talbott was directing the Rome Sustainable Food Program at the American Academy in Rome. While they have a magnificent garden, one of my favorite trees is the massive pomegranate tree that grows right outside the kitchen, next to a Roman wall. In the fall, it's a race to harvest the pomegranates as they ripen, before the parrots that have taken over the cities parks descend and peck their noisy way to the ruby fruit.
Mona was kind enough to gift me not only two kilos of the gorgeous fruits, but also a nifty way to juice them. She explained that I could just cut them in half and use a citrus juicer to squeeze the juice out. And that was the birth of my fresh pomegranate juice cocktail.
Once you have the fresh juice, the rest is easy. Vodka brings a spirit backbone while a touch of Cointreau adds rich orange sweetness. It's turned out to be my go to cocktail for most special occasions in the fall. Thanksgiving (when it actually happens) included.