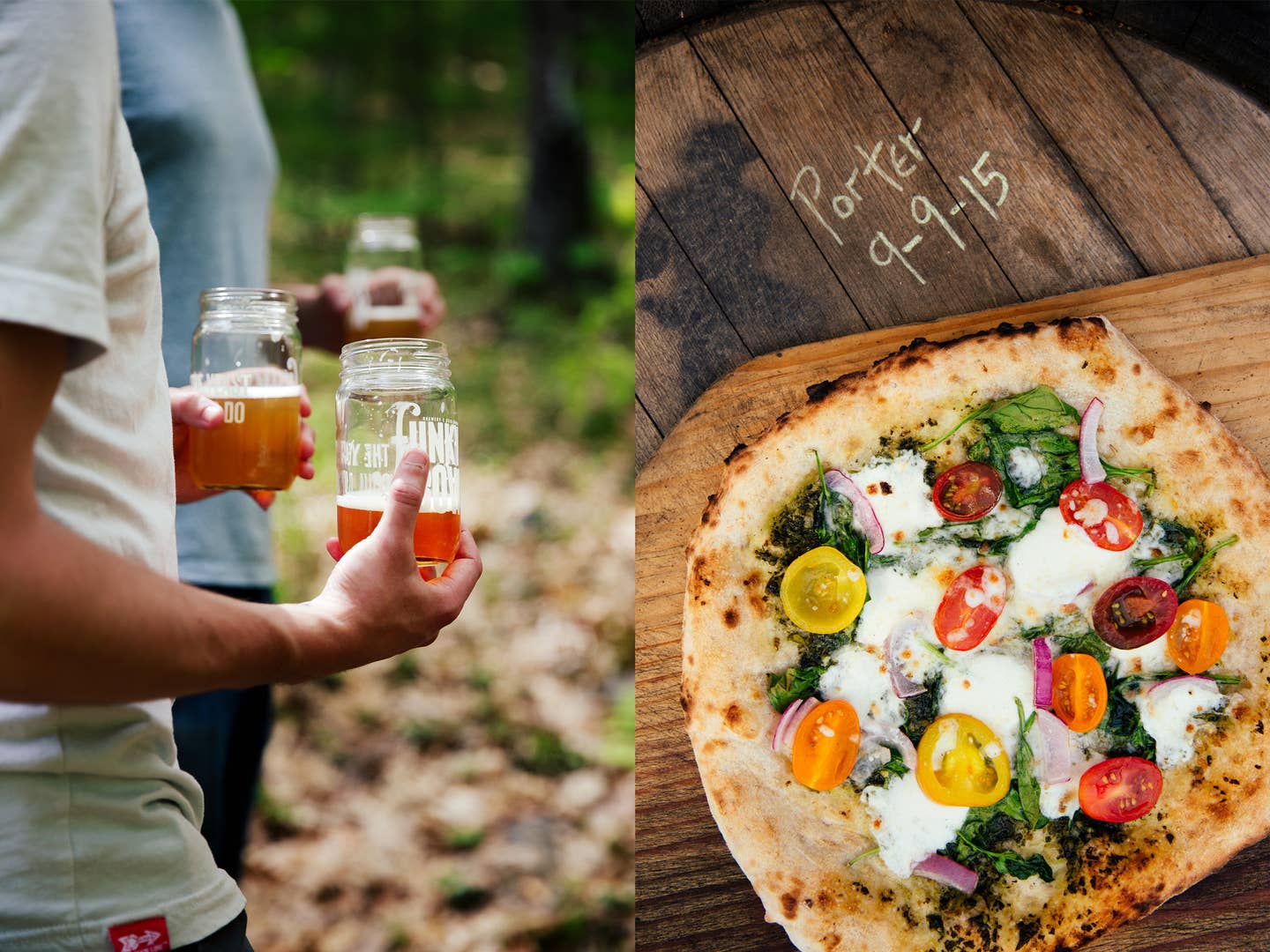 Drinks
The Must-Visit Brewery Tour That's Really a Backyard Party in Disguise
Funky Bow in Maine trades sterile tasting rooms for bluegrass, homemade pizza, and endless summer
It's 2 o'clock, Saturday afternoon, on one of those hotter than usual summer days in southern Maine as we drive up Route 1 with the ocean breeze blowing through the windows. If you turn right, the Kennebunkport beach is a short ride away, but we turn left, down an unassuming dirt road, and 20 minutes later see a generic-looking beer flag waving in the distance, marking the entrance to Funky Bow Brewery.
I've been told Funky Bow, lost in the middle of the woods, is one of the best brewery tours I'll ever experience. I've visited plenty of breweries, and for the most part they're stainless steel industrial warehouses that all begin to look alike. It's clear on first sight that Funky Bow is something else entirely.
We come upon something that looks less like a factory and more like an old friend's barn party: a bluegrass band in full swing while a crowd gathers on the lawn, drinking Citra IPAs, eating homemade pizza, and playing cornhole.
This is the typical weekend scene, or Growler Nights as it's called, here at Funky Bow Brewery, the work of Paul and Abraham Lorraine, father and son, reuniting after being estranged for seven years. It's the kind of success story everyone loves to hear: a family business built from passion, a complete lack of professional experience, and a determination to have a good time making and serving it.
"It started with 12 of us hanging out drinking beer here," Paul explains as we stand at the garage-turned-brewery doorway that spills out onto 20 wooded acres scattered with greenhouses, horses, and meandering trails, "And then it turned into this. People just starting coming, and we're continuing to do what we love."
While their popular So Folkin' Hoppy IPA—Galaxy-hopped, tropical fruit-driven, with just enough sweet malt to balance out the huge grapefruit and pine notes—is enough of a reason to pay a visit, it's really the experience these guys provide visitors that makes Funky Bow stand out above the hundreds of other breweries popping up across the country.
A few years back, Paul convinced his son, a recent biology grad considering a move to California for his PhD, to stay around town and build a brewery with him on their family farm. They started experimenting with home-brew kits but didn't take long to swing into full-scale production, with Abraham taking the lead as Funky Bow's head brewer. With a focus on clean, American-style ale with a rustic edge, the Lorraines make delicious beers for serious beer drinkers that never fall off the deep end.
As they continued to expand they needed to do something with all their leftover grain, so they established Funky Bow Bread and Pizza Company in 2014, using ingredients from their garden to put together a small menu for visitors coming to taste beer. In doing so they've made a brewery visit so much more than a typical brewery visit; the party on their lawn is the definition of the lazy, slow-paced days of summer everyone craves.
With beers in hand, Paul and Abraham take me down the path to see the next stage of their brewery experience: a beer yurt, set to open later this summer, with more scattered across the property in the coming months. One of the few complaints people have about visiting Funky Bow is that eventually they have to go home. With their yurts, the Lorraines will be able to offer overnight accomodations. Including a large deck space that overlooks the Growler Night scene, you'll be able to spend an evening under the stars, listening to the bands and sharing stories with fellow beer-loving nature enthusiasts around the bonfire—then spend the night safe from the elements.
As we loop back through the greenhouses, we find an open picnic table to settle down for some pizza and ribs, along with sampling the other beers: The Citra Single Hop IPA, super crisp and dry, full of melon, grapefruit, and lime; the Midnight Special Coffee Porter, which balances cold-brewed coffee with roasted malts and chocolate. Next up is the Crooked Fiddle American wheat, the perfect beer to complement the humid days summer, crisp and thirst-quenching, big on lemon with a touch of pepper. And last is the Panama Red, a good balance of caramel malt sweetness and hops with a touch of spice and citrus. A great take on a classic red ale.
A reggae band is now taking stage, and while Paul's hardworking team is successfully manning the pizza oven behind us, his homemade baked beans are running low, and he's the only one who can make them. He knows it's time to head back to his kitchen, a quick minute walk from the brewery, but he's enjoying everyone's company, and we're still deep in conversation about this magical place.
"Okay, now I really need to go make these beans," he says as we give our goodbyes. But he only makes it a few feet before another guest pats him on the back, telling him what a great job the Lorraines have down, and another conversation strikes up yet again. I leave him too early to find out if the next batch of baked beans ever comes out, but the beer certainly keeps flowing. I can't wait to return for an overnight in the yurt.