Techniques
This Grilled-Cabbage Caesar Salad Is Even Better Than the Original
New York chef Andrew Carmellini's interpretation of the classic swaps out romaine for warm fire-roasted cabbage
Serves

serves 4 to 6

Cook

1 hour 40 minutes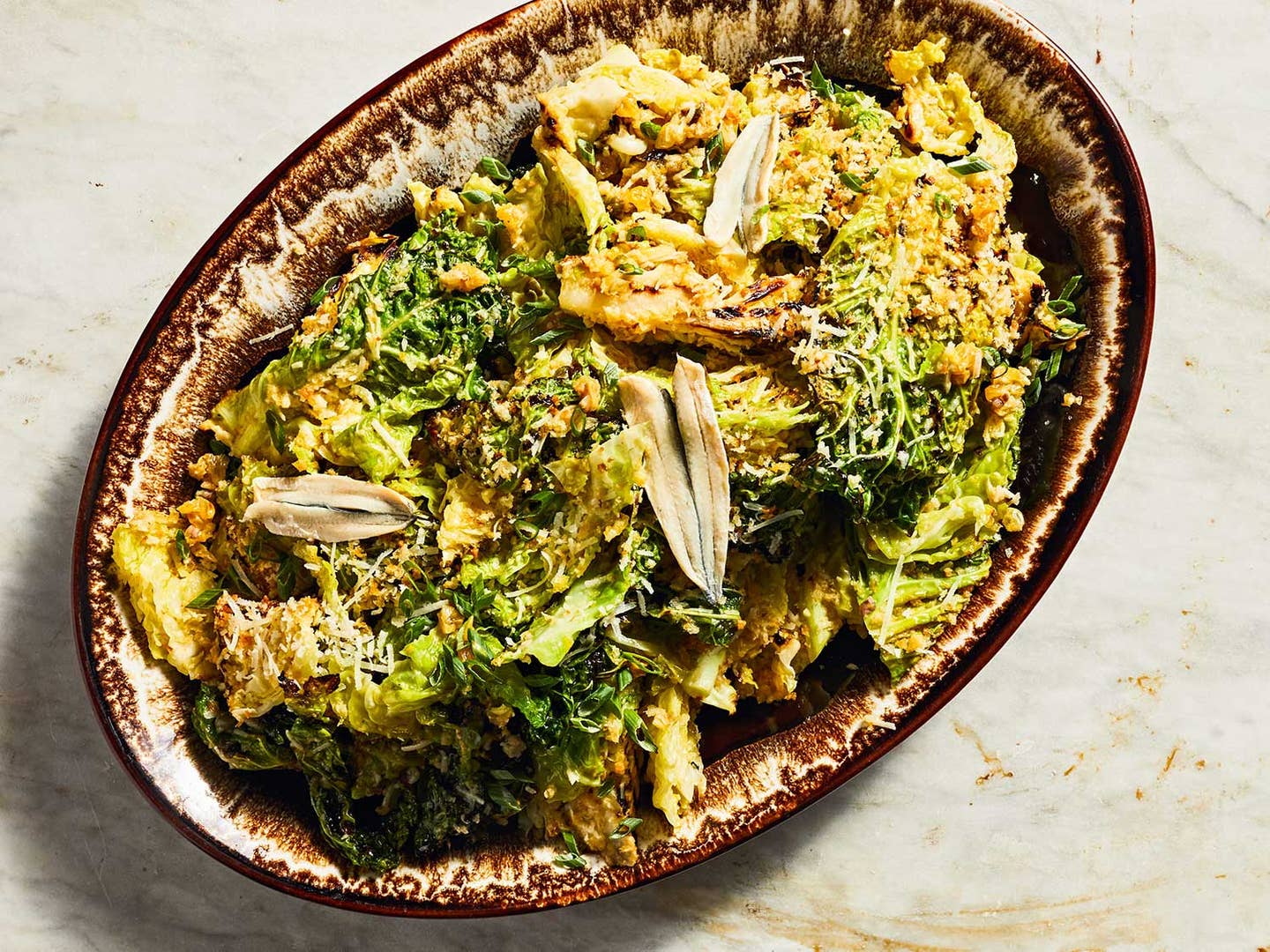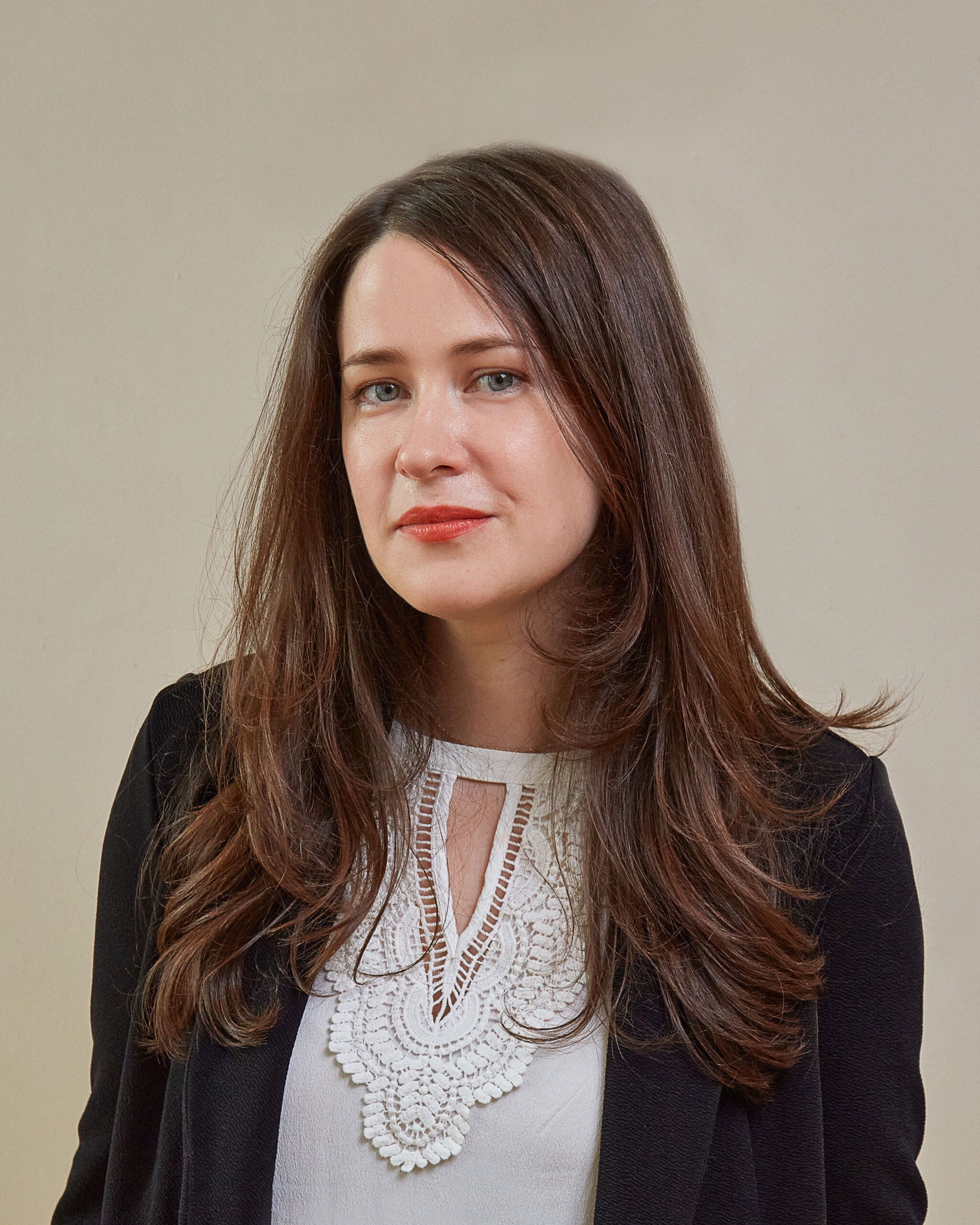 ---
The menu at New York chef Andrew Carmellini's southern Italian-inspired restaurant Leuca has a lot going for it: inventive riffs on classic antipasti and pastas, Neapolitan-style pizza, and a showstopping roast suckling pig for two. But the dish that has stayed with us since opening day is a seasonal, seemingly humble special: grilled cabbage salad. Carmellini transforms the often ho-hum vegetable into the sweetest and smokiest version of itself by slow-roasting the heads over an open fire. The charred greens are then tossed with a zippy citrus-and-olive-oil dressing and loaded with umami-rich capers, anchovies, garlic, and grated pecorino—or "Caesar Flavors," according to the menu. Finished with crispy fried bread crumbs and a few of the tart marinated white anchovies known as boquerones, the dish is a masterpiece. So of course, we had to ask Carmellini how to make it.
Part of the charm of Leuca's kitchen—visible from the street level above—is Carmellini's affection for cooking with fire. In addition to a massive domed pizza oven, the restaurant also boasts an open hearth that's used to grill all manner of meats and seasonal vegetables over a combination of oak and binchotan (Japanese charcoal).
In the absence of our own roaring hearth, we adapted this recipe for home kitchens by using a softer, more delicate savoy cabbage and a well-seasoned cast-iron grill pan. The result? Smoky-sweet vegetables that are charred and crispy on the outside and soft and silky on the inside. Since the majority of the ingredients are inexpensive (even if you buy the fanciest farmers' market cabbage!), we recommend splurging on two items, if you can: aged pecorino and extra-virgin olive oil. Whether you serve the salad as a low-key main course or as a lavish side dish, this is cabbage worth celebrating. Here's how to pull off your new favorite Caesar.
Start with the Right Cabbage
At Leuca, Carmellini uses classic green or conical arrowhead cabbage; the densely packed leaves and firm cores hold up well to grilling over an open fire. To recreate the dish at home with these varieties, he suggests searing the vegetables in a skillet and finishing in the oven. We found that small heads of ruffled, more tender savoy cabbage cook more quickly and don't require that second step. Cut them lengthwise through their cores into quarters.
Generously Salt the Greens
Liberally salting the cabbage ahead of time allows the wedges to soften and begin releasing some of their moisture. This step will generate steam during cooking, allowing the insides to cook as the outer edges sear.
Give the Leaves an Oil Rub
After salting, work a generous drizzle of olive oil into the cut sides of the cabbage. The oil serves two purposes: it seals the accumulating moisture into the leaves, preventing evaporation, and also keeps the wedges from sticking to the baking sheet as their sugars cook and caramelize.
Take Caesar Dressing Up a Notch
According to Carmellini, this salad was not originally conceived of as a "cabbage Caesar." He simply took the chargrilled greens and started adding ingredients that he thought would complement their smoky, faintly mustardy flavor: fresh citrus (zest and juice) and anchovies—components that just happen to make up the base of Caesar dressing. Two nontraditional additions give the dressing an extra kick: capers up the brininess of the vinaigrette, while golden raisins enhance the cabbage's caramelized sweetness and deliver a pleasant chew.
Choose an Italian Olive Oil
Cabbage is often considered a mild or even bland vegetable, but dry-cooking it brings out the cruciferous vegetable's sweet and mustardy notes. To further enhance this flavor, use a robust, fruity, and peppery extra-virgin olive oil to finish the vinaigrette. High-quality Tuscan and Tuscan-style blends are ideal. The dressing can be made up to three days in advance and stored in an airtight jar in the refrigerator. Retrieve the vinaigrette from the fridge 15 minutes before serving and give it a good shake to recombine.
Sear on a Well-Seasoned Cast-Iron Grill Pan
Preheat a well-seasoned cast-iron grill pan over very high heat. When the pan is smoking lightly, add the wedges of cabbage, cut-side down, and cook, turning occasionally until they're charred and caramelized on all sides. Any leaves that fell off during the salting or oiling stage can be added to the pan to crisp up as well. If you don't have a grill pan, a flat griddle or a large, heavy cast-iron skillet will also get the job done.
Let the Cabbage Steam Itself
Once the cabbage wedges are seared all over, transfer to a large heatproof bowl, cover tightly with a lid or plastic wrap, and set aside. The residual heat and steam will continue cooking their centers.
Cut the Cabbage into Chunks
Part of this salad's charm is the variation in texture—the combination of crispy, charred greens and soft, silky leaves is irresistible. When the cabbage wedges are tender at the core and cool enough to handle, cut them crosswise into chunky strips, then return to the bowl.
Go for Bread Crumbs Over Croutons
For a more satisfying crunch throughout the salad, add plenty of garlicky panko bread crumbs. They pair well with the briny vinaigrette and coarsely grated aged pecorino, a hard, dry Italian sheep's milk cheese with a sharp, salty flavor. If you prefer a sweeter, less piquant cheese, you can substitute Parmesan.
Use your hands to toss the salad, sliding apart any cabbage leaves that are still clustered together and working in the vinaigrette. The greens are best dressed while they're still warm; as the vinaigrette is incorporated, the citrus juices will further soften the cabbage until it strikes the perfect balance between crisp and tender.
Transfer the dressed cabbage to a platter and top the salad with more panko and pecorino. The version at Leuca is topped with a few boquerones. A popular Spanish bar snack, these marinated white anchovies are less aggressively salty than ordinary anchovy fillets. Look for the tangy delicacy in the refrigerator case of specialty food markets. If you have trouble finding the little fish, feel free to omit them or substitute a few coarsely chopped oil-cured anchovies. For an even heartier main-course salad, top with a poached egg.
Ingredients
For the cabbage:
2 small heads savoy cabbage (2 lb.)
1 Tbsp. kosher salt
Freshly ground black pepper
1 cup extra-virgin olive oil
For the salad:
10 large garlic cloves, finely minced (¼ cup), divided
1 Tbsp. finely grated orange zest, plus ½ cup fresh orange juice
1 Tbsp. finely grated lemon zest, plus ⅓ cup fresh lemon juice
6 oil-cured anchovy fillets, finely minced (1 Tbsp.), or substitute anchovy paste
1 Tbsp. capers, finely minced
1 Tbsp. golden raisins, finely minced
½ cups plus 2 Tbsp. extra-virgin olive oil, divided
Kosher salt
Freshly ground black pepper
1 cup panko bread crumbs
2½ oz. aged pecorino cheese, finely grated (1 cup), plus more for topping
3 boquerones (marinated white anchovies), optional
Instructions
Step 1
Prepare the cabbage: Split each head of cabbage lengthwise into quarters, leaving the core in place in order to hold the leaves together during cooking. Place the quarters on a large rimmed baking sheet, cut-side up. Sprinkle with the salt, season with pepper to taste, and drizzle with oil; rub all over the cabbage, focusing on the cut sides so that the oil and seasonings seep in between the leaves. Set aside, uncovered, to marinate for 30–40 minutes.
Step 2
Meanwhile, make the vinaigrette: In a medium bowl, add 1 tablespoon of the garlic, the orange and lemon zests and juices, anchovies, capers, and raisins; stir to combine. Slowly whisk in ½ cup of the oil; season with salt and pepper to taste. Set the vinaigrette aside.
Step 3
In a large skillet over medium heat, add the remaining 2 tablespoons oil and 3 tablespoons garlic. Cook, stirring frequently, until the garlic just begins to turn golden, 1–1½ minutes. Add the panko and gently stir to combine. Turn the heat down to medium-low and continue cooking and stirring until the panko is evenly toasted and crispy, 5–7 minutes more. Season with salt and pepper to taste, then transfer the panko to a large heatproof bowl or baking sheet and set aside to cool to room temperature.
Step 4
Cook the cabbage: Preheat a cast-iron grill pan or skillet over very high heat. Once the pan is hot, add the cabbage, cut-side down. Cook, turning occasionally, until the cabbage is charred all over, 10–12 minutes. Using tongs, transfer to a large heatproof bowl or container and cover tightly with plastic wrap or a lid. Set the cabbage aside to steam until the centers are tender when poked with a paring knife,15–20 minutes.
Step 5
Once the cabbage is tender and cool enough to handle but still warm, cut the quarters crosswise into 2-inch-wide chunks, then return to the bowl. Add the pecorino, vinaigrette, and half of the panko. Toss well to coat, then transfer the salad to a large platter or wide, shallow bowl. Top with the remaining panko, more pepper and pecorino, and the boquerones (if using). Serve warm or at room temperature.