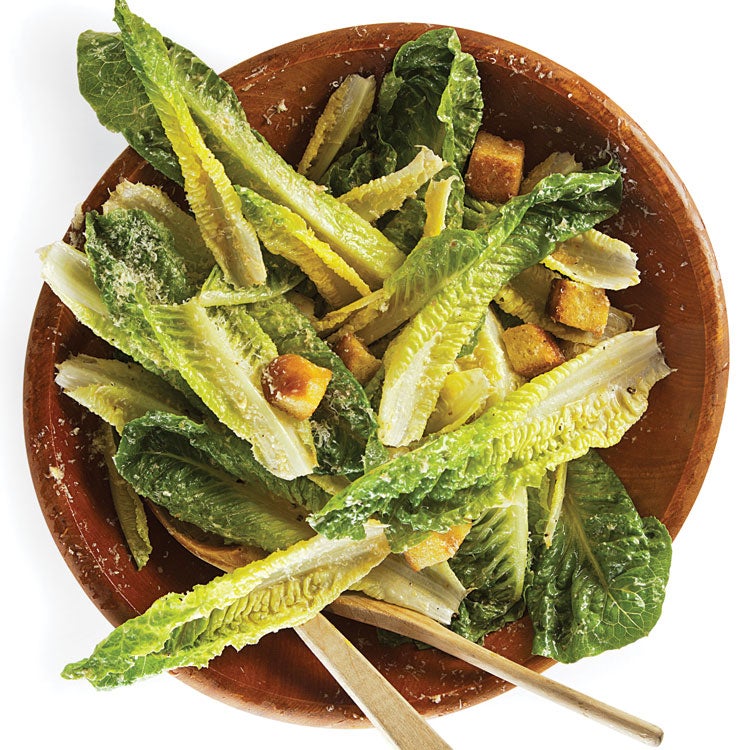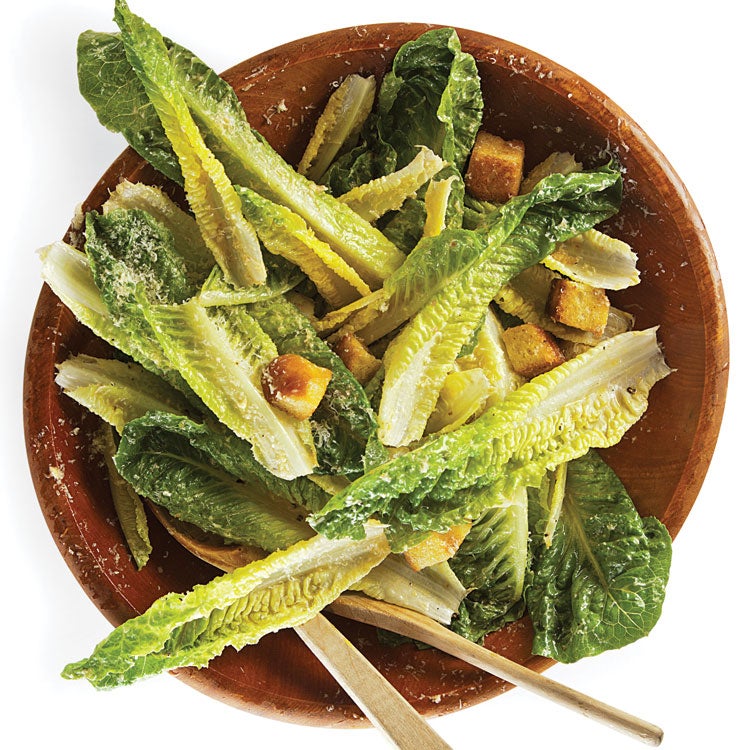 At nine years old, the closest I'd come to cooking was upending a box of Cap'n Crunch into a bowl. One Sunday, I found myself glued to The French Chef; Julia Child was making Caesar salad. It seemed like the best thing I could possibly eat. I asked my dad for permission to make it. As luck would have it, we had the ingredients. With my chicken-scratched notes, I assembled it. By God, it was good: the tang of the Parmesan and lemon, the sweet flash of the Worcestershire, the mellow egg, all draped upon an interplay of romaine and crouton crunches. It's been 40 years since, and I could eat it every day; Caesar salad is that perfect. —James Oseland
Caesar Salad
Julia Child was making Caesar salad. It seemed like the best thing I could possibly eat.
Ingredients
1 1⁄2 cups olive oil
3 cloves garlic, peeled and smashed
8 oz. stale crusty Italian or French white bread, cut into 1″ cubes
1 tbsp. fresh lemon juice
1 1⁄2 tsp. Worcestershire sauce
1⁄2 tsp. hot sauce, such as Tabasco
4 oil-packed anchovy filets, drained and roughly chopped
Kosher salt and freshly ground black pepper, to taste
12 oz. whole romaine lettuce leaves, inner leaves only
1 egg, lightly beaten
1 cup finely grated Parmesan
Instructions
Heat 1 cup oil and 1 clove garlic in a 12″ skillet over medium heat. Add bread, and cook, tossing often, until golden brown and crisp, about 5 minutes. Transfer to paper towels to drain, and set aside.
Rub remaining garlic over inside of a large wooden serving bowl, and leave in bowl. Add juice, Worcestershire, hot sauce, anchovies, and salt and pepper, and whisk until anchovies are broken down. Add remaining oil, and whisk until just blended. Add lettuce leaves, and toss to coat in dressing; drizzle egg over leaves, and toss again until evenly coated. Add reserved croutons, Parmesan, and salt and pepper, and toss until evenly combined; serve immediately.