Recipes
Grilled Chicken and Avocado Banh Mi Sandwiches
Serves

makes 6 Sandwiches

Cook

1 hour 15 minutes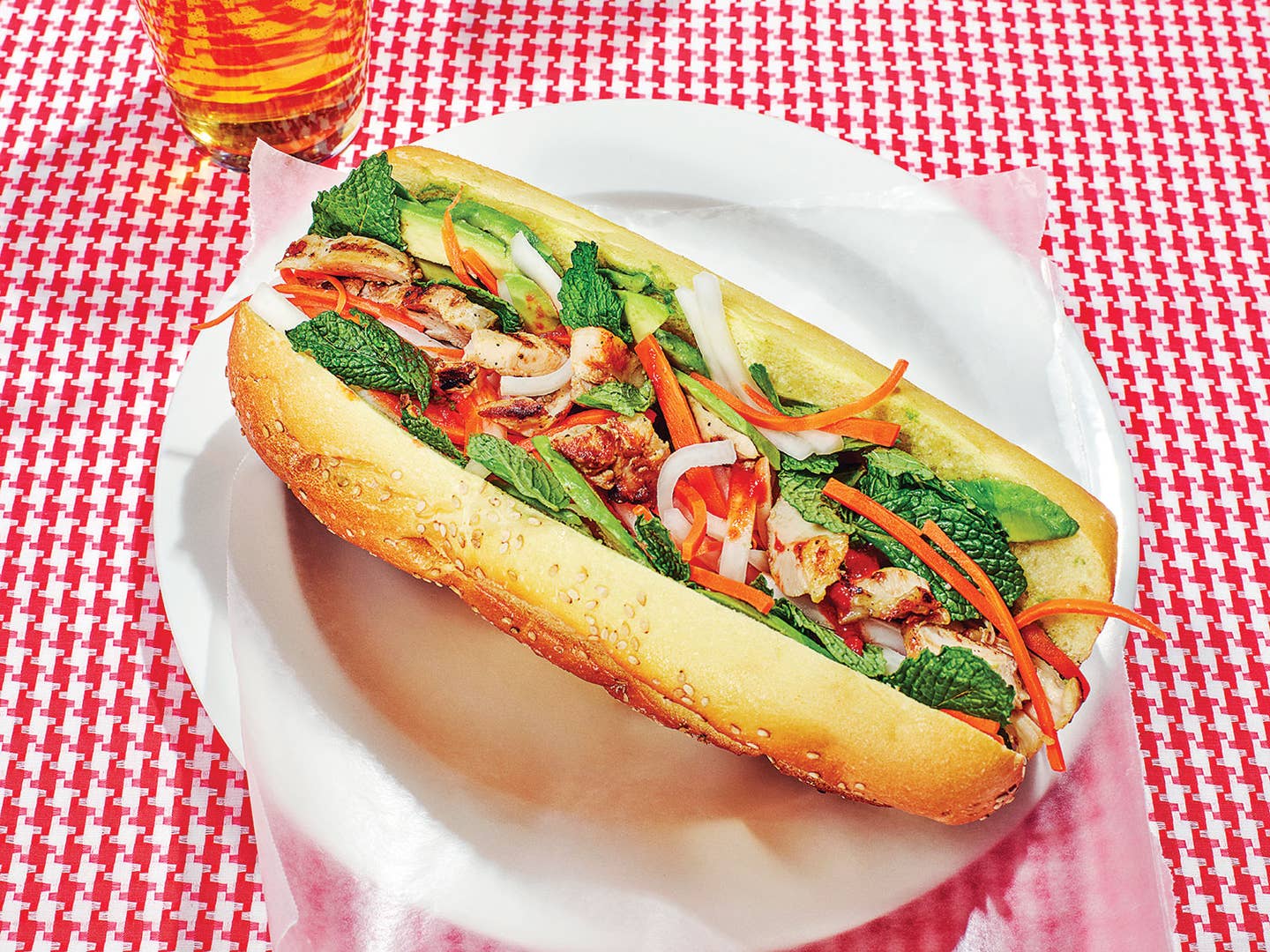 People in Vietnam often blend avocado and sweetened condensed milk for smoothies, but the fruit is also terrific as a rich, fatty accessory in banh mi (the Vietnamese word for avocado is trai bo, "butter fruit"). You'll see it often with grilled chicken and mint—though you can also use leftover roast chicken—and either chile sauce or fresh chile slices.
Ingredients
For the Chicken
3 Tbsp. (1 oz.) coarsely chopped shallot or yellow onion
2 Tbsp. canola oil
1 Tbsp. Vietnamese fish sauce
1 large garlic clove, coarsely chopped (½ tsp.)
¾ tsp. sugar
½ tsp. kosher salt, plus more as needed
¼ tsp. freshly ground black pepper, plus more as needed
1½ lb. boneless, skinless chicken thighs, excess fat trimmed
For the Sandwiches
6 nine-inch hero rolls, split lengthwise, connected on one side like a hinge
3 medium firm-ripe avocados, pitted and thinly sliced
24 thin slices medium-hot chile, such as jalapeño or Fresno
1½ cups (½ batch) Any Day Viet Pickle, drained
1½ cups torn mint leaves
Instructions
Step 1
Make the chicken: In the bowl of a small food processor, add the shallot or onion, oil, fish sauce, garlic, sugar, salt, and black pepper; process until smooth, pausing to scrape down the sides as needed. Transfer to a medium bowl, add the chicken, and toss well to coat. Cover and let marinate at room temperature for 30 minutes, or refrigerate for up to 1 day.
Step 2
About 25 minutes before ­serving the sandwiches, grill the chicken: Preheat a grill to medium heat, or a grill pan to medium-high heat. Add the chicken and cook, turning several times with tongs, until the meat is evenly charred and cooked through, 15–18 minutes.
Step 3
Remove the chicken and let cool for 10 minutes, then slice thinly against the grain. Transfer to a clean bowl along with any juices.
Step 4
Make the sandwiches: Divide the avocado slices among the rolls, pressing them gently onto one of the cut sides with the back of a spoon so they adhere to the bread. Season with kosher salt and black ­pepper, then add ½ cup of chicken to each sandwich. Divide the chile slices, the Any Day Viet Pickles, and the mint leaves among the sandwiches, then serve immediately.