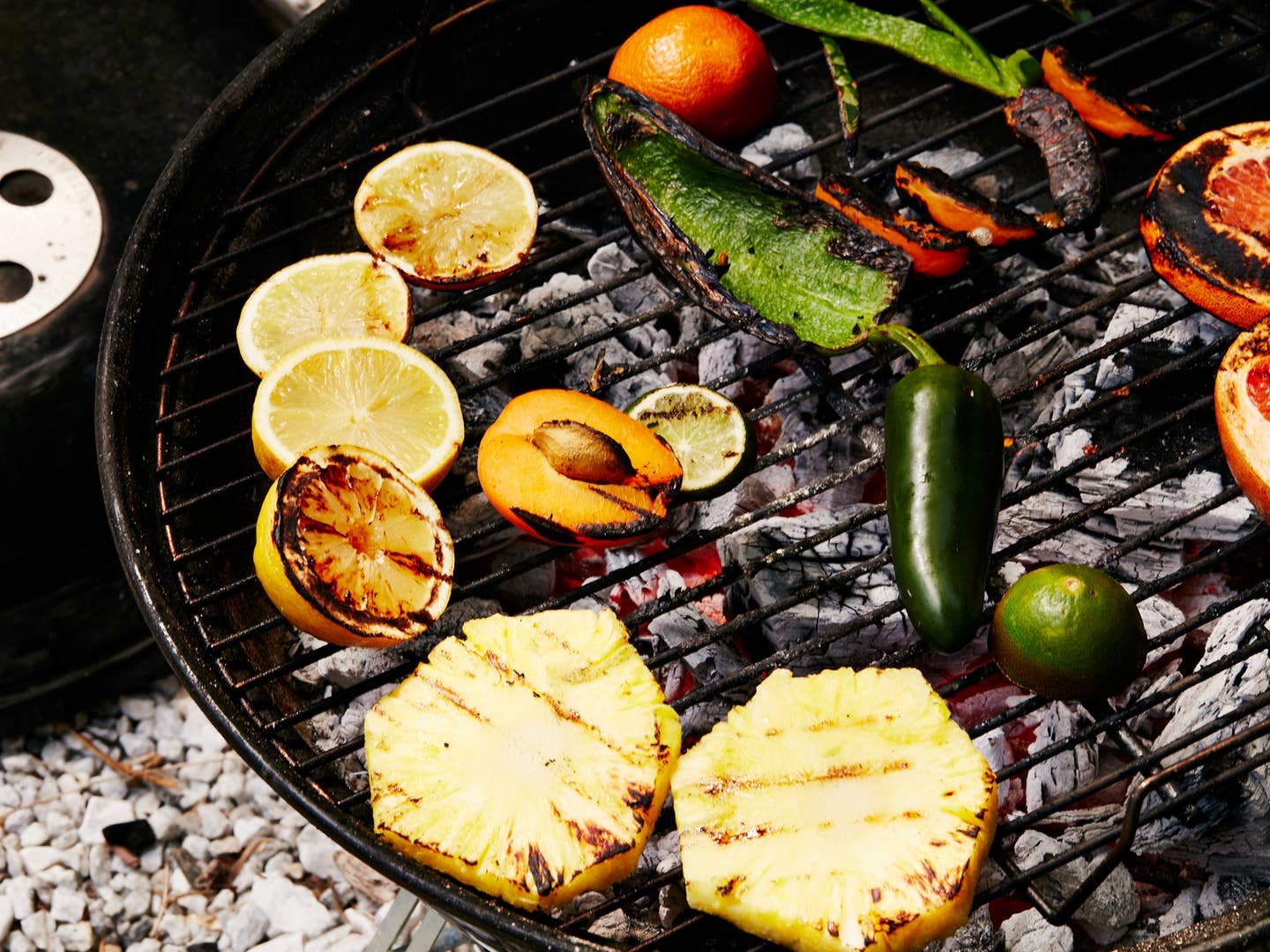 Drinks
The Case for Grilling Your Cocktails
While you're cooking dinner over an open flame, throw some fresh produce on the fire to lend your drinks an extra dose of smoky summer flavor.
There are few things more American than grilling. And as it happens, there are few inventions more American (and ingenious) than the cocktail. So it's only fitting that we, as headstrong and curious citizens of this great country, would think to marry the two. When juiced or muddled into the base of a drink, grilled fruits and vegetables weave in a layer of rich, smoky, summery flavor, not unlike the comforting scent of an early evening campfire.
How does one grill a cocktail, you ask? Situate anything and everything that isn't booze, right onto the grill: whole citrus halves, sweet pineapple rounds, slices of serrano pepper, grapefruit wedges, and fat slices of stone fruit. And keep these tips in mind while grilling:
Make sure your grill is hot, but the coals are lightly layered and not flaming, so ingredients don't become too charred. If using a gas grill, turn the burners down to low. Check ingredients every 30 seconds or so, until they have distinct grill marks but are not ashy.
Use long tongs and a heavy-duty grill glove to pick up and take off ingredients, which are smaller and trickier to handle than meat or fish.
Instead of muddling fruit directly into a drink, you can use it to infuse simple syrups for a more subtle flavor.
Using a mini-smoke box like this one from Weber, you can smoke herbs, berries, and even a cocktail glass by setting the woodchip-filled box atop your grill and letting your ingredients hang out while you flip burgers.
The margarita is essential to America's canon of summertime drinks, and adding a grilled element makes it that much more festive. Burnished pineapple adds a rich layer of fruitiness while mezcal lends a veil of smoke and spice. Get the recipe >
Unlike other stone fruit, apricots stay resilient when ripe and stand up to a quick sear on the grill with aplomb. Once the flesh warms through and its juices bake a bit, the apricot takes on deeper flavors that pair nicely with a spicy bourbon or rye and an equally spicy ginger beer. Get the recipe >
This lemonade is rendered smoky-sweet with the juice of grilled lemons and limes and toasted simple syrup, which has a mild caramel flavor that does a lot to complement the grilled fruit. Get the recipe >
The daiquiri is an adaptable creature, and it welcomes new companions in the form of bitters, infused simple syrups, or salty-sweet rims. This version keeps the classic's sour formula, but adds a veil of smoky spice lent from charred serrano- and jalapeño-infused sugar syrup. Get the recipe >
Meant for long afternoons overlooking lakes, porches, and thick novels, gin and tonics are the balm of summer. Add a slice of salt-sprinkled grilled grapefruit, and cut the tonic with soda, and the highball grows not only more aromatically complex, but even more refreshing. Get the recipe >