Recipes
The "Grill Everything but the Burger" Brisket Burger
Teach the old grill some new tricks.
Serves

serves 6

Cook

20 minutes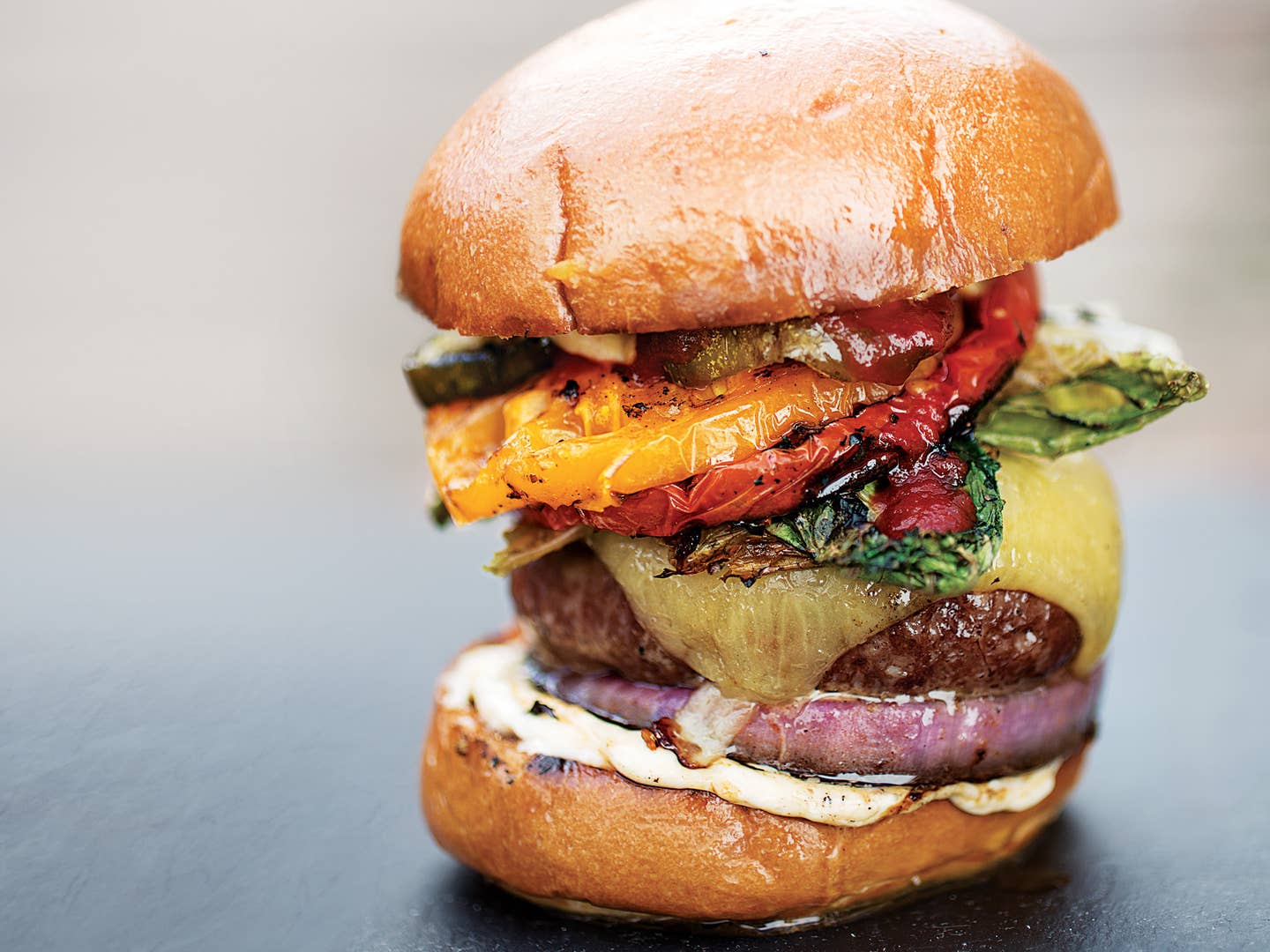 The all-brisket patty for this burger—from San Francisco's Wes Rowe, the burger slinger behind WesBurger 'N' More—is grilled, but in a cast-iron pan over the flame, which minimizes flare-ups and allows the meat to cook over a bed of onions that would otherwise burn. By charring the other toppings and bun over an open flame, you'll get the quintessentially smoky touch you expect from a grilled burger. Be sure to go the extra mile and ask your butcher to grind brisket for you; the cut has a high fat content and rich, meaty flavor perfect for burgers.
Ingredients
2 lb. ground beef brisket
Kosher salt and freshly ground black pepper
2 medium red onions, sliced 1/4-inch thick
1 medium yellow onion, sliced 1/4-inch thick
6 slices cheddar cheese
6 burger buns, halved
3 hearts of romaine, halved lengthwise
3 whole dill pickles, sliced 1/4-inch thick
2 large heirloom tomatoes, cored and sliced 1/4-inch thick
Ketchup, mayonnaise, and mustard, for serving
Instructions
Step 1
Build a medium-hot charcoal fire in your grill, or preheat a gas grill to medium heat. (Alternatively, heat a cast-iron grill pan over medium-high.) Form the meat into 6 patties; season generously with salt and pepper. Heat a large cast-iron skillet on the grill, then add the patties, top with onion slices, cover with grill lid, and cook until browned on one size, 3–4 minutes. Flip the patties, resting them over the onion slices, and continue cooking 2 minutes more. Top with cheese and continue cooking until the cheese is melted, 1–2 minutes.
Step 2
Meanwhile, working in batches, grill the buns, lettuce, pickles, and tomatoes directly on the grill grates, turning once, just until charred, 2 minutes for buns, 3–4 minutes for the romaine, and 5–7 minutes for the pickles and tomatoes. Divide the patties, vegetables, and condiments among buns, and serve hot.