If You Ever Wondered What Summer Tastes Like, Try These Grilled Salads
20 ways to give your greens smoky, flame-kissed flavor.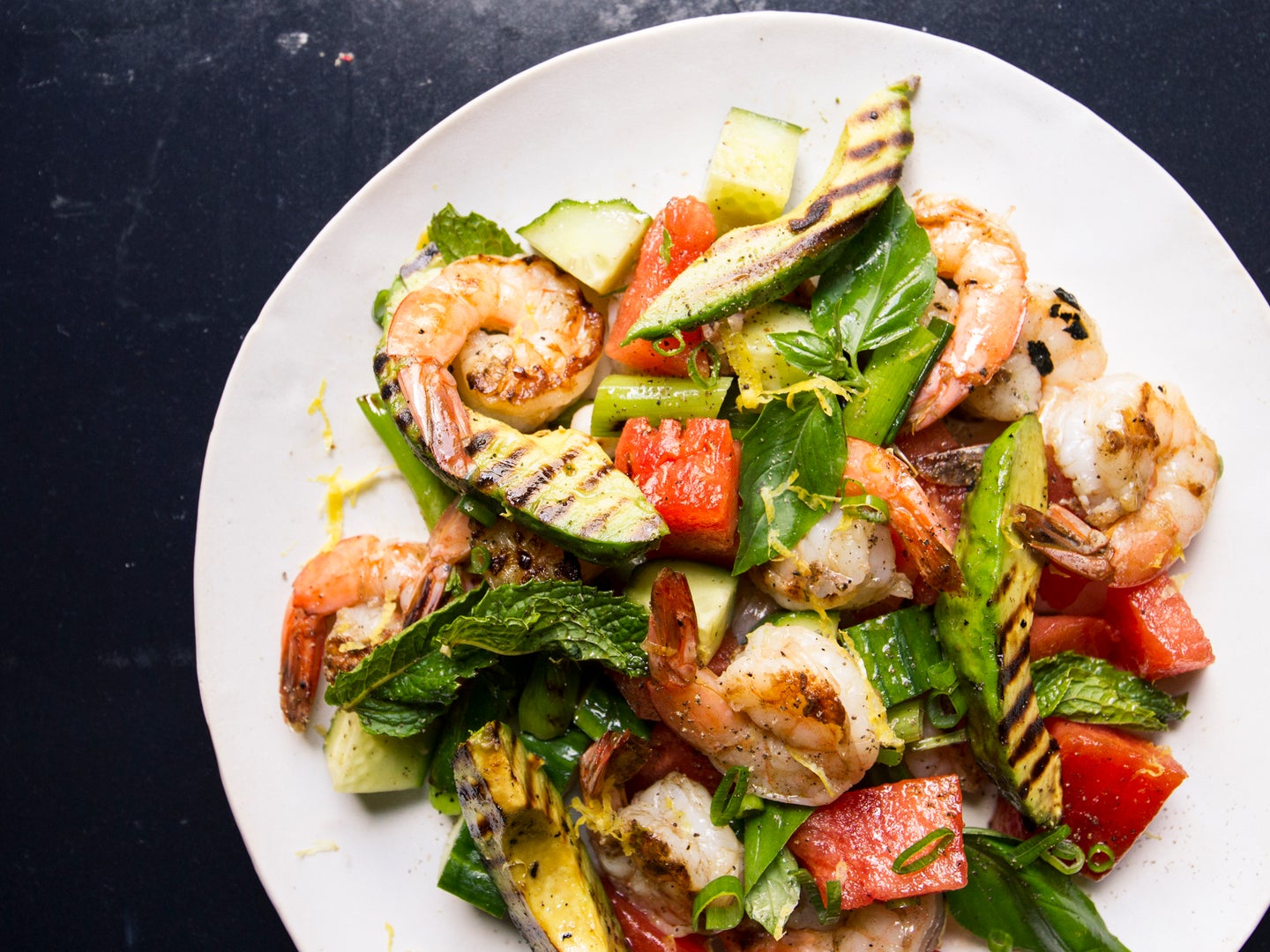 We're big fans of the all-grilled meal, charring everything from steaks to desserts. Once you have those coals going, why not take full advantage of them? Meet the grilled salad, the best way to add a smoky, savory edge to your summer side dishes.
Raw vegetables make a quick salad, but some extra time by the fire adds deeper layers of flavor to those greens. Romaine gets beefier with some char. Endives soften their bitterness after a kiss from the flame. Even fruits like watermelon and cantaloupe taste sweeter in contrast. All that is left is a simple dressing. These easy salad recipes channel summer in every bite and add a twist to your next BBQ meal. And for more ideas, be sure to explore all our essential grilled recipes.
The sweetness of cherries balances the saltiness of halloumi in this simple summer salad. It's perfect as a side or a main dish. Get the recipe >
Zippy sour pickle juice offsets the sweetness of the pomegranate molasses and charred onions in this vibrant salad. Get the recipe >
Crisp-tender asparagus and a sweet, earthy mixture of beets and citrus are tossed in an herb-packed, umami-rich salsa verde. Get the recipe >
A base of crunchy, fresh fennel contrasts perfectly with grilled corn kernels and crumbled feta cheese. Get the recipe >
Grilling makes everything better—watermelons get even sweeter from the flames, shrimp gets crisp and plump, and avocado turns deliciously smoky. Get the recipe >
Chef-owner of New York City's Wildair and Contra, Jeremiah Stone combines the juice from grilled cabbage with vinegar and browned butter. Afterwards, he tosses the resulting vinaigrette with a salad of raw cabbage and hazelnuts for an all-season slaw. Get the recipe >
Tender red-skinned potatoes are doused in herb vinaigrette in this warm salad. Get the recipe >
A simple and fresh black bean salad with corn pairs perfectly with a quick marinated and grilled chicken. Get the recipe >
Raw red cabbage adds a textural contrast to the grilled green cabbage, and a zippy, spicy-sweet-salty dressing goes well with the charred bits. Get the recipe >
At The Willows Inn, chef Blaine Wetzel presents a version of this chopped salad as a composed dish. Tossing the hot, just-grilled escarole and apples with the cold vinaigrette intensifies the flavor of the vinegar. Get the recipe >
Super easy and fresh, this is a perfect dish for spring, but also translates well to outdoor cooking in the summer. Get the recipe >
Dill-and-new-potato salad is an iconic summer food in Sweden. In this version, warm your sautéed kohlrabi, fresh dill, and boiled potatoes in melted butter. This simple side dish is perfect for picnics and backyard barbecues. Get the recipe >
Fresh heads of romaine lettuce are split down the middle, grilled until charred and smoky, and then topped with blue cheese and bacon for this satisfying salad. Get the recipe >
Barley is turned into a hearty summer staple, seasoned with cumin and chiles, and tossed with grilled vegetables, feta, and pistachios. Get the recipe >
This summer mainstay is elevated with grilled sweet corn, plus fresh edamame in place of the traditional limas. Get the recipe >
Tacolicious owner Sara Deseran first discovered this smoky salad, from Neil Fraser of LA's Redbird, while cooking at the annual Sabores San Miguel festival in Mexico. The trick to getting tender, flavorful octopus is boiling it first, then marinating and grilling it. Get the recipe >
In this elegant dessert, cantaloupe is grilled until it caramelizes and is then dressed with agrodolce, a sour-sweet Italian sauce made by reducing vinegar and sugar. Get the recipe >
Grilling adds smokiness to summer squash, a flavor that chef Steven Satterfield of Atlanta's Miller Union balances with bright ingredients like vinegar, chile, and honey. Get the recipe >
A thick honey vinaigrette pairs with pleasingly bitter endives that are steamed, grilled, and marinated in this recipe from Castle Hill Inn in Newport, Rhode Island. Get the recipe >
This simple Mexican salad consists of grilled zucchini, avocado, and salty, crumbled añejo cheese. Get the recipe >