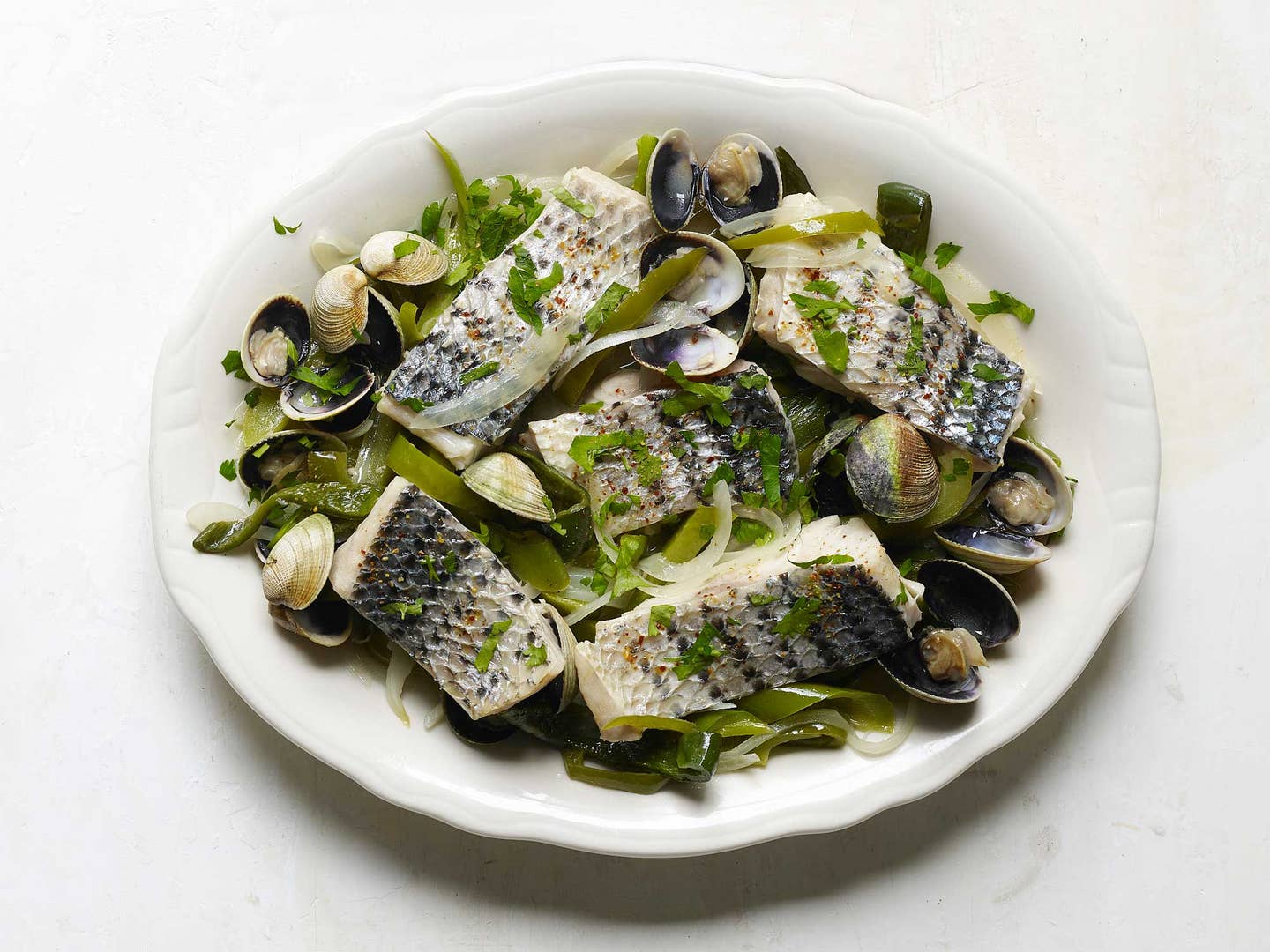 Techniques
Try This Foolproof Method for Perfectly Cooked Fish
We love this easy fish recipe from Basque country that makes it nearly impossible to overcook the delicate protein
Fish: Good for you, delicious, cooks in minutes.
Also fish: Famously tricky to handle, downright nasty when overcooked, and seemingly easier to mess up than any other critter.
To help your fish turn out more like the former, this fish recipe that reporter Jane Sigal nabbed from Basque country is here for you. It's a hybrid braise-steam approach, in which you cook fish atop a saucy mix of wine, stock, and softened onions and peppers as a nod to the region's famous peppery piperade stew. But beyond the ingredients, the real genius is the method, one that makes it virtually impossible to overcook your fish while simultaneously creating your pan sauce.
You start by seasoning olive oil with slivered garlic, then build a light roux with a bit of flour that's thinned out with white wine and stock (the recipe calls for fish stock, but vegetable stock works in a pinch). Onions and peppers soften in this sauce, adding another layer of flavor. Then—and only then, when everything else is in the pan—do you add fish filets, that sit atop the vegetables to keep them away from the full simmer of the sauce below. Cover the pan and steam just until the fillets flake—peeking is okay!—and as soon as they do, you're done.
Another handy feature of this recipe: the clams that you throw in with the fish. Fish + clams + peppers is a classic and beautiful combination, but the other handy feature here is how the clams act as natural cooking timers. Once they open and spill their liquor, it's time to start checking on the fish. That perfect, perfect fish that you can take all the credit for.