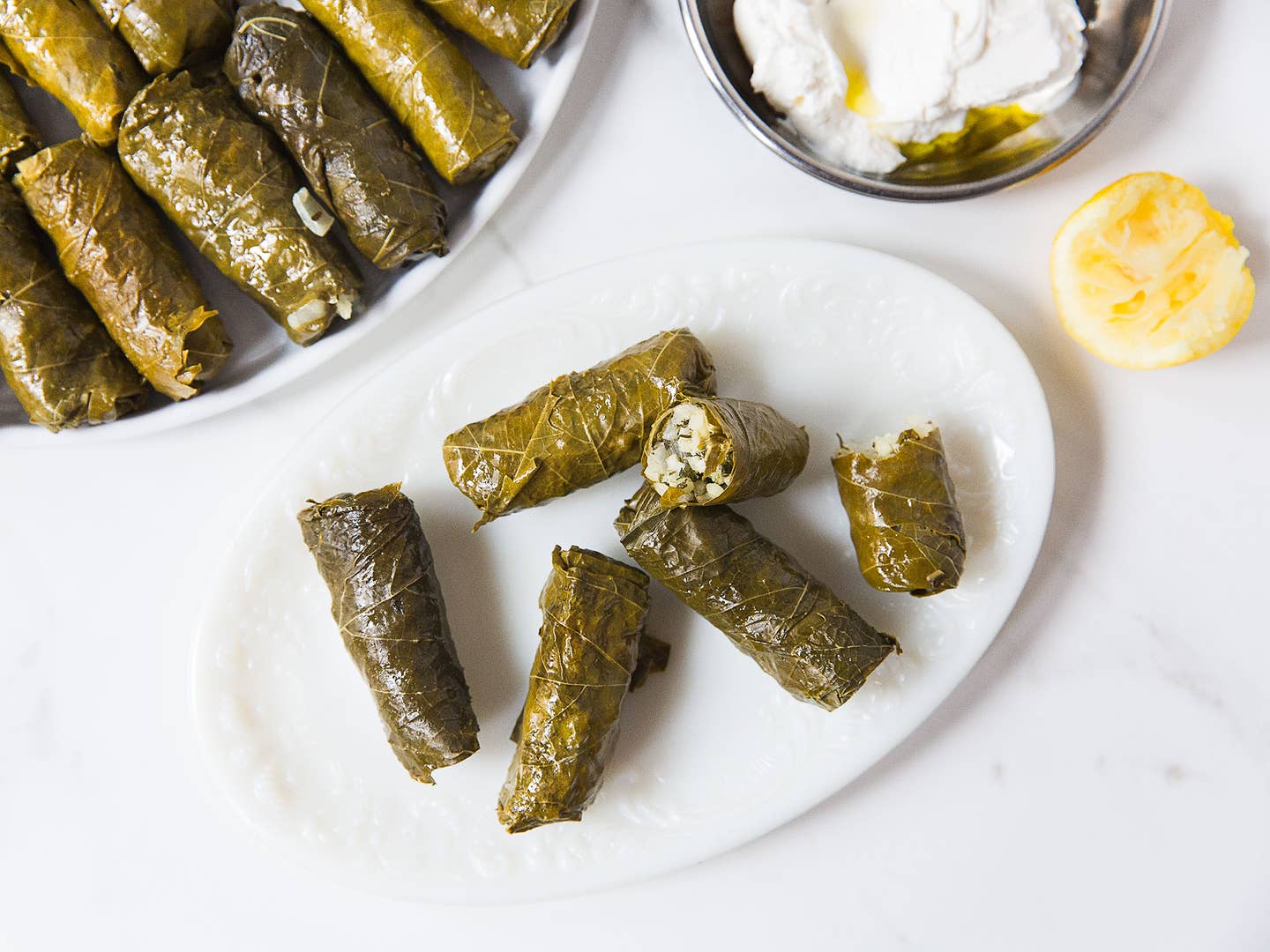 Techniques
How to Make Your Own Dolmas (Stuffed Grape Leaves) for Perfect Mezze Plates
The complete guide to big fat Greek—and Middle Eastern—cigar-shaped snacks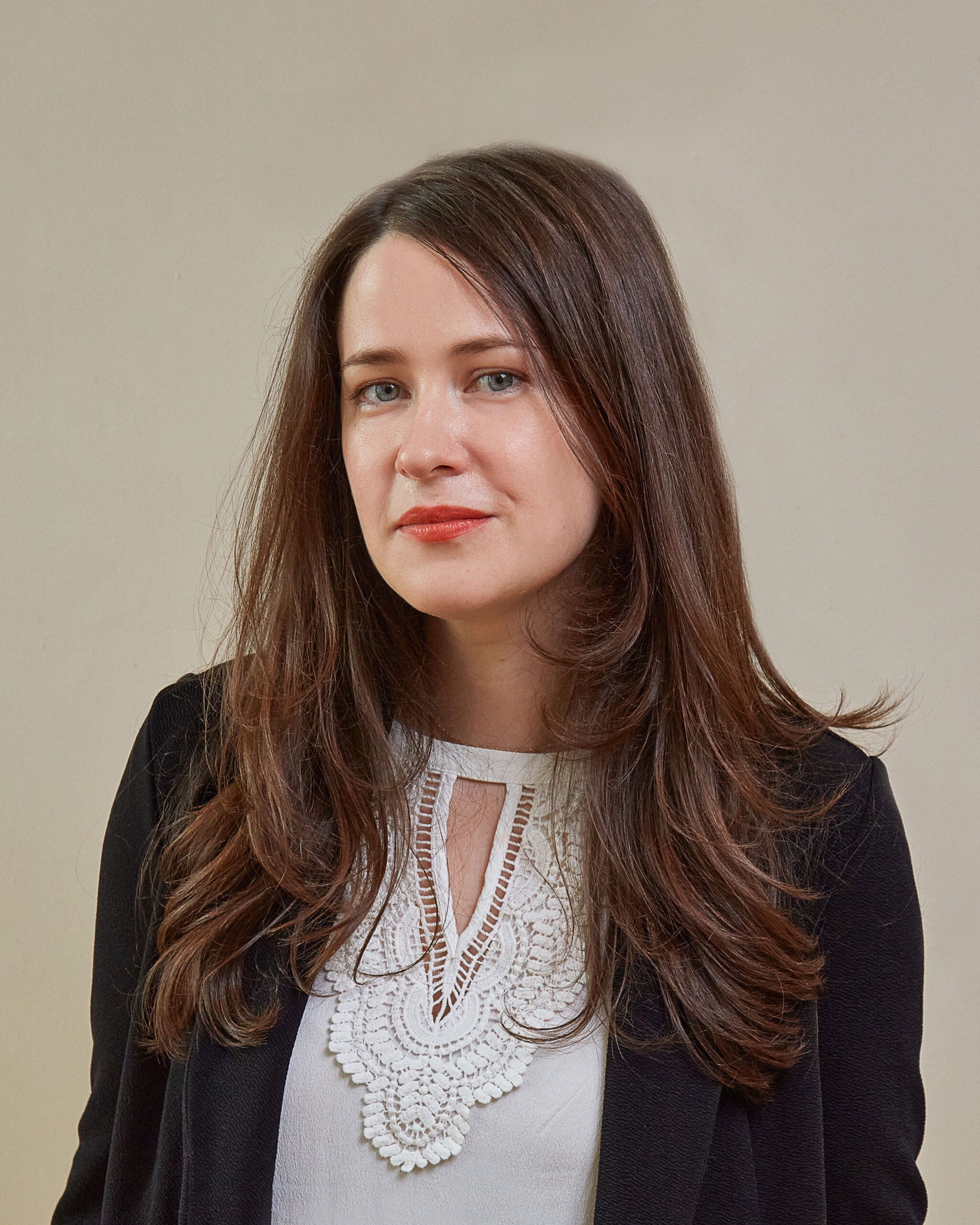 ---
Stuffed grape leaves have always been one of my white whales. While I grew up enjoying the occasional dolma from Greek, Armenian, and Syrian friends and family, and even baked for a stint at a Middle Eastern-inflected café in Cambridge, I had never made my own. They remained in the realm of soup dumplings, kouign amann, and a proper mole: regionally specific foods that I just didn't have the patience or the cred to make with any real skill or authenticity.
That had to change when my friend Genevieve Brennan gave me some fresh leaves from her family's Pennsylvania vineyard. You see, when it comes to Yankee thrift, I'm the apple of my grandpa's eye; never one to let something so perfectly good as those lovely leaves go to waste. Especially since I'd been daydreaming about harvesting the Brennans' cool fresh vine trimmings from their fledgling winery all winter long.
It was time to conquer the stuffed grape leaf.
Grape leaves are a staple of southeastern Europe, the Middle East, and beyond, with each cuisine bringing its own variations on stuffings and seasonings. So I sought out expert advice from a diverse set of sources:
Dr. Benefits, a Mediterranean food writer (and pal of our Greece correspondent Katherine Whittaker), for tips on classic Greek rice-and-herb dolmadakia.
My former bosses, Ana Sortun and Maura Kilpatrick, the creators of a crispy lamb dolma pie for their gorgeous new cookbook, Soframiz.
Finally, I dug into the Saveur archives and found a Syrian-Jewish recipe for sweet and savory stuffed grape leaves with beef, tamarind, and dried apricots.
After a few rounds of tests and some silly experimentation with a quick and efficient dolma-rolling gadget, I can proudly say I've overcome my grape leaf insecurities and added dolmas to my culinary skill set. Here are a few things I've learned to help get you there, too.
Whenever possible, use fresh grape leaves, which taste, as you might guess, more fresh and vibrant. Choose young tender, blemish-free leaves throughout the spring and early summer and store them flat, layered with paper towels, in the refrigerator until you are ready to use them.
Out of season, chef Ana Sortun uses beautiful salt-cured leaves from Sevan Bakery in Massachusetts, but sometimes the jarred version are all you can find. There is a huge variety of brands out there and they vary wildly in quality; Sortun recommends Orlando brand leaves from California. We used this brand for all of our tests and found them consistent, fairly evenly sized, with very little bitterness.
Whether using fresh leaves, salted, or jarred, you'll need to blanch them before cooking; fresh leaves need it to tenderize them, and the preserved types benefit from a quick dunk to remove some brine.
Bring a large pot of unsalted water to a rolling boil and fill a large bowl two-thirds of the way full of ice water. Plunge the leaves in the boiling water and cook for one to two minutes, drain, and immediately transfer to the ice water to stop cooking. Drain again and lightly pat them dry before using. Don't blanch until you're ready to cook with them.
Free Your Expectations About Fillings
You might have eaten a thousand rice-stuffed, olive-bar dolmadakia in your life, but don't let that ubiquity hinder your imagination when it comes to stuffing your own. Anything wrapped in a grape leaf can be a dolma, and sometimes even the grape leaf part is negotiable. Try orzo or bulgur in place of rice; use any variety of herbs and tender veggies; consider all kinds of meat to dolmafy your life.
But the classic Greek filling of rice with fresh herbs is also the simplest. Served either hot or cold, it pops with chopped dill, spring onions, and citrus. Soaking the rice for 10 minutes prior to mixing the filling will cut down on the amount of time needed to cook the dolmas, preventing the herbs and grape leaves from becoming mushy.
Meat dolmas can include beef, lamb, or a mixture of the two. One of our favorites, a recipe from Syrian Jewish cuisine, includes a fat spoonful of allspice and a sweet and sour apricot-tamarind braising liquid.
Shaping is Important...But There are Many Ways to Do It
The small cigar-shaped dolma is the most familiar, but it is also the most time consuming. Some purists insist that hand-rolled versions taste best, but if you want to cut your dolma-rolling time in half, do as many Mediterranean cooks do and pick up a handy dolma-rolling machine. I loved the efficiency of this Dolmer brand roller, in which you place a grape leaf flat, push in some filling, and then slide a mechanism like a mandoline that pops out a perfectly rolled cigar.
To shape your own dolmas by hand, lay the grape leaf, bottom-side-up, with the tip of the leaf pointing towards you, on your work surface. Use scissors to snip any remaining stem from the leaf. Shape one tablespoon of filling into a loose, two-inch log and place it on the leaf at the base of the stem. Fold the left and then right sides of the leaf over the log, then fold the top down over the filling as well. Without pulling tightly, gently roll the log down towards yourself, forming a two-and-a-half–inch cigar-shaped roll. Place the dolma, flap-down, in your cooking vessel and repeat.
When it comes time to finish cooking your grape leaves, the general method is simple: Pack rolled dolmas snugly in a heavy pot or baking dish, cover with liquid and a bit of fat, and simmer until the filling is cooked and the leaves are tender. The most basic recipes get by on lightly salted water, olive oil, and a squeeze of lemon juice, but I like to mix it up to add a few more layers of flavor.
Sweet and tangy tamarind and dried apricots brighten up rich meat dolmas, or try adding a splash of dry white wine and a strip of orange zest to vegetarian recipes. Swap out the water for stock, adjusting the salt in your filling as needed, or use butter (or even browned butter!) in place of the olive oil. Just steer clear of dairy-based cooking liquids, which tend to curdle unattractively, and instead serve the finished dolmas with dollops of Greek yogurt or labneh on the side.
As we near fresh grape leaf season, keep an eye out for vines in your area, and make friends with your green-thumbed neighbors. The plants typically produce more leaves than they need and gardeners often prune and discard the extras. As with all foraging, make sure your grape leaves haven't been sprayed with anything inedible before cooking.
Once you have your pile of leaves, invite a bunch of people over for a dolmadaka/dolmades/sarma finger-food party along with some other mezze. They are lovely at any temperature, but I enjoy them most out in the garden with a glass of cool, young wine.