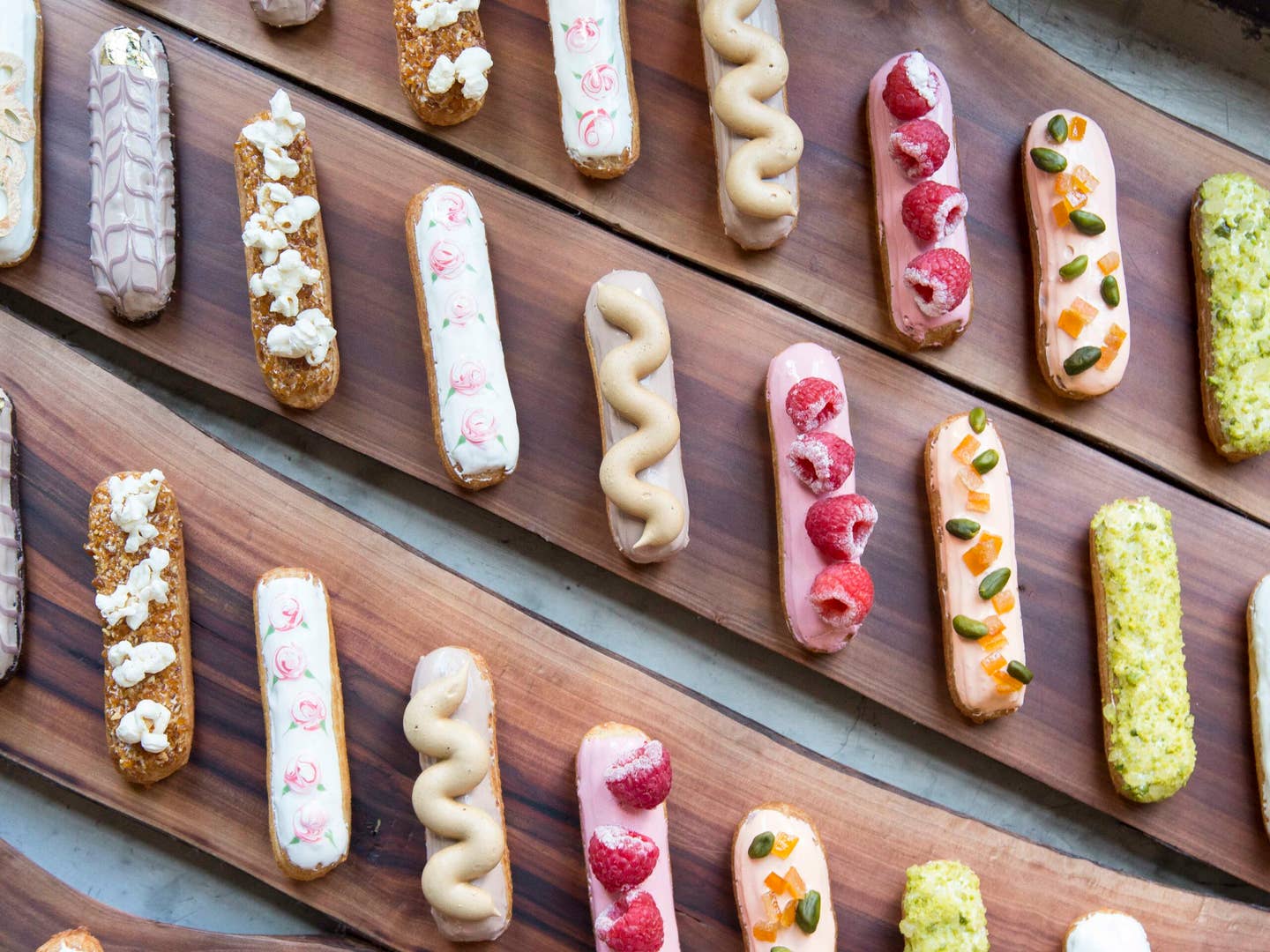 Techniques
5 Simple Tips for Better Homemade Eclairs
Park Hyatt New York pastry chef Scott Cioe shares the secrets of choux pastry
"The ingredients in pâte à choux are simple," says Scott Cioe, pastry chef at New York's Park Hyatt hotel, "but pâte à choux is very complex." He's right. Milk, water, eggs, butter, flour, sugar and salt read more like the first few ingredients on anyone's grocery list, not the foundation for one of the most quintessential and difficult pastries to make well: the éclair. It took Cioe and his team four months of "going crazy and nitpicking every aspect" of the process before they got their pâte à choux just right. But they did, and with the technique perfected, "éclairs have been a canvas for providing unexpected flavor combinations," Cioe says of the Thai tea and pumpkin and caramel and popcorn éclairs he makes exclusively for the New York location, "and they've become a focal point for our guests." Chef Cioe stopped by the test kitchen to share his tricks and techniques to making perfect pâte à choux and éclairs every time.
Use a Spoon to Incorporate the Flour
Pâte à choux starts on the stove, in a wide pot, to which almost all of the ingredients are cooked together before they bake. So milk, water, sugar, salt, and butter are brought to a boil here, and when it comes time to add the flour, Cioe recommends using a spoon instead of a whisk. "The flour will just get stuck in the tines," he says. "Then you spend half your time cleaning the whisk, and you run the risk of losing half your product down the drain or in the whisk." You'll want to cook this pâte à choux dough until a caramelized skin forms on the bottom of the pan. At that point, "The starches start to cook and it becomes a homogeneous dough," Cioe says. That's when you move it from the stove to a mixer.
In the Mixer, Use a Paddle and Mix at Slow Speed
It is crucial to control the amount of air that gets worked into pâte à choux dough. "Too much air will make the shells crack in the oven or explode and collapse," says Cioe. He explains that using a paddle and mixing at a slow speed "will keep the air in the eggs at a minimum as well as the air in the choux at a minimum." When the dough has cooled to room temperature is when you want to start adding the eggs one by one, making sure each egg is completely emulsified before adding the next. When all of the eggs are incorporated, Cioe puts the mixture on a sheet pan and covers it with Saran wrap while it continues to cool to room temperature.
Don't Refrigerate the Dough
"Pâte à choux is the perfect pipeability at room temperature," Cioe says. "So I never refrigerate it." When the choux reaches room temperature, Cioe moves it to a piping bag and pipes it onto non-stick silicone baking mats. He keeps a small bowl of water nearby, to which he dips his finger into after each éclair shell is piped, so that he can round the edges and create smooth surfaces there. Next stop? The oven.
Start Off With High Heat and Bake Twice
"Every oven is different," Cioe says with a twinge of defeat. "That's what took us four months perfecting when we were testing this recipe." The trick is to start at a very high heat. Because Cioe makes and mixes the dough slowly, very little air goes into the batter. So the initial high heat (Cioe found 480 degrees Fahrenheit to be his oven's sweet spot) provides the rapid expansion needed for the pâte à choux to expand very quickly, which creates the space for the filling. "That's the most important thing about an éclair," Cioe notes. The oven is reduced to 350 degrees Fahrenheit to start drying out the choux. The first bake takes about fifty minutes, after which they're removed and left to cool, again, to room temperature. "We bake the éclair shells a second time to get them extra firm and crispy," Cioe says.
Éclairs Should Feel Heavier Than They Look
With the shells baked off and cooled, Cioe begins to fill them from the bottom. "Éclairs should never be light," he says. "They should feel heavier than they look. I'd rather have an overfilled éclair you have to throw away than an underfilled éclair that you bite into and find a hollow center."
Practice makes perfect, and with a craft as unforgiving and precise as baking, it's important to expect a learning curve and to remember that cooking is visceral. "You have to use your eyes and all five senses," says Cioe. He doesn't have, nor can he offer, exact times for things. The kitchen is full of too many variables. "You need to be able to feel stuff and look and smell things," he adds, "and understand that it's done; not just look at your watch."