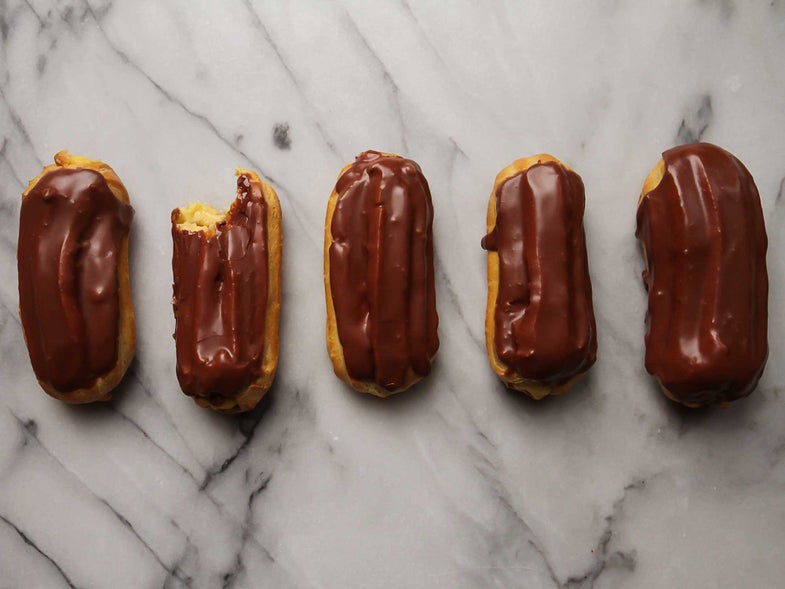 When it comes to eclairs, homemade is always better. Bakeries have to chill their filled eclairs, which makes for soggy centers and mushy crusts; you can freshly fill yours at home and eat them right away. This eclair recipe is adapted from pastry chef Scott Cioe from Park Hyatt New York.
Featured in: 5 Simple Tips for Better Homemade Eclairs
What You Will Need
Classic Eclairs
Crisp choux pastry, vanilla-scented pastry cream, and a rich chocolate icing make up these classics.
Time: 2 hours
For the Pastry
1⁄2 cup milk
8 tbsp. unsalted butter, cubed
1⁄2 tsp. kosher salt
1 cup all-purpose flour
4 eggs, at room temperature
For the Filling and Icing
1 batch pastry cream
2 cups confectioners' sugar
2 tbsp. cocoa powder
1⁄2 tsp. unsalted butter
1⁄4 tsp. vanilla extract
Instructions
Make the pastry: Heat the oven to 425°. Bring milk, butter, salt, and 1⁄2 cup water to a boil in a 4-qt. saucepan over high heat. Add flour; stir until a dough forms. Reduce the heat to medium and cook, stirring, the dough constantly with a wooden spoon, until slightly dried, about 2 minutes. Transfer the dough to a bowl and, using a hand mixer, beat in eggs, one at a time, until smooth.
Using a piping bag, pipe 4-inch lines of dough onto parchment paper-lined baking sheets. Place the tray in the oven and reduce the temperature to 375°. Bake until golden brown, about 30 minutes, and cool.
To assemble the eclairs: Make a wide incision in the side of each pastry. Place pastry cream into a piping bag and fill each pastry with cream. Spread icing over the top of each. Let sit for about 5-10 minutes, until the icing hardens, before serving.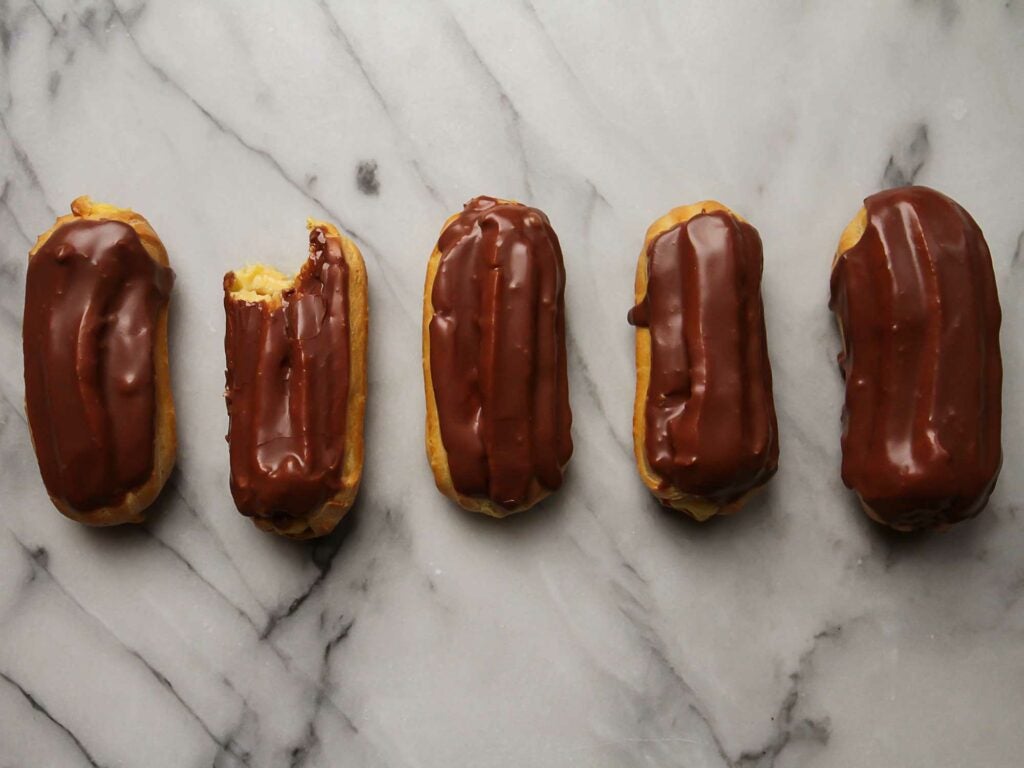 Classic Eclairs