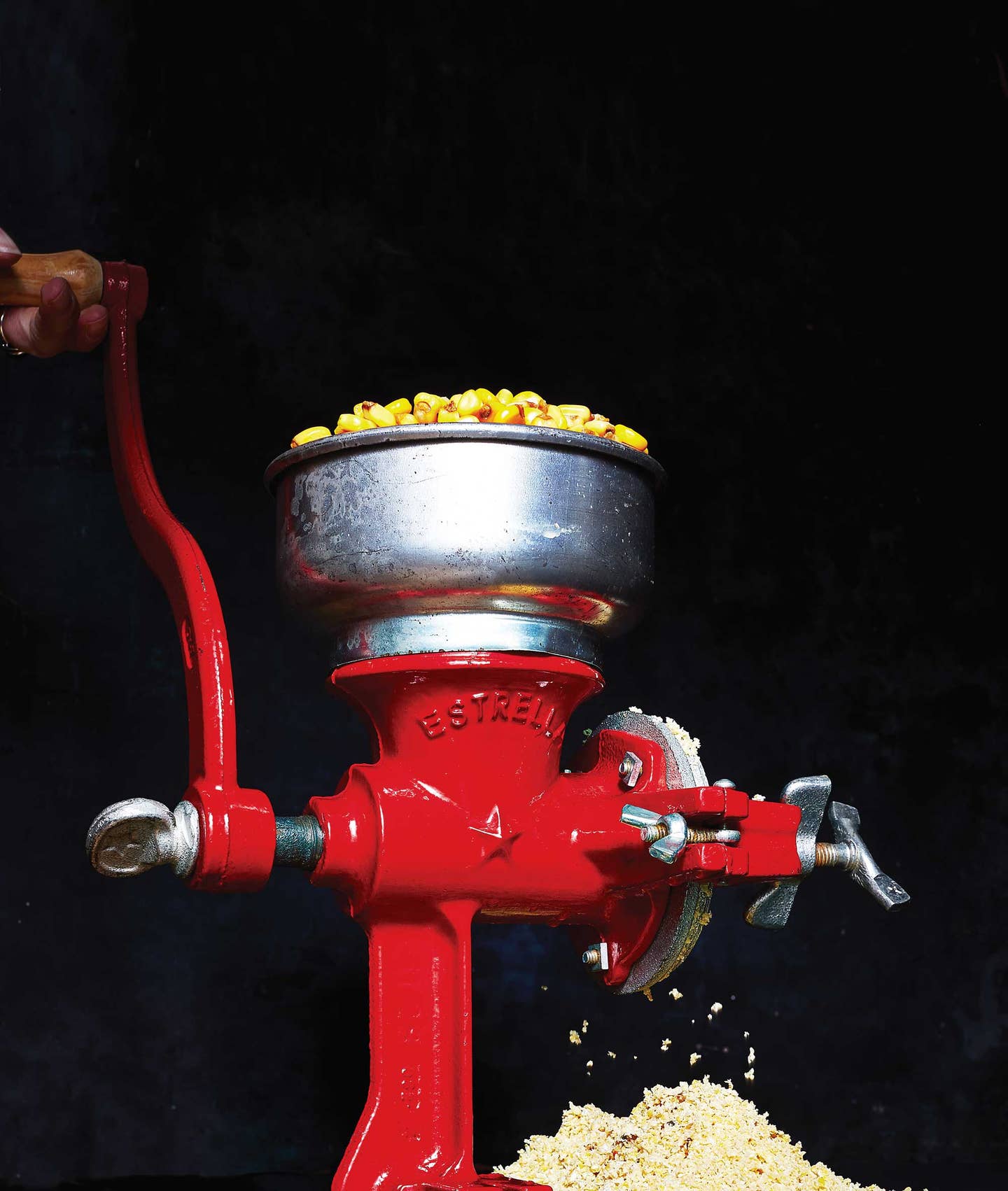 Techniques
How to Make Your Own Masa for the Best Tortillas Ever
Ditch the store bought stuff for the fresh taste of real corn, then whip up superlative tacos, tamales, and empanadas
As you crank the creaky handle of a molino de mano, the hand-operated grinder seen above, a flurry of ground corn cascades out the front and a gust of air rushes by. It's half the satisfaction of making your own masa, an essential building block in much of Mexico's cuisine. The other half? Consuming it. While you can buy instant masa mix at most supermarkets, fresh masa has an unparalleled sweetness and richness, as if you'd melted a pat of butter onto summer corn and transformed it into a dough that could be griddled, fried, or steamed.
I learned how to make it from Gonzalo Guzmán, my coauthor of the Mexican-focused Nopalito cookbook, out this April. Guzmán grew up on fresh masa in Mexico and now uses 300 pounds a day at his two Nopalito restaurants in San Francisco. His three-step, old-school process is the key to crisp empanadas, fluffy tortillas, and tender tamales.
In Veracruz, where Nopalito chef Gonzalo Guzmán spent his childhood, making masa was a communal event.
These items are traditional in Mexico, built to last, and fun to use. Invest first in a molino, an essential, and go from there.
Molino de Mano: Moler means "to grind" in Spanish. This hand-operated grinder functions a bit like a pasta machine: Clamp it onto the edge of your countertop, then feed the nixtamal through, cranking the handle to break down the kernels.
Metate: Masa will be easy enough to manipulate after being ground in a molino, but if you want to make the fluffiest tortillas, purchase a stone metate, similar to a mortar and pestle. With a heavy stone rod, the corn is dragged along a large, concave slab to form a paste.
Tortilla Press: The easiest way to make perfect taco or empanada shells is with a tortilla press. (Opt for wood or sturdy metal.) Inside the press, sandwich a masa ball between two circles cut from a plastic bag, then clamp down firmly. Peel away the plastic liner, then griddle or fry the masa disk.
Corn comes in many breeds. Each brings its own wonderful, unique character—and color—to masa.
The Fillings: We used shredded beef for these empanadas, but experiment with other hearty fillings—chopped and cooked shrimp, shredded chicken, braised pork—tossed with a complementary salsa.
The Toppings: Hot from the frying pan, empanadas are plenty delicious on their own. But you can choose to top them with sour cream, crumbled queso fresco, cilantro, thinly sliced cabbage, hot sauce, or any other Mexican garnishes.