Make Tapenade Tonight, Have Dinner All Week
Why we love this power condiment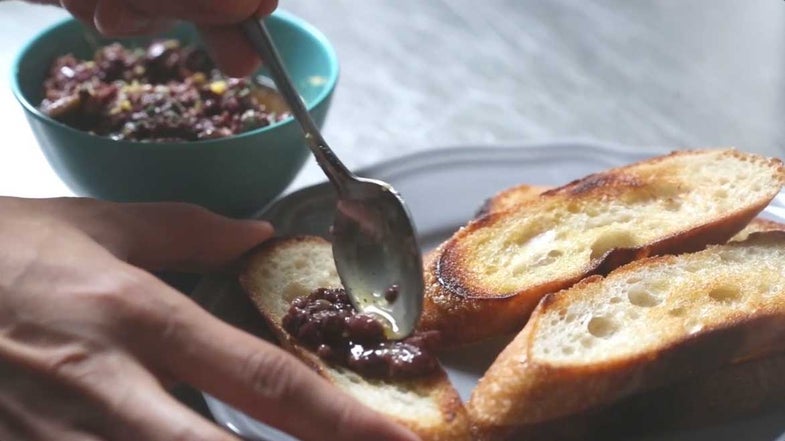 Power condiment: A simple term for a simple idea, a condiment so loaded with flavor it carries the full weight of a dish. And tapenade is pretty close to the top of the power condiment list.
Briny, loaded with olive oil, and full of the unique meatiness only olives possess, this French classic is an all-purpose meal planner. Make it tonight and you have dinner planned out for a week. Stir tapenade into pasta or soup. Sprinkle some on pizza. Rub it under chicken skin before baking. Or just slather some on toast and call it a day. It keeps for a good long time and takes no prisoners. Raw garlic, lemon juice and zest, anchovies and capers, plus those extra-oily cured Niçoise olives—everything in it is designed to add punch, and it's all just mellowed out by some olive oil to turn the whole thing into an appealingly spreadable paste. Five minutes in a blender or food processor is all it takes.
This recipe comes to us from David Tanis, who in turn picked it up from the Queen of Provençal Cooking, Lulu Peyraud. She served it to him on toast alongside grilled quail and a summery vegetable tian. We'd be fine just licking it off a spoon.