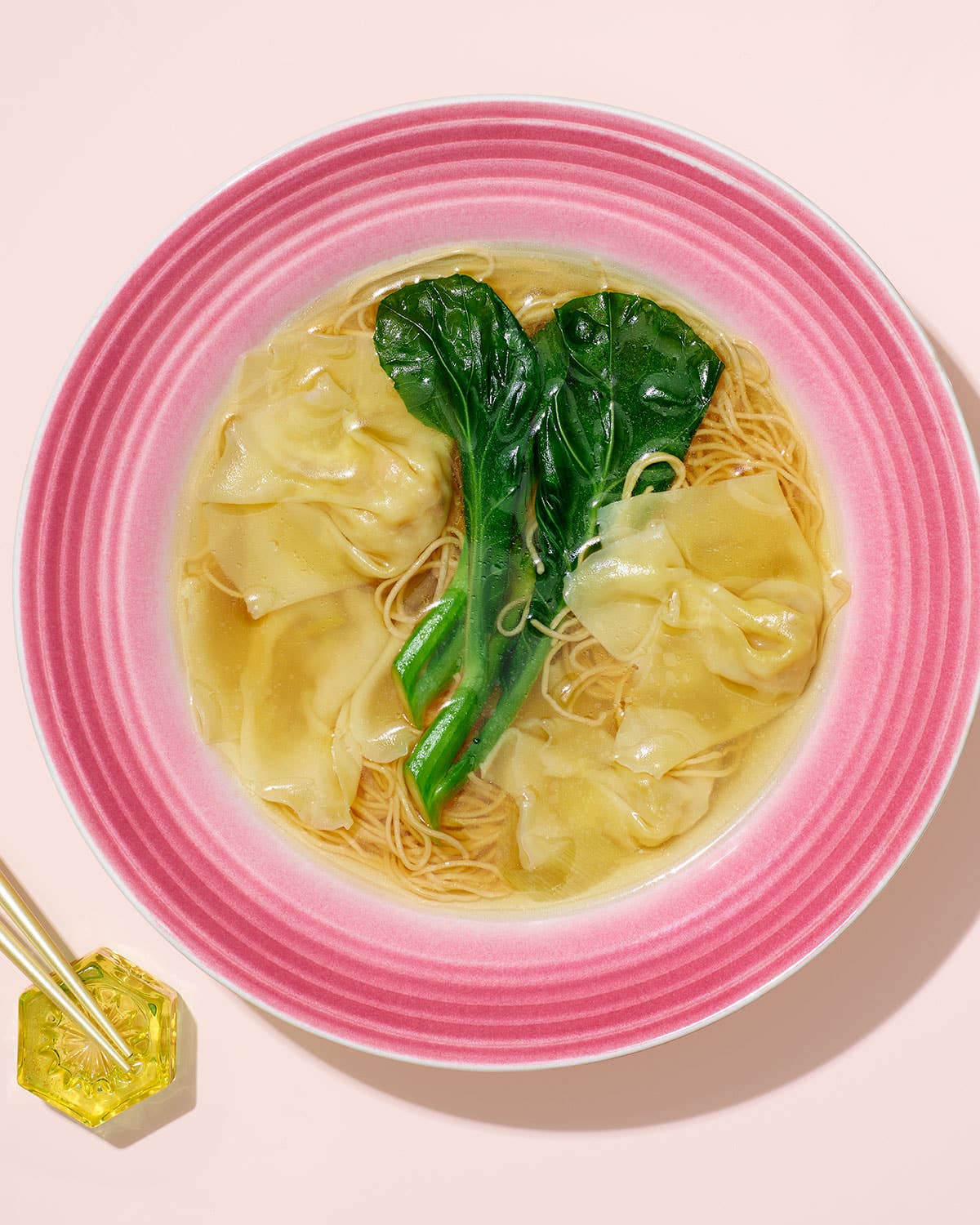 Techniques
How to Make the Ultimate Cantonese-Style Wonton Noodle Soup
It boils down to four key elements: the broth, the wontons, the noodles, and the greens
No single English word is sufficiently lyrical to represent what "wonton" means to the Cantonese. Loosely translated as "swallowing cloud," wontons are a style of jiaozi, or dumpling, but with thinner dough than the dim sum served in Chinese tea parlors and a smaller amount of filling proportionate to the wrapper. These ­ethereal parcels first appeared in the Pearl River Delta port of Guangzhou during the Tang Dynasty (618–907 AD), then followed the Cantonese diaspora, drifting east to Hong Kong. Here they landed next to egg-based jook sing noodles floating in a "supreme" broth known as shang tang.
A street vendor from Guangzhou, Mak Woon-chi, has been credited with popularizing wonton noodle soup, or wonton tong meen, but the dish first achieved star status in the former British colony. (Woon-chi's family opened Mak's Noodles in Central Hong Kong, where they have specialized in this dish since the 1960s.) A far richer and more complex preparation than the version from most Cantonese-American restaurants, this soup is now considered the hallmark of a Hong Kong chef's talent, and each noodle shop or restaurant has a house recipe.
This standard reaches its apex at Restaurant Lung King Heen, a modernist high-rise hotel dining room near the Central Ferry Piers. Here, Kowloon-born executive chef Chan Yan Tak—the first Chinese chef to receive three Michelin stars—renders his stock with whole chickens, pork shoulder, and prized Jinhua ham, which is dry-cured from a native breed of mottled pig called liangtouwu, or "two ends black."
Mostly used as a ­flavoring agent for soups and stews, the highest-quality hams from Jinhua require a year or more to cure properly and can retail for $1,200. Yan Tak buys only the finest cuts. His ham purveyor is in the neighborhood of Sheung Wan, in a narrow, second-floor storehouse cluttered with crates of hua gu, or "flower" shiitake mushrooms, edible swiftlet nests, and vacuum-sealed pork legs with hoof and hock still attached. As we walked back to the restaurant through the dried seafood market on Des Voeux Road West, the stocky chef revealed one of the soup's key xianwei, or umami seasonings: "dehydrated plaice [similar to flounder], bones removed, baked and ground to a powder," he said, examining plastic sacks of the desiccated flatfish on the sidewalk.
Because Hong Kongers obsess over seafood, shrimp wontons are an essential element of Yan Tak's version. His are distinguished by their delicacy: chopped shrimp blended with a ­dollop of fatty minced pork belly to hold the ­mixture together in egg wrappers produced at a local noodle ­factory. He explained that the fat melts and gives the ­wontons a smoother texture when boiled. Just before dinner service, his brigade simmers the broth and strains it once for clarity. Each night, only 20 fortunate guests swallow these clouds.
Hong Kong Food City author Tony Tan says: "In Hong Kong's noodle universe, wonton noodles are the ultimate comfort food. This is a dish that will elicit sighs of nostalgia, hunger, warmth, and home."
The trademarks of a good wonton broth are its ­clarity, pale color, complex flavor, and freshness—chef Yan Tak starts his over if it's more than five hours old. Strive for balance with the highest-quality ingredients: Pork shoulder adds fatty richness; Jinhua ham strengthens the broth and gives it a salty character (the closest comparisons are jamón ibérico and Appalachian country ham). Yan Tak also prefers stewing hens with their head and feet intact.
Wrappers should be thin and tender, never doughy, and just large enough to contain a ­single bite of filling. Choose fresh wonton wrappers from a reputable Asian market if possible, and buy extras to make up for any cracked ones in the ­package. (You can wrap leftover wrappers tightly in plastic and store them in the freezer for up to a month before they become dry and brittle.) Keep the unused wrappers under a damp towel to prevent them from drying out as you wrap the parcels.
There are many traditional techniques for folding ­wontons, and—much like ­Italian pastas—different shapes are better suited to specific preparations. When selecting a shape, consider the surrounding ingredients, says chef Man-Sing Lee of Hong Kong's Mott 32. "The Szechuan wonton fold, which has the look of traditional Chinese gold ingots, works well with spicy sauces, while the more casual Hong Kong or Canton style of folding is better matched with the kind of clear fish-and-chicken broth [traditional for wonton soup]."
Don't fret over the perfect package; a good seal is more important than the shape.
Step 1: Keep your fillings in a small bowl surrounded by ice to prevent the pork fat from melting while you shape the wontons.
Step 2: Holding a wrapper in the palm of your non-dominant hand, lightly brush the edges with a pastry brush dipped in egg wash.
Step 3: Use a teaspoon or chopsticks to place a tidy, one-teaspoon scoop of filling into the wrapper's center. Avoid wetting the edges with any fat, which can cause the wonton to rupture during cooking.
Step 4: Using your other hand, bring the four corners of the wonton up to meet, then use the thumb of your non-dominant hand to pinch them closed (the bundle will look flattened on one side, and one edge will be ruffled). Set on a baking sheet lightly dusted with rice flour while you form the rest.
Making Wonton Noodle Soup
Cooking chef Chan Yan Tak's soup at home requires attention to ­superb stock, bouncy noodles, fresh greens, and delicate wontons. At Lung King Heen, Yan Tak asserts that the soup is best when assembled fresh and served immediately.
Extreme soup purists seek Guangzhou-style jook sing, which are laboriously flattened by being bounced with a bamboo rod. It's a dying art, so even restaurants like Lung King Heen buy their noodles from a factory. Look for thin, soft noodles marked "alkaline" (with alkaline salt added), like Twin ­Marquis brand, in Asian markets. Cook them until al dente, and serve immediately to ­preserve their texture in the broth.
Some recipes call for a final topping of minced ­scallions or leeks, but chef Chan Yan Tak floats seasonal brassicas such as choy sum or gai lan in the broth for his personal flourish. Gai lan, also known as Chinese broccoli, has a fresher green flavor than the Western cultivar too often used as its substitute. Simmer the leaves and trimmed stems until just cooked through before adding one or two to each serving bowl.