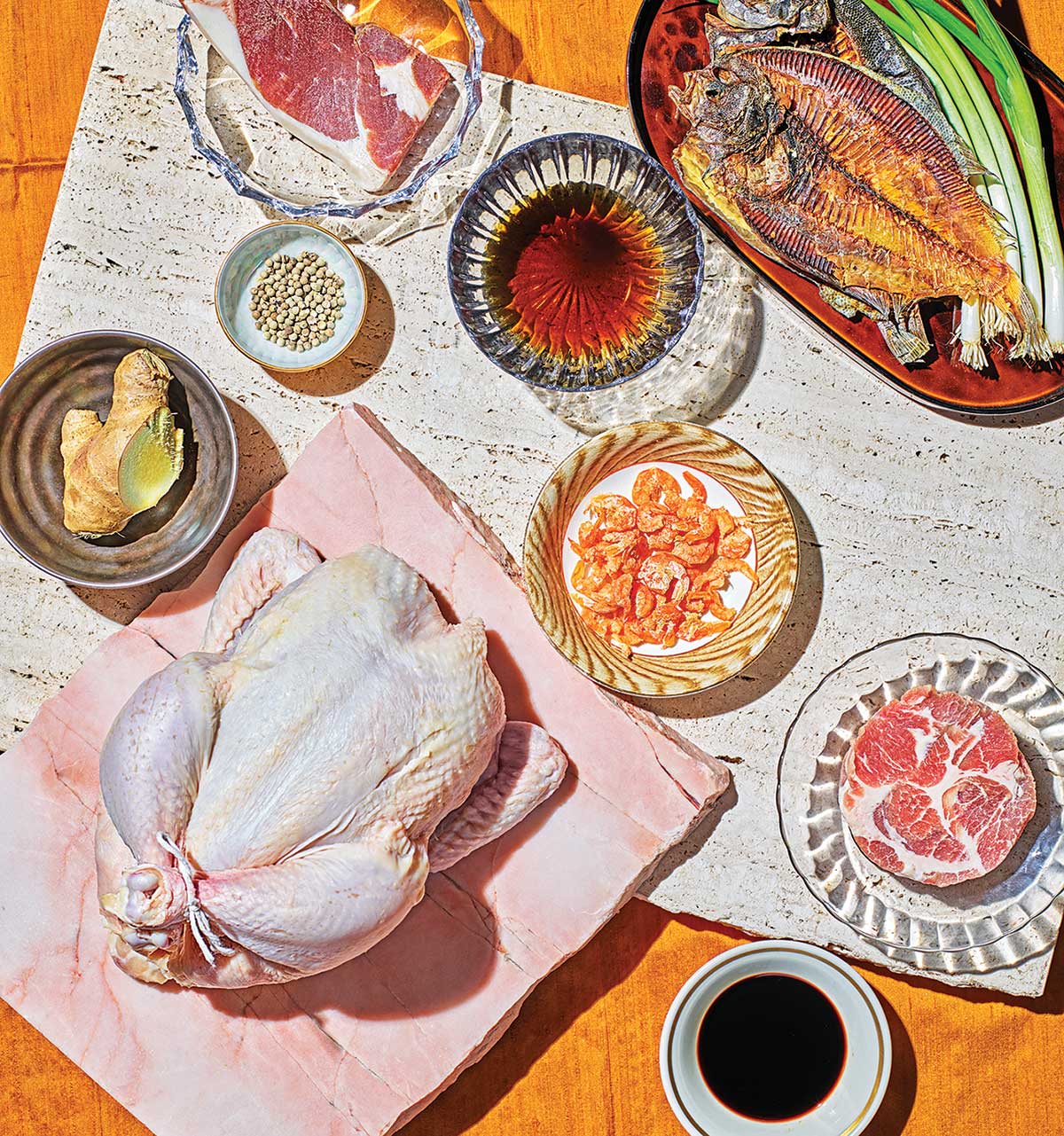 Superior (also called supreme) stock is the complex mixture that slowly simmers in the finest Hong Kong restaurants. It is enriched with multiple kinds of meat as well as dried plaice or flounder. This version was adapted with help from Tony Tan, author of Hong Kong Food City, who says, "This is the calling card of a great chef."
Featured in: How to Make the Ultimate Cantonese-Style Wonton Noodle Soup
What You Will Need
Chinese Superior Stock
Also called supreme stock, this mixture combines chicken, pork, cured ham, and dried fish for a complex, silky wonton noodle soup broth
Time: 5 hours
Ingredients
One 4-lb. whole chicken, giblets removed, rinsed
1 lb. boneless pork shoulder, cut into large chunks
3 1⁄2 oz. dry-cured ham such as Jinhua, Benton's, or jamón ibérico, cut into 1-inch cubes (1/3 cup)
One 1½-in. piece fresh ginger, unpeeled and bruised with the side of a large knife
2 medium scallions (1 oz.), ends and tops trimmed
1 tsp. whole white peppercorns
2 tbsp. rice wine vinegar
1 tbsp. dried shrimp, rinsed well and drained
2 oz. whole dried flounder or plaice
1 tbsp. Shaoxing cooking wine, or substitute sherry
1⁄2 tsp. light soy sauce
Instructions
In a stockpot, add the chicken and pork shoulder and enough cold water to cover the meat by 1 inch. Bring to a boil over high heat, then lower slightly to maintain a strong simmer for 10 minutes. Drain and reserve the meat, discarding the liquid. Rinse the meat well under plenty of cold water, then rinse out the pot and return it to the stove.
Return the chicken and pork to the pot. Add the ham, ginger, ­scallions, white peppercorns, and rice wine vinegar. Add one gallon of cold water, then bring to a boil over high heat; ­immediately lower the heat to maintain a ­gentle simmer and cook ­uncovered, skimming away any impurities that rise to the surface, for 4 hours. Add the shrimp, flounder, and wine, and simmer for 10 minutes. Turn off the heat. Let rest for 10 minutes.
Line a fine mesh sieve or ­colander with a double layer of cheesecloth, and set it atop another clean pot or large ­heat-resistant bowl. Strain the stock, reserving the liquid and leaving behind any debris that has settled into the bottom of the pot; discard the debris and ­solids. Stir in the light soy sauce. Use the stock immediately, or refrigerate in an airtight container for up to 3 days or freeze for up to 3 months.