Recipes
Crab and Irish Whiskey Bisque
Serves

serves 4

Cook

1 hour 50 minutes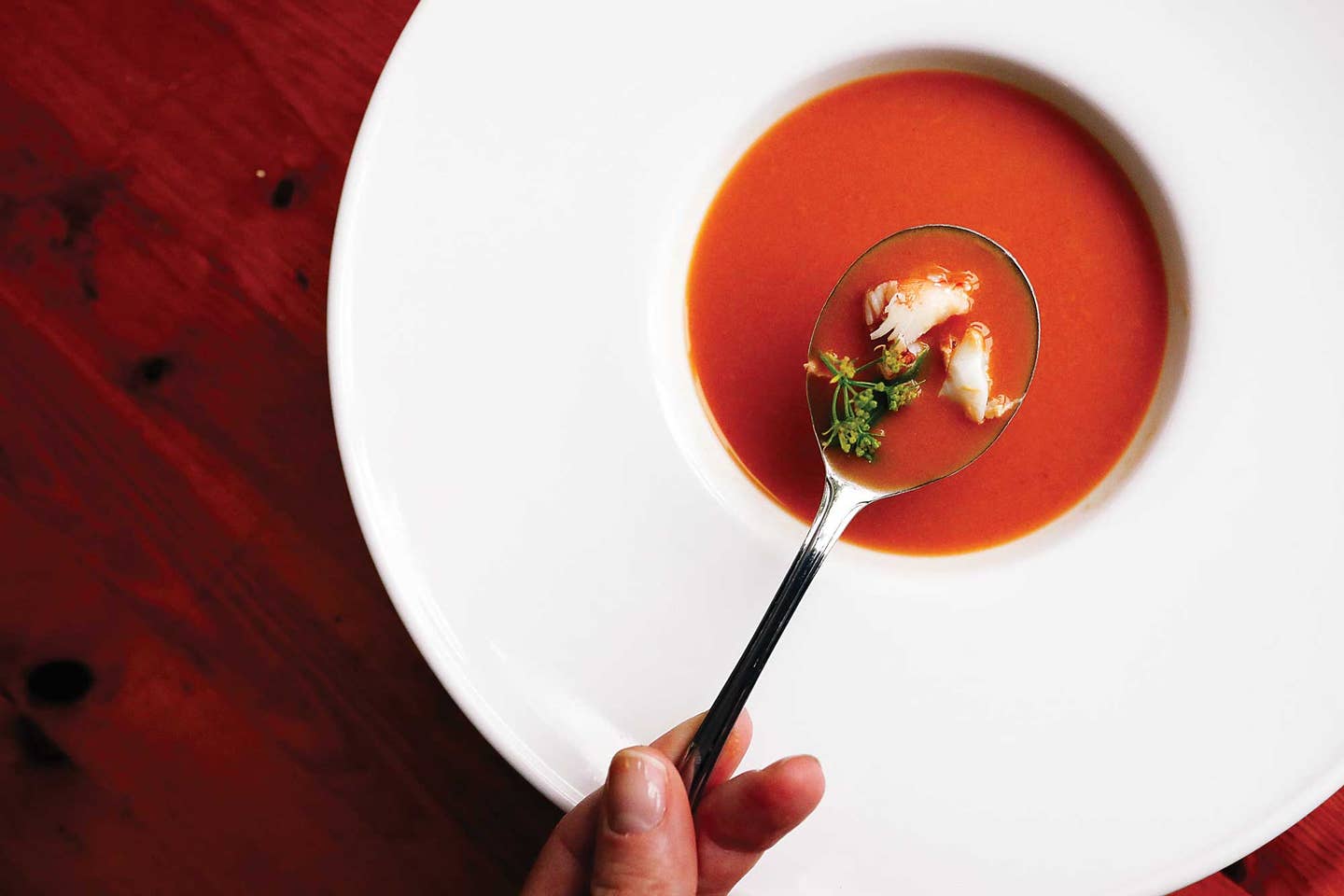 "The brown crab is one example of the great seafood we're lucky to have abundant here in Dingle," says Ireland chef Martin Bealin. He uses every part of the crustacean at Global Village, including the shells, which flavor this rich, comforting bisque. A long simmering of the shells ensures that the crab flavor is pronounced in each spoonful, but if you'd like, you can also use cooked crab meat to garnish the soup.
An eclectic community of chefs, poets, publicans, artists, and ice cream makers have turned a once sleepy seaside village into an unlikely food destination
Ingredients
1 1⁄2 lb. crab shells and legs (from 2 large crabs such as Dungeness), rinsed, large pieces broken into halves
1⁄2 cup Irish whiskey or cognac
20 oz. (2 1/2 cups) canned diced tomatoes
2 tbsp. tomato paste
1 large yellow onion, chopped (1 3/4 cups)
1 large carrot, chopped (3/4 cup)
15 black peppercorns
3 sprigs parsley
3 sprigs thyme
2 bay leaves
5 drops Tabasco sauce (optional)
Kosher salt
Toasted bread, for serving
Instructions
Step 1
In a heavy-bottomed pot over high heat, add the crab shells and whiskey. Cook until most of the liquid has evaporated, about 6 minutes. Quickly add the tomatoes, tomato paste, onion, carrot, peppercorns, parsley, thyme, bay leaves, and enough water to just cover the shells (about 8 cups); stir. Bring to a low boil and cook for 25 minutes, then reduce to a low simmer and cook for 1 hour.
Step 2
Strain the liquid and reserve; remove the crab shells, bay leaves, and thyme sprigs from the solids and discard. Transfer the remaining solids and the liquid to a blender and blend until very smooth.
Step 3
Transfer the soup back to the pot to reheat as needed. Add the Tabasco if using, and season with 1⁄2 tsp. kosher salt, or more to taste. Serve with toasted bread.