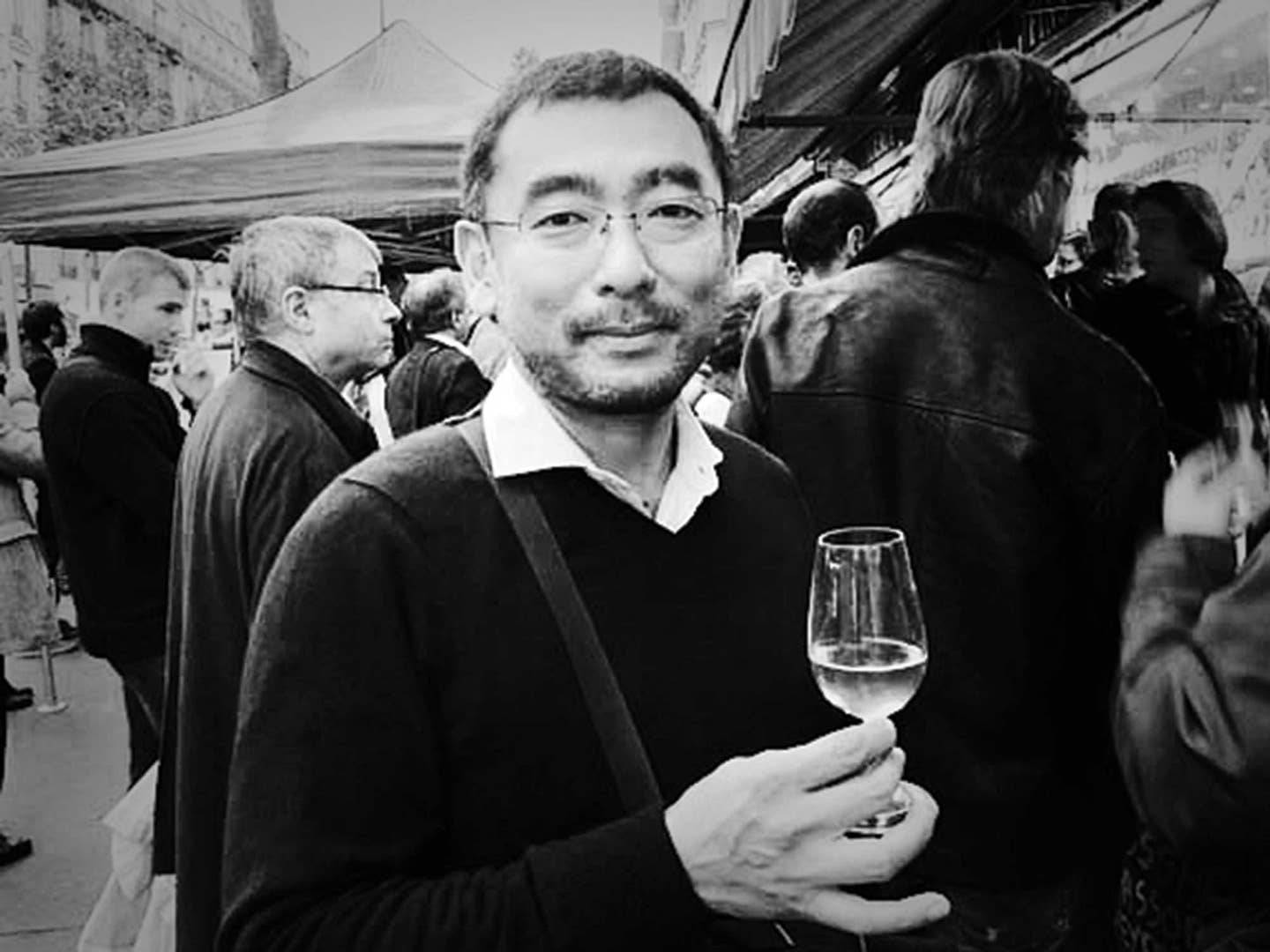 Drinks
A Japanese Wine Community Has Taken Root in the Heart of Burgundy
"Most Japanese immerse themselves in something almost until they're crazy. I think Burgundians like that."
The restaurant Bissoh can be found through a narrow door off Rue Maufoux, a cobblestoned street traversing Beaune's imposing 13th-century ramparts. At a low wood counter, Mikihiko Sawahata serves meaty unagi marinated in soy sauce, mirin and, unexpectedly, red burgundy wine. His sushi rice is another example of local adaptation, tangy with a hard-to-place lilt. Good rice vinegar is in short supply locally, explains Sawahata, Bissoh's chef and owner, so he blends it with cider and balsamic vinegars.
Sawahata, a onetime TV cameraman in Yokohama, met his wife, Sachiko, a former Japanese Airlines flight attendant—now Bissoh's sommelier and co-owner—when he was cooking in Naples and she was studying wine in Dijon. They decided to settle nearby. Before they arrived, Sawahata says, "there were no Japanese restaurants in Burgundy." But much has changed in just over a decade. Despite its conservative reputation, the region has cemented a broader global outlook. Its best winemakers now travel the world and confer knowledgeably about restaurants and wine lists in New York and Tokyo. As their wines have surpassed bordeaux as the darlings of connoisseurs, the Burgundians—and their ancient wine capital of Beaune—have found a cosmopolitan edge. Bissoh's 300-selection wine list would be impressive even at Paris's étoilés: a roster of top Burgundian names like Comtes Lafon and Frédéric Mugnier, joined by natural producers like Pierre Overnoy, Jacques Selosse, and Yvon Métras of Beaujolais (a good pairing with that robust eel).
Beaune has developed a small but growing Japanese expat community, at least 100 strong with another couple hundred living just north in Dijon—not just chefs but winemakers and negociants, all thriving. Japanese vignerons have settled elsewhere in France, of course: in the southern Jura, where Kenjiro Kagami farms the precipitous slopes for his Domaine des Miroirs, or in the Rhône town of Cornas, where Hirotake Ooka tends vines. In recent years, both have become beloved in Tokyo's thriving natural-wine scene. Still, it's Burgundy that holds a special psychic draw for the Japanese.
"The Japanese love to taste and enjoy wine, but they also study wine," says Tomoko Kuriyama, an emerging winemaker in nearby Savigny-lès-Beaune who is originally from Tokyo. "And most Japanese immerse themselves in something almost until they're crazy. I think Burgundians like that."
Kuriyama moved to the region in 2011 when she married Guillaume Bott, a winemaker at Domaine Simon Bize (whose current proprietor Chisa Bize, the widow of owner Patrick Bize, is also from Tokyo). Today they make wine together under the Chanterêves label.
At La Lune, just down the street from Bissoh, Seiichi Hirobe deftly balances French and Japanese flavors: A delicate scallop chawanmushi (or flan salé, savory flan, as the menu has it) is followed by veal sweetbreads sautéed in soy sauce, all paired with a saline Pernand-Vergelesses white from Domaine Pavelot. There's a certain synchronicity between the two traditions: the way the foresty subtleties of pinot noir—in, say, a Volnay with a few years' age—align perfectly with the piney intensity of matsutake mushrooms, or how the umami-bolstered opulence of Burgundian chardonnay echoes the richness of miso. And the two cultures share a profound respect for the nuances of taste, and a near monastic attunement to quiet shifts in the seasons.
Still it took some time for the Japanese to fall for Burgundy. Koji Nakada, who runs the small negociant winery Lou Dumont out of the old Domaine Fourrier property in Gevrey-Chambertin, recalls working at a French restaurant in Tokyo in the 1990s. "All anyone wanted was bordeaux, bordeaux, bordeaux," he says. But Bordeaux's status-obsession gave way to Burgundy's intellectualism, especially as the latter region's wines grew subtler, losing some of the aggressive oak and roasted flavors they manifested in the 1990s. A big boost came in 1998, when the ubiquitous Japanese TV host Monta Mino proclaimed the health benefits of red wine, especially burgundy. "That year was miraculous," says Nakada.
It didn't take long for the parallels between Burgundy and Japan to emerge, and soon the Japanese began arriving—new devotees of a storied region who came not for a stint, but to stay. One night at her home in Savigny, the winemaker Tomoko Kuriyama gathered several winemaker friends around the table for a dinner of marinated mackerel and burgundy, but also a pinot noir grown by friends on the slopes of Hokkaido, Japan's northernmost island. This particular marriage of cultures might not have been immediate, she says, recalling a period of adjustment, "but at the end of the day, we feel quite comfortable here. We feel at home."