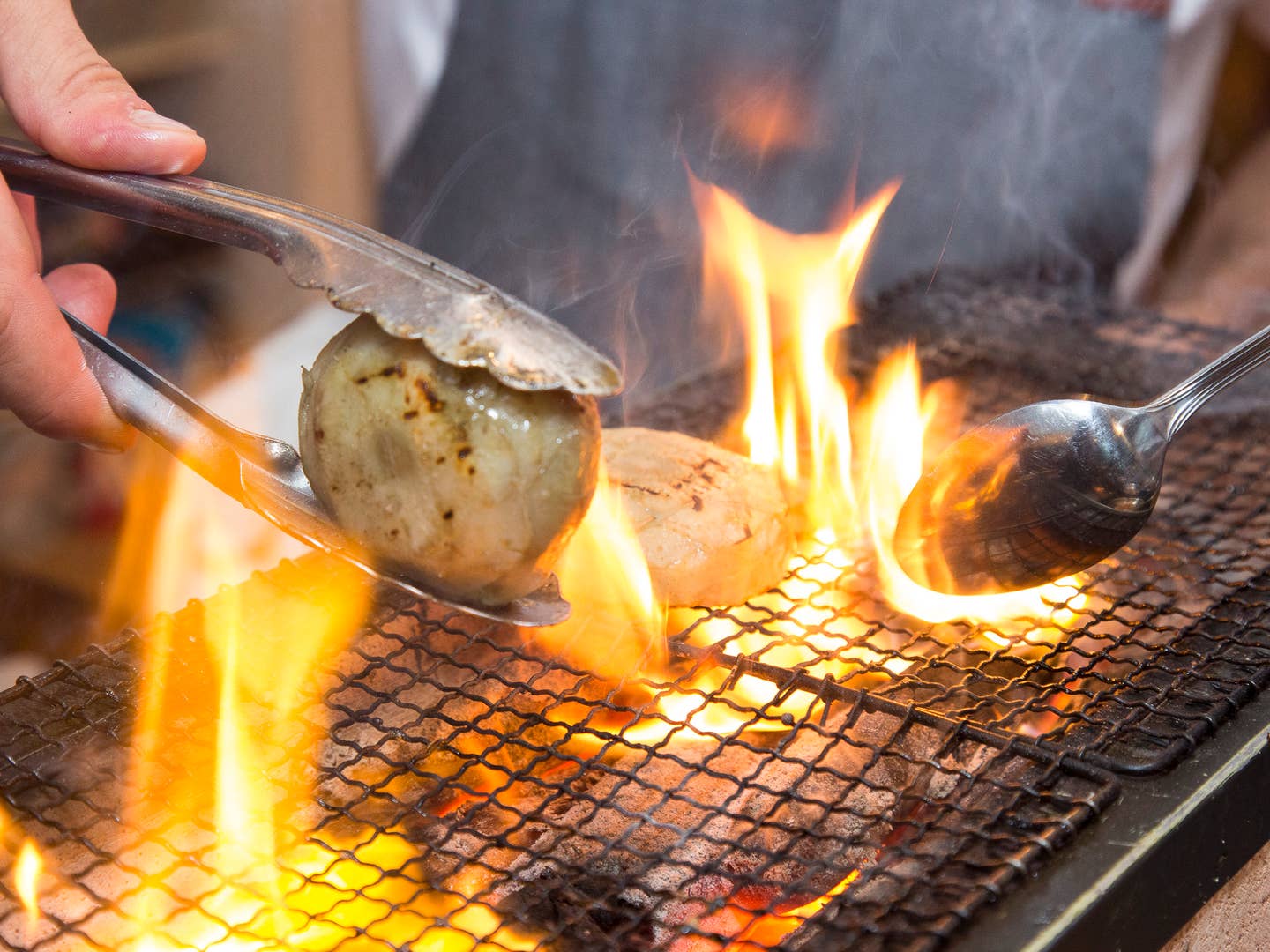 Techniques
The Wee Little Grill and Charcoal That'll Change the Way You Cook Outside
Lessons from our Saveur Supper with Curtis Stone on the perfect portable firebox
Chef Curtis Stone loves burning bits. At our Saveur Supper with the LA chef, we were treated to fragrant singed sprigs of rosemary (see also) and complex burnt pickles—and that's before smoked lamb ribs and coils of seared sausage arrived on the table, luxuriating with cool yogurt and delicately charred corn. The kiss of smoke you get with live fire, Stone argues, brings that essential something extra to meat and vegetables—nothing else will do.
He loves to burn stuff so much that Stone and his brother Luke are opening a restaurant devoted entirely to the practice of burning—oh so artfully, that is—all kinds of meat. It's called Gwen, and it's a high-concept, meaty mullet of a place: butcher shop in the front, grill party in the back. There'll be sausage darkened with woodsy leek ash in the charcuterie case and, in the kitchen, enormous grills devoted to live-fire cooking. When it opens—go.
But before Gwen there was Maude, Stone's 25-seat sliver of a tasting menu restaurant that was not blessed with quaking grills for massive meat operations. So when Stone wanted to get a taste of smoke and fire on the menu, to sear sardines or finish sous-vide steaks, he hauled out a more portable grill proportionally sized to the place: a Japanese firebox called a konro grill that's little more than five stone walls with an open top for grill grates. And it's what he hauled to the SAVEUR test kitchen to add the smoky edge he's so fond of to that sausage and lamb.
Here is where we say something that sounds hyperbolic but isn't: This wee little grill will change your summer. Because it's so small, it heats up fast and with roaring intensity, involves minimal fuss, and is even more portable than a Weber tailgate special. Just a couple feet long and less than a foot wide, it fits even in the teeniest of apartment kitchens, and is perfect for hauling on a picnic in a park or all the way across the country. (Do use it outside or make sure you have a serious ventilation solution.)
You're limited only by the surface area, which is admittedly a drawback, but because the grill is so efficient and cooks food so quickly, it's easy to rotate steaks, chops, and burgers in and out on removable grill grates. And it's perfect for skewers—the original yakitori intention of course—just lay them over the fire and turn them with vigilance.
The grill will work with any charcoal, but what really makes the konro such a powerhouse is Japanese binchotan, log-shaped charcoal made from a variety of oak that combines the best aspects of lump charcoal and briquettes. Like lump coal, it burns blazing-hot—up to 900 degrees, says Stone's co-executive chef Gareth Evans—but it also stays hot more like a briquette. You might not be cooking sausage and ribs for 25, but if you are, this charcoal is here for you.
See more scenes from our supper with Curtis Stone.