How to Stock a Keralan Pantry: Black Cardamom, Red Rice, and Lots and Lots of Coconut
The essentials for making superb South Indian cuisine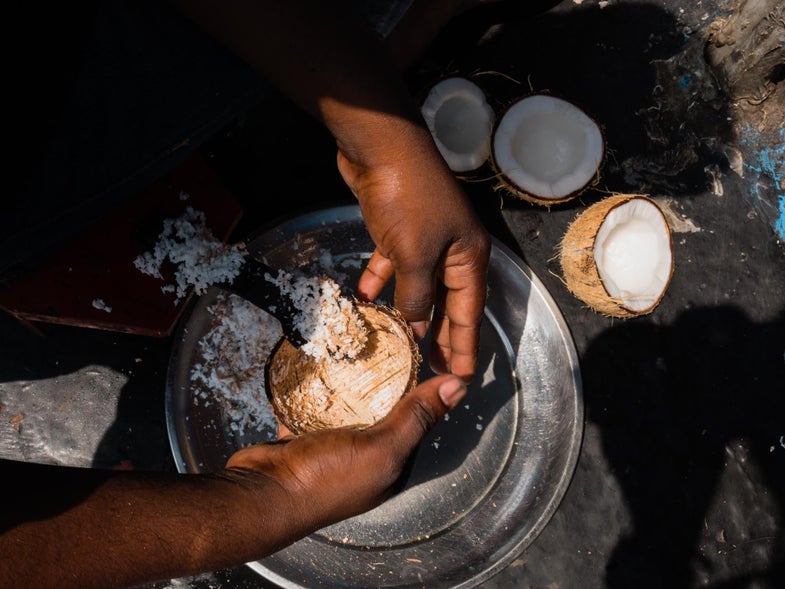 Along one of the most verdant stretches of India's spice route, Kerala is known for its excellent black pepper and cardamom plantations. Both spices along with chiles, curry leaves, and coconut, create the basic profile for the region's food. But so bountiful and verdant is this section of coast and jungle, that the cuisine varies widely from simple Ayurvedic porridges to elaborate banana leaf spreads of pickles, masalas, flatbreads, and curries. Here's a guide to get you started cooking your way to Kerala. Make sure to stock up on these essential cooking tools as well.
Resembling giant raisins, these pods are entirely different from the more common green cardamom. They're smoky and earthy—a flavor lent by drying by fire—and best used in dry rubs for meat or mixed into marinades with chile powder or peppers.
Black Pepper: Cultivated all along the Malabar Coast, black pepper from this region has been prized and traded around the world for centuries. Tellicherry pepper is named for a small growing region within Malabar and should be labeled by estate. Malabar pepper is a blend of black peppercorns from around the entire region. Both can be used for everyday seasoning.
Fresh, aromatic, and soapy (in a good way), cardamom is grown in the forests in the central part of Kerala. It's ubiquitous in Keralan cooking—infused in rice, soaked in coconut milk, and made into tea. Perfume rice dishes, infuse sugar, or steep coffee with this complex spice.
Cinnamon of the Ceylon variety is from South India and Sri Lanka. Its "quills" (pieces of inner bark) are so fine they can be crumbled and integrated as a finishing spice while thicker pieces can be grated fresh.
In Malayalam, the local language of Kerala, "kera" means coconut. The region has always been prime for coconut cultivation, though today, much of the production has moved east to Tamil Nadu. Still, the ingredient is used in every day cooking here. From curries to thin, crepe-like breakfast pancakes, shaved coconut is a building block in the South Indian kitchen. Most people own small stools outfitted with a curved metal hook at one end, over which coconut halves are grated. Likewise, coconut oil is the most common cooking fat in this region, well matched to the region's spice and vegetarian diet.
Piquant and peppy, these small ovular leaves are fried in oil and used as a base flavoring for fish, rice, and lentils. When fresh, they're bright green and highly fragrant. Try to find them freeze-dried for fresher flavor.
There are countless variations on garam masala, depending on the region from which it hails. In Kerala it almost always has green cardamom, star anise, black pepper, and cloves. The spice mix is ground and used to flavor masalas, biryani, and curries, and can be sprinkled over any dish as a finishing spice.
Fresh, zingy ginger is often pummeled together with garlic to make a paste that forms the base flavor for many fish and curry dishes. All over the region, dried ginger can be found in chukku kappi (ginger coffee), which is thought to aid digestion.
Raw, unrefined sugar from coconut palms, jaggery is Kerala's primary sweetener. It comes in lumps in varying shades—dark and molassesy to light and toasty—and can be shaved over porridge or folded into pastries in place of dark brown sugar.
Called "green gram" in Kerala, mung bean flour is used as binder in pastries, like mandaputtu, cheru payaru (spiced green chile curry), and savory pancakes.
Not to be confused with Thai red rice, matta is grown in Kerala. The rosy color is lent by a layer beneath the rice's husk, which is maintained rather than polished or stripped away. Its flavor is slightly more earthy and requires nearly double the cook time that regular rice does.
Super fine and powdery white, rice flour is ideal for making pastries or kalakki chutta appam, soft, silky pancakes.