Recipes
Lamb Ribs with Spicy Harissa Barbecue Sauce
Step aside, baby backs.
Serves

serves 4

Cook

2 hours 10 minutes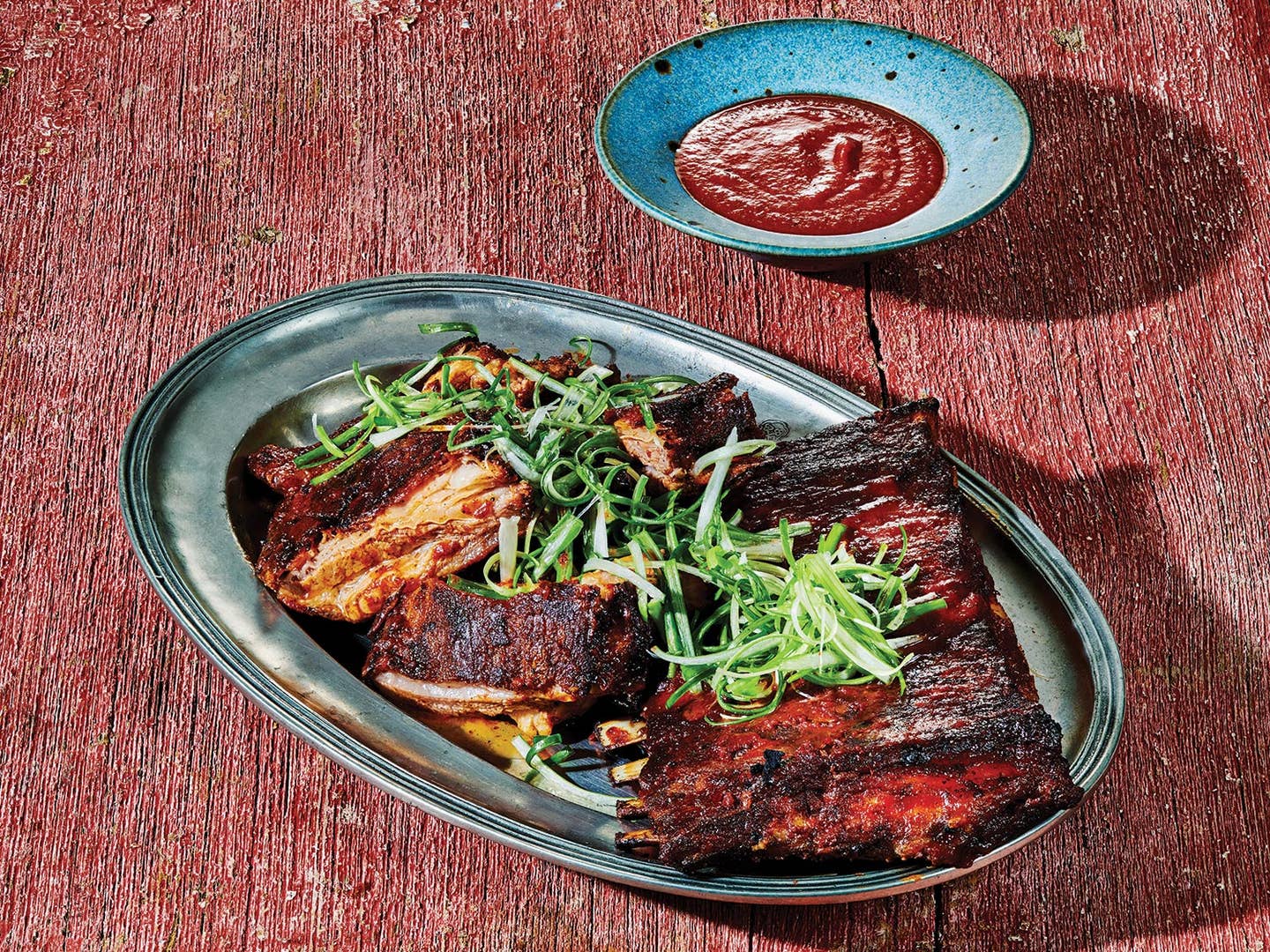 Perfect for parties, these ribs pre-roast in the oven, then crisp up under the broiler. Ask your butcher for a Denver cut, the lamb rib equivalent of St. Louis–style pork spare ribs, which is a fatty portion from the belly side. The ever-dependable harissa—a North African garlicky chile paste—adorns this dish as a spicy, tangy, layered barbecue sauce.
Ingredients
For the ribs:
1 tbsp. ground coriander
1 tbsp. ground cumin
1 tbsp. smoked hot paprika
1½ tsp. kosher salt
1 tsp. freshly ground black pepper
1 tsp. ground cinnamon
½ tsp. ground cardamom
¼ tsp. ground cloves
2 racks of lamb ribs (3¼ lb. total), cut Denver-style
For the harissa barbecue sauce:
½ cups ketchup
2-3 tbsp. harissa paste
2 tbsp. honey
2 tsp. Dijon mustard
2 tbsp. sherry vinegar
2 tsp. Worcestershire sauce
Thinly sliced scallions or cilantro leaves, for serving
Instructions
Step 1
Preheat the oven to 325°F and set a rack in the center.
Step 2
To a large bowl, add the coriander, cumin, paprika, salt, pepper, cinnamon, cardamom, and cloves, and stir to combine. Add the ribs, and rub the seasoning evenly over them.
Step 3
Wrap each rack tightly in foil, and place on a large, rimmed baking sheet. Roast until the meat is tender when poked with a knife, about 1½ hours.
Step 4
Meanwhile, make the sauce: To a medium bowl, add the ketchup, harissa, honey, mustard, vinegar, and Worcestershire sauce. Whisk to combine, then set aside.
Step 5
Unwrap the ribs, discarding the foil and any rendered fat. Preheat the broiler, line the baking sheet with a fresh sheet of foil, and place a wire rack on top. Set the ribs on the rack and broil, watching closely for burning, until browned and crispy, 5–10 minutes.
Step 6
Remove the baking sheet, brush the ribs with a thin layer of the prepared sauce, then continue broiling until the tops are glazed and sticky, 1–3 minutes more.
Step 7
Remove the racks from the oven, let cool slightly, then slice into individual ribs. Transfer to a platter, top with scallions or cilantro, and serve hot, with extra sauce for dipping.