Recipes
Mascarpone Ice Cream With Apricots, Raspberries, and Honey Granola
Serves

serves 4

Cook

9 hours 30 minutes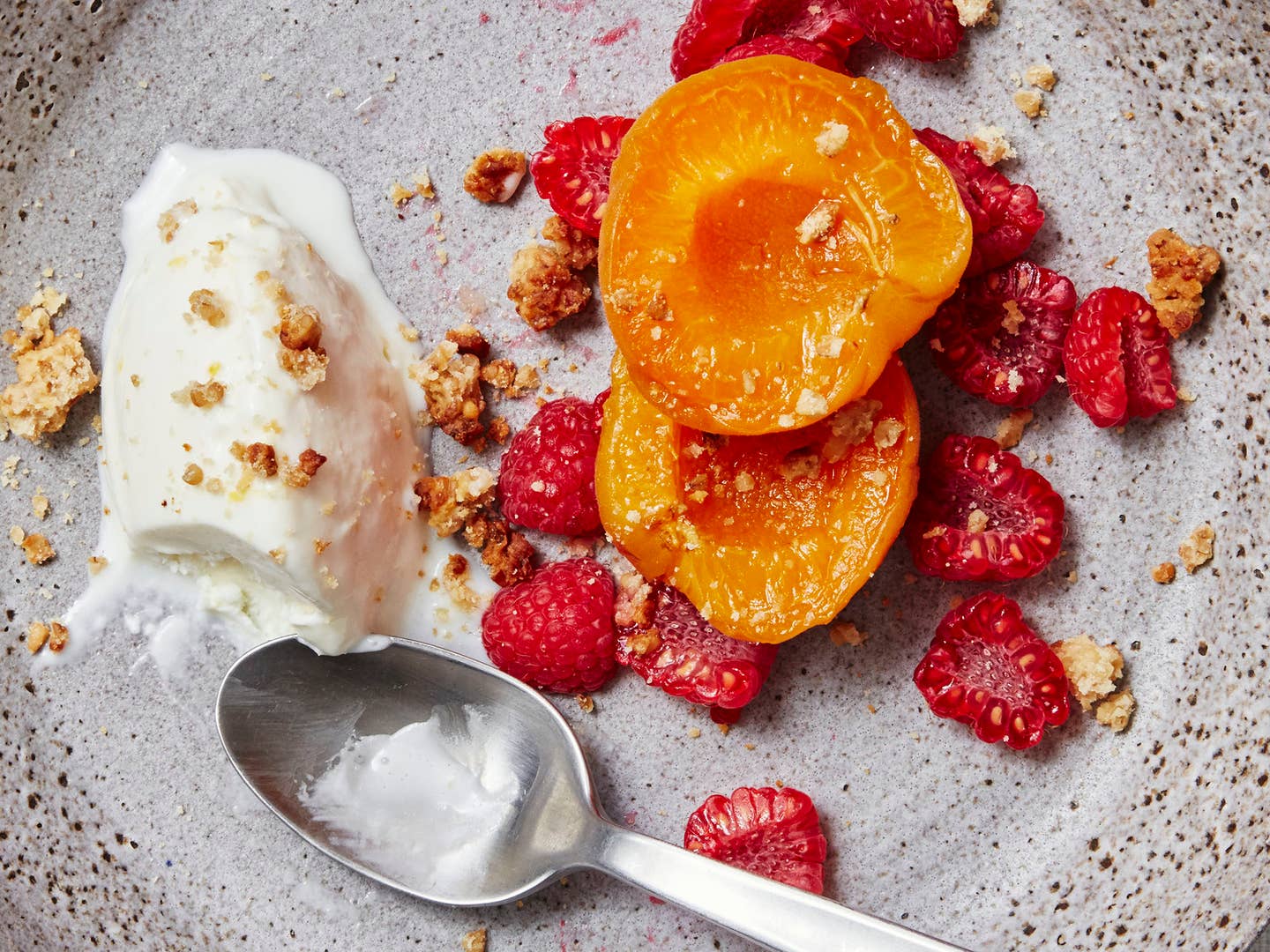 This simple but delicious dessert, served at L'Enclume, features ice cream made with a fresh mascarpone cheese that is lightly sweetened and set without eggs, which makes for a lighter texture. Syrup-soaked apricots and fresh raspberries add some sweetness.
Ingredients
1 1⁄2 cups whole milk
2 1⁄4 cups sugar
1 1⁄2 tsp. unflavored powdered gelatin
1 cup mascarpone
Finely grated zest of 1 lemon
1⁄3 cup rolled oats
2 tbsp. all-purpose flour
1⁄4 tsp. kosher salt
1 tbsp. unsalted butter, softened
2 tsp. honey
4 apricots, halved and pitted
1 cup raspberries, halved lengthwise
Instructions
Step 1
In a small saucepan, whisk the milk with 1⁄4 cup sugar and the gelatin and let stand for 5 minutes. Warm the milk over medium heat, whisking, until the sugar and gelatin dissolve. Remove the pan from the heat and whisk in the mascarpone and lemon zest until smooth. Pour the ice cream base into a bowl and let cool to room temperature. Pour the base into an ice cream maker and process according to the manufacturer's instructions. Scrape the ice cream into a container and freeze until set, at least 4 hours.
Step 2
Heat the oven to 350°. In a small food processor, pulse the oats until finely chopped. Transfer to a bowl along with the flour and salt, then add the butter and honey and rub the mixture with your fingers until it forms crumbles. Spread the crumbles on a parchment paper-lined baking sheet and bake until golden brown, about 25 minutes. Transfer the baking sheet to a rack, let the granola cool completely, and crush into small crumbles.
Step 3
In a small saucepan, combine the remaining 2 cups sugar with 1 cup water and bring to a boil, stirring to dissolve the sugar. Pour the syrup into a medium bowl, submerge the apricots in the syrup, and let the syrup cool completely. Chill the apricots in the syrup for at least 4 hours or overnight.
Step 4
To serve, divide the raspberries among 4 chilled serving plates or bowls and arrange two apricot halves in the center of each (discard the syrup or save for another use). Place a scoop of the mascarpone ice cream next to the fruit and sprinkle with some of the granola crumbles before serving.