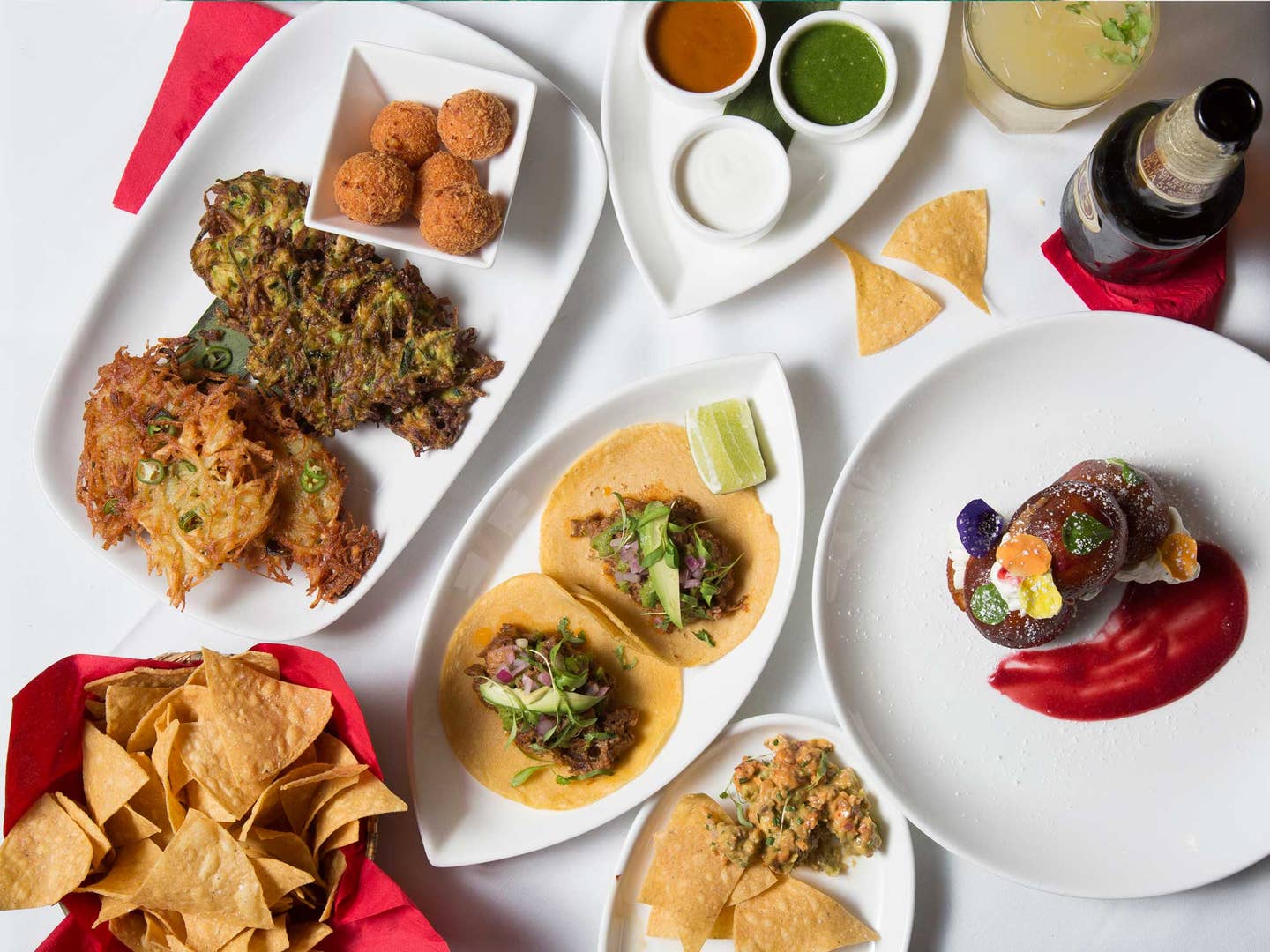 Recipes
Give Your Hanukkah Spread a Mexican Spin
Cook like chef Julian Medina and make brisket tacos and whitefish guacamole
Classics from the Jewish canon—smoked fish, brisket, latkes—aren't just good eating. They're also canvases eager to take on other colors and flavors. After all, Hanukkah cooking is pretty straightforward. Meanwhile, Jewish cooking is all about taking on influences from other cultures. Which is why chef Julian Medina of Toloache in New York gives his Hanukkah spread a Mexican spin.
The intersection of these two cuisines is greater than you may think: Jews have been living—and cooking—in Mexico for five hundred years, picking up flavors from local ingredients along the way. Medina, a Catholic-raised, Mexican-born chef of seven restaurants in New York, converted to Judaism and married a Jewish woman in 2004. But his fusion of Jewish and Mexican food started years before that, at Zocalo on the Upper East Side.
"I started playing with brisket for the holidays," Medina says. "In Mexico, we use suadero, which is similar to brisket, and you cook it a similar way." Medina braises his brisket in Mexican beer and adds chipotle, but little more than the addition of tomatillo salsa is needed to turn a Jewish classic into a Mexican staple. From there, Medina realized he could work the flavors of Mexico's pantry into other parts of the Hanukkah spread, and, soon after, a full menu was born. It's since become an annual tradition at his Toloache and Yerba Buena restaurants.
"Hanukkah is all about fried food," Medina says. "It's not a holiday without it." These are classic latkes, left to their simple nature, but spiced up with a simple modification.
Medina uses requeson (Mexican ricotta) and a variety of other Mexican cheeses to make these craveable croquettes. The commonplace idea of fried foods at Hanukkah sings loud and clear here, but Medina serves these with a sweet and smoky chipotle-honey salsa to counter the cheesy richness within.
In developing his Mexican Hanukkah menu over the years, Medina has found simplicity is what people want on Hanukkah, so he keeps his zucchini latkes basic and subs potatoes for zucchini. "The sauces are where I really add the Mexican flavors," he says of the horseradish crema, chipotle-honey, and apple tomatillo salsa that get served on the side.
"Smoked whitefish is perfect with avocado," Medina says, "so I thought, 'Why not just make guacamole?'" The dish borrows from one similar in the Yucatan, which Medina was there eating when he got the idea. Chipotle adds additional smokiness and a touch of heat.
"The first night you're with your relatives, your mother or grandmother's house for brisket," Medina says. "But the following nights you're tired of it." That's where Medina's brisket tacos come in. "People love these tacos," Medina says. So much so they've made it onto the menu year-round.