Recipes
Mussels with Coconut Sweet Chili Broth
Serves

serves 4-6

Cook

15 minutes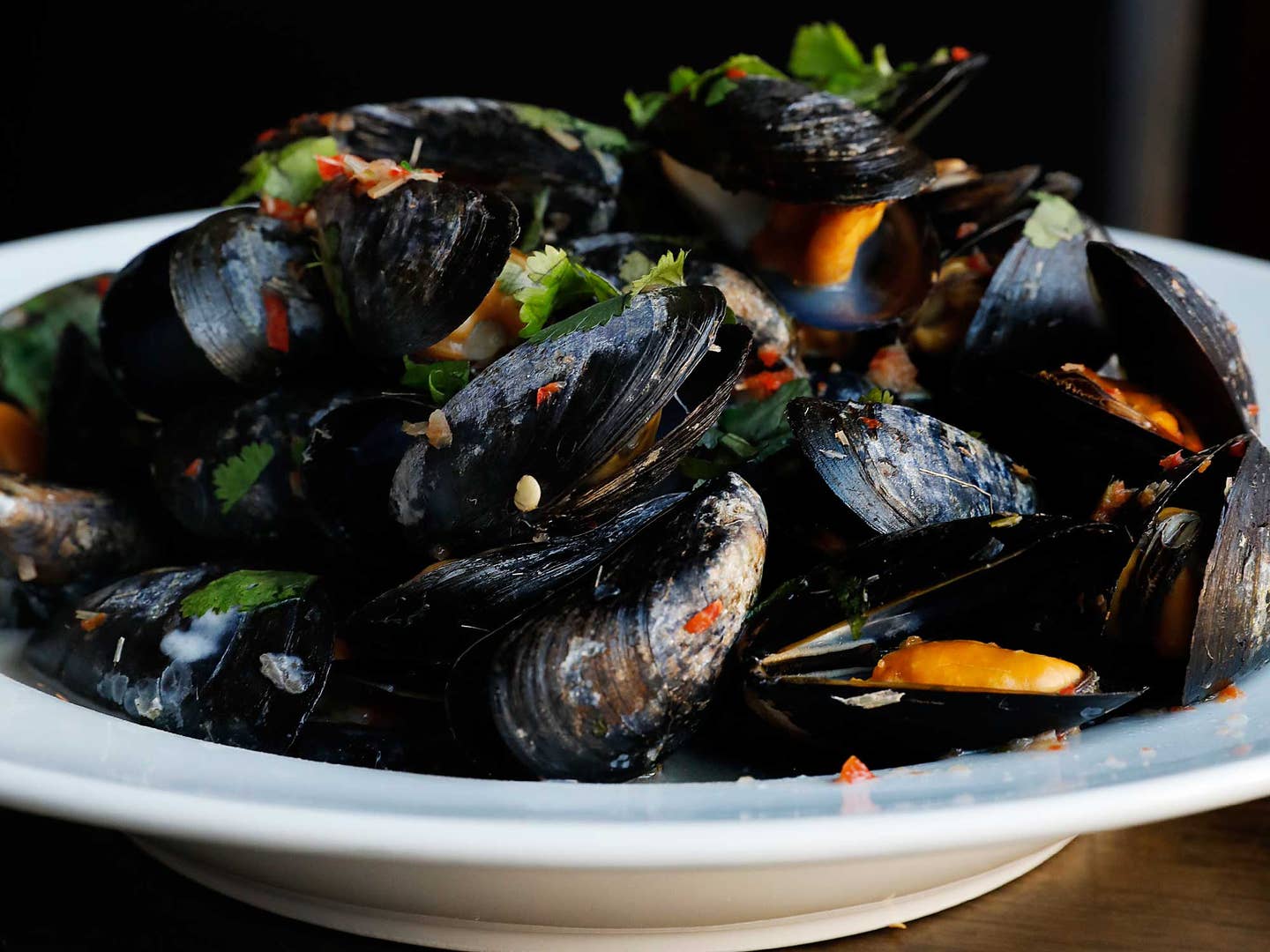 Sinéad Roche and Thomas Ashe of Ashe's Bar and Restaurant have incorporated flavors from their culinary travels through Thailand into this dish, marrying Southeast Asian ingredients with local Glenbeigh mussels, foraged from the rocky coast along Dingle Bay. At Ashe's, they serve the mussels with homemade bread or twice-fried chunky potato chips for sopping up the gently spicy coconut broth.
An eclectic community of chefs, poets, publicans, artists, and ice cream makers have turned a once sleepy seaside village into an unlikely food destination
Ingredients
For the chile paste
1 tbsp. brown sugar
1 tbsp. cilantro
1 tbsp. chopped garlic
1 tbsp. chopped shallot
1 tbsp. freshly ground black pepper
1 tbsp. kosher salt
1 tbsp. pickled ginger
1 tbsp. Thai sweet chili sauce
5 mild to medium-heat red chiles, halved and seeded
1 stalk lemongrass, cut into 1-inch pieces
Finely grated zest of 2 limes
For the mussels
4 lb. mussels, scrubbed
1 1⁄4 cups coconut milk
1⁄4 cup cilantro, chopped, for garnish
Bread, for serving
Instructions
Step 1
Make the chile paste: In a food processor, combine the sugar, cilantro, garlic, shallot, pepper, salt, pickled ginger, chili sauce, chiles, lemongrass, and lime zest; process until a paste forms, 1-2 minutes. (Paste can be made ahead and stored in a covered container up to 1 week.)
Step 2
Prepare the mussels: In a large Dutch oven or pot over medium-high heat, whisk 1 1⁄2 cups water with 4-5 tablespoons of the prepared paste; bring the liquid to a boil, then add the mussels. Cover the pot and cook until the mussels have opened, about 4 minutes (discard any mussels that do not open).
Step 3
Remove from heat and stir in the coconut milk. Garnish with the chopped cilantro and serve immediately with bread for dipping.