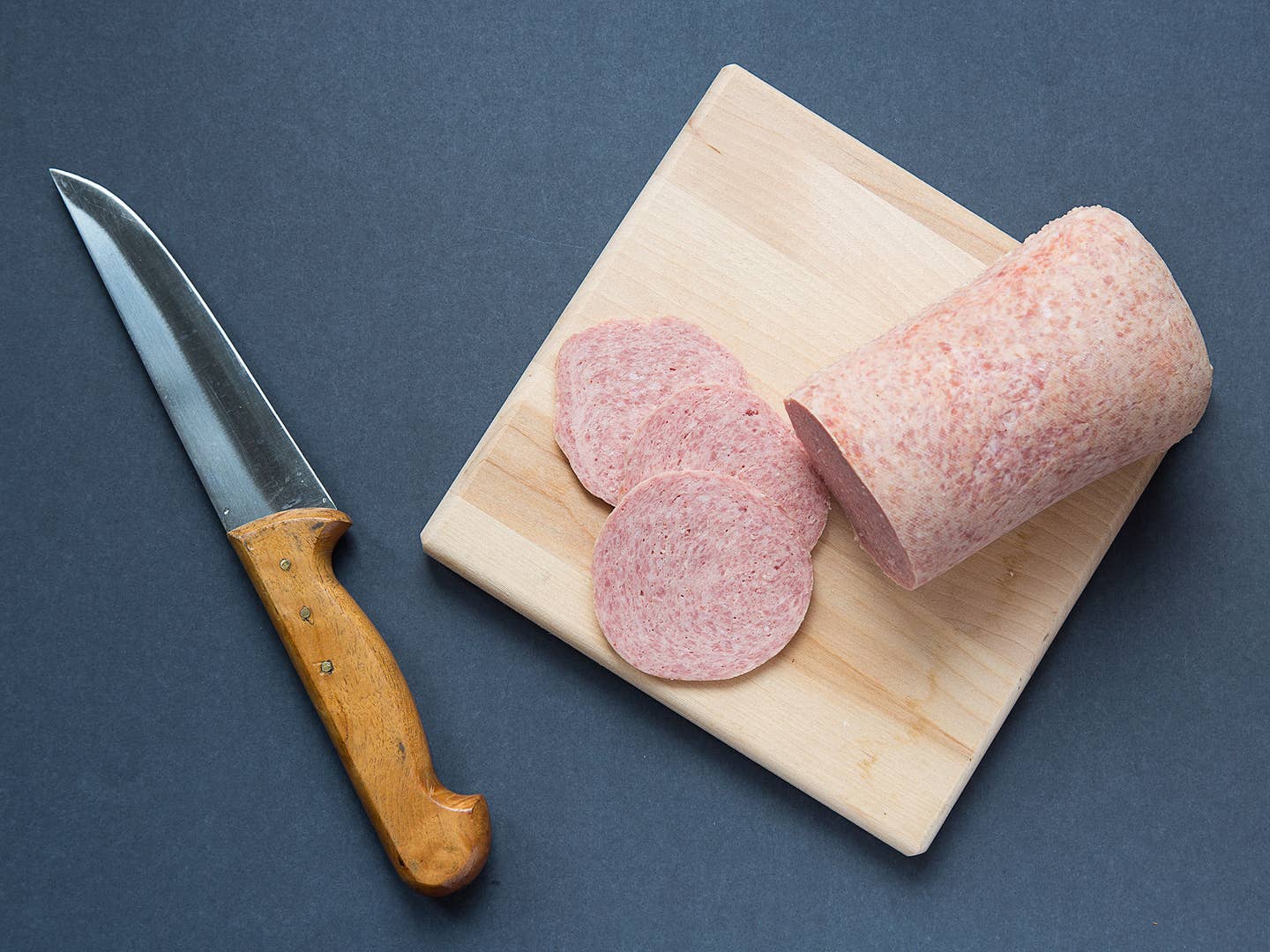 Recipes
What to Cook With Pork Roll (a.k.a. Taylor Ham), the Processed Meat Pride of New Jersey
We've taken the stuff to places it's never gone before
This is a pork roll. Or it's a Taylor ham, depending on which part of New Jersey you're from. It is not bologna or salami or Spam, though the tubular shape, fine grind, and pretty-in-nitrate-pink color would certainly suggest a family resemblance. Pork roll is like these things but very much not these things, and if you say otherwise, prepare yourself for a scolding by a Jersey pork roll fan. Which seems, by our survey and general word of mouth, to include most people who live in the state. You could even go so far as to call pork roll New Jersey's official state food. (It's not; that honor goes to the northern highbush blueberry, which, okay I guess, your blueberries are also very nice, New Jersey.)
So let's call pork roll the unofficial state food of New Jersey, which is probably just how this salty, fatty, delicious pork product wants it anyway. Over in Jersey you'll find pork roll cooked all kinds of ways, from breakfast sandwiches in lieu of bacon, to a topping for burgers, to items more in the grilled cheese vein. These are all well and good, but in the spirit of Jersey Month we wanted to see how far we could take the humble pork roll. The answer: pretty far.
I tasked SAVEUR's test kitchen director, Farideh Sadeghin, with designing some novel ways to make the most of this most distinctive of processed meats, particularly ones that think beyond the bun (or the hard rolls, another Jersey specialty). Here are the results of her devilish ingenuity.
But first, a note on sourcing: Finding pork roll beyond Jersey state lines is tricky business. You may have some luck in the Philly area, but otherwise, your best bet is to seek it out online. JerseyPorkRoll.com is, fittingly enough, the best place to find far more pork roll in far more varieties than you ever knew you needed.
Okay, so this post is all about taking pork roll to new places, but if you haven't had a proper pork roll breakfast sandwich, make this and change things, stat. Pork roll will curl up on a griddle, just like pepperoni, so cooks typically score a little wedge out of one side to keep it flat. This also has the unique advantage of making your pork roll look like Pac Man, a good end unto itself. We prefer our breakfast sandwich with an English muffin instead of the traditional hard or kaiser roll; the bread's firmer texture holds up better against all the meat, cheese, and egg.
Beyond pork roll, Jersey is also known for the supremacy of its Italian heroes, or hoagies if you're from the southern side of the state, and meatball subs are one of the best sandwich forms you can order. Now, when we make our meatballs, we like to add a little cured pork product for extra fat, flavor, and a more varied and interesting texture. Pancetta and bacon are fine and all, but extra-salty pork roll, with its more delicate, baloney-like texture, is the perfect thing for light and fluffy meatballs best drowned in red sauce and cheese. Go make these now.
What does Chris Christie serve at the Governor's Mansion on New Year's Eve? Our reporters are still investigating, but I wouldn't be surprised if it was something along the lines of these blowout, budget-be-damned, bona fide Fancy People canapés. Cut out little one-inch dots of pork roll and give them a sear. Top them with crème fraîche and, because you can, some caviar. And cut up potatoes into tiny little cubes, fry them until crisp, and sprinkle them on top with fresh chives for a bit of color. This is how we party, Jersey-style.