Recipes
Japanese-Style Tuna Ceviche with Togarashi and Radish
Serves

serves 4

Cook

2 hours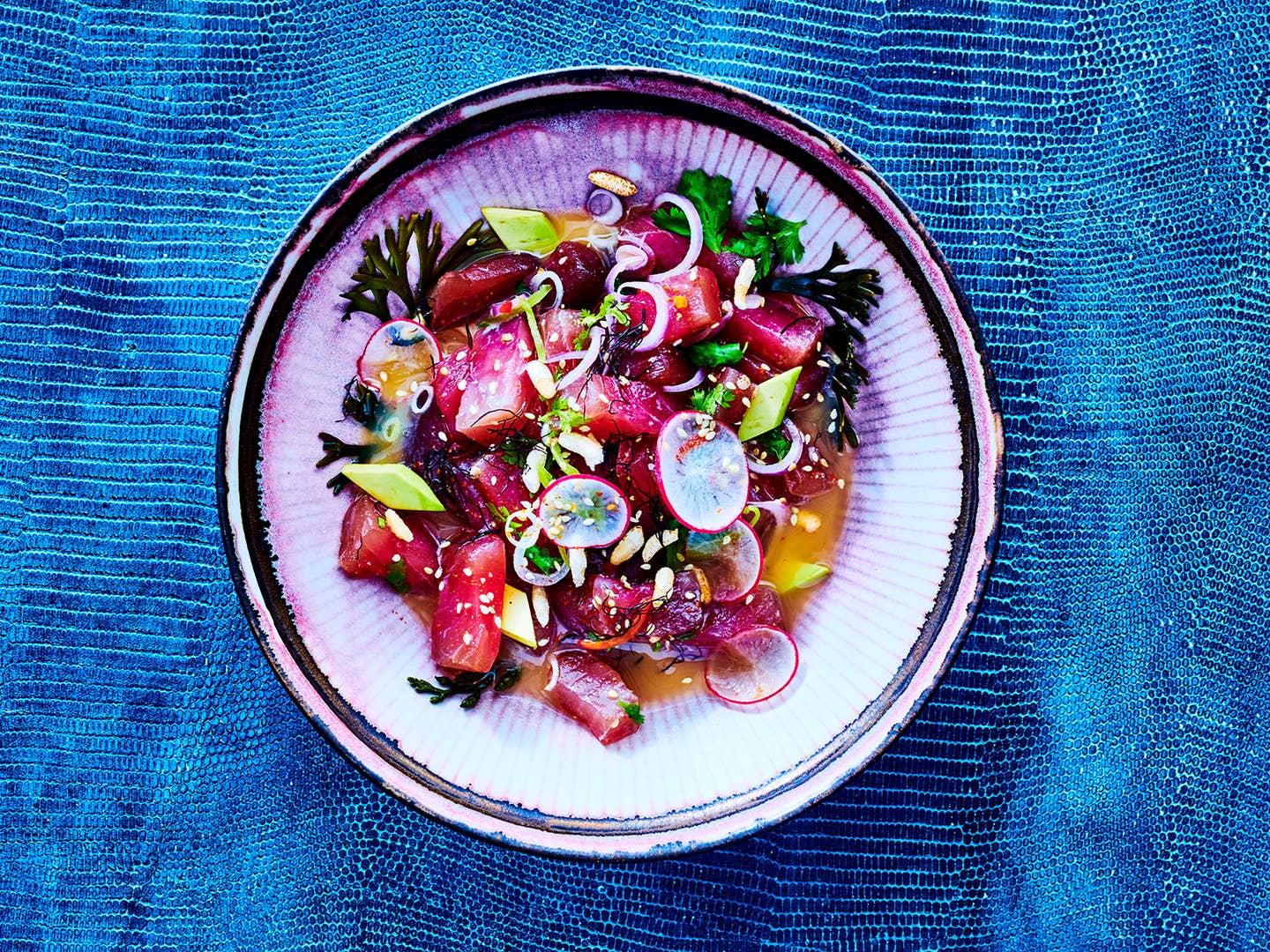 Depending on how the fish is cut, this dish falls between a ceviche and a tiradito, a Japanese-Peruvian (or Nikkei) invention similar to ceviche, in which the fish is thinly sliced like sashimi. Nikkei-style preparations such as this often feature Japanese ingredients like soy sauce, togarashi, and sesame oil.
Ingredients
14 oz. tuna or bonito fillet
1 small firm-ripe avocado
2 small radishes
1 cup leche de tigre
1 tsp. soy sauce
1 tsp. toasted sesame oil
1⁄2 tsp. wasabi paste
1⁄2 tsp. togarashi (optional)
Kosher salt and white pepper
1 Tbsp. plus 1 tsp. chopped cilantro
1⁄4 cup thinly sliced shallot
1 Tbsp. minced ajì limo or habanero
2 Tbsp. puffed brown rice
Fresh seaweed, finely torn, for garnish, optional
Instructions
Step 1
At least 2 hours and up to 1 day before serving, rinse the tuna. Pat dry. Cut into 2-inch-by-½-inch-by-½-inch strips; spread out in a single layer on a baking sheet. Chill, uncovered, for 2 hours or up to 1 day. (If longer than 2 hours, top with parchment paper.)
Step 2
Up to 1 hour before serving the ceviche, peel the avocado and radishes and slice as thinly as possible. Cut the avocado into bite-size pieces and layer between 2 sheets of plastic wrap to prevent browning; refrigerate. Place the radishes in a bowl of ice water.
Step 3
To the leche de tigre, whisk in the soy sauce, sesame oil, wasabi paste, and togarashi, if using.
Step 4
To serve, add the tuna and a pinch each of salt and white pepper to a chilled bowl. Let stand for 30 seconds, then add the cilantro and stir for 10 seconds. Stir in the shallot and ají limo or habenero.
Step 5
Transfer the fish to a cold plate, and garnish with the avocado and radish slices, puffed rice, and seaweed, if using. Serve immediately, pouring the liquid over the fish at the table.