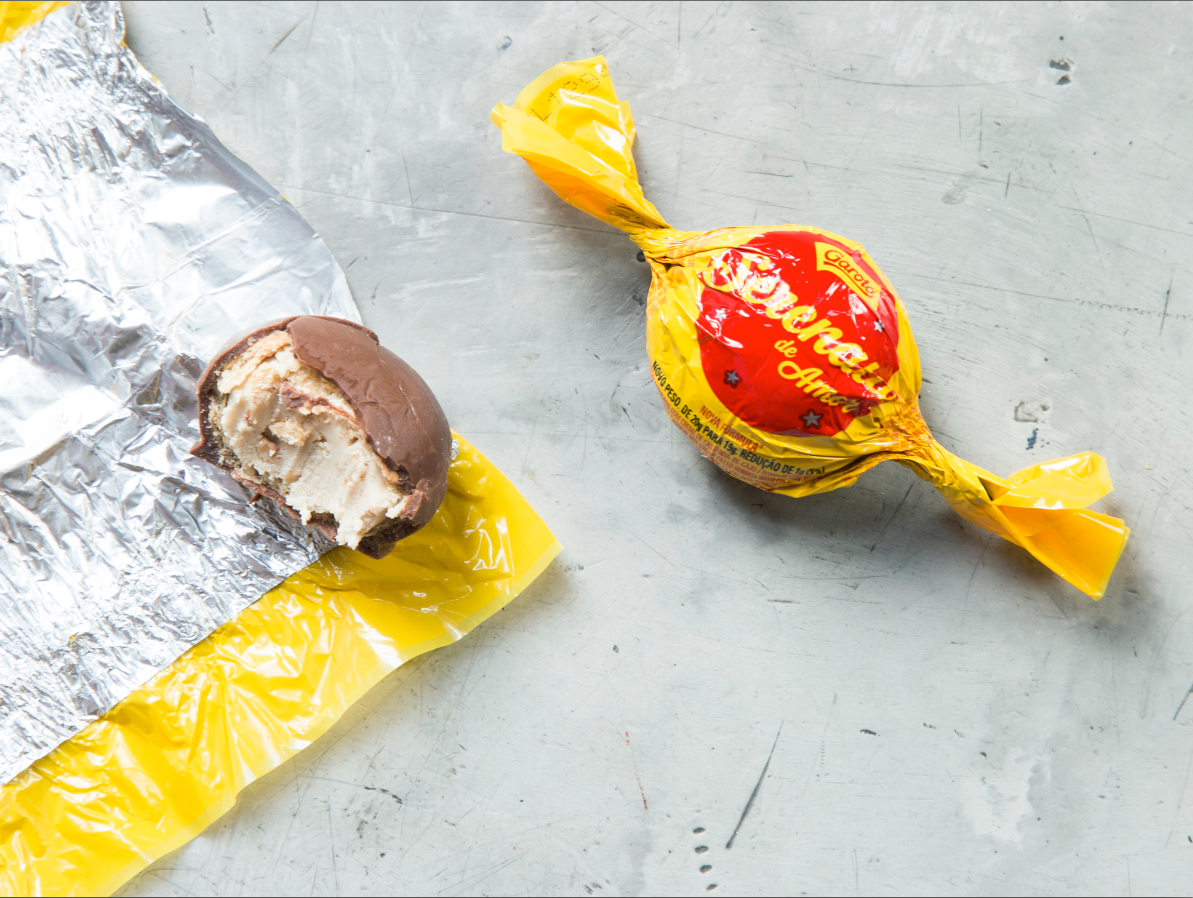 Shopping & Reviews
Obsessions: A Brazilian Cashew Candy
Serenata de Amor will make you forget all about peanut butter cups
Visiting grocery stores might be my favorite part of traveling to different countries. I love browsing the packaged food aisles and picking out bags of chips in unfamiliar flavors; cookies with grinning cartoon animals dancing down the sides; candies whose ingredients I can only guess at. You can learn a lot about a culture from its packaged snacks.
It was in this spirit that I wandered the aisles of the Fancy Food Show in New York City on Tuesday, snapping pictures of cookie packaging in the Costa Rica section and picking up chips from Malaysia, passing over the rows of oils and cheeses and jams for samples of strawberry Chiky cookies and Indonesian Jubes.
Two hours in and nearly sick to my stomach, I found myself in the Brazil aisle, where a display of glittering yellow and red wrappers caught my eye, each one decorated with a little cashew nut and a line of yellow script reading Serenata de Amor ("serenades of love").
I love cashews; I am the only American I know besides my mother who loves cashews. Our country of birth seems to prefer snacks made with peanuts, almonds, pistachios—even hazelnuts. I imagine her, pregnant with me, picking cashews out of all the mixed nut tins in the house, feeling a little sad that none of the good, junky, pregnant lady-friendly snacks contain them.
Clearly we both need to be spending more time in Brazilian grocery stores, because the little yellow and red wrappers that caught my eye belong to some of Brazil's most popular candies, truffle-like balls of cashew cream surrounded by a crispy wafer and coated in chocolate. Those "love serenades" are everything I've ever wanted in a candy: creamy, sweet, chocolatey, crispy, just a little salty. No highbrow bittersweet chocolate, no Earl Grey-infused ganache, and best of all, no peanuts or pistachios or macadamia nuts in sight. And because they're distributed all over the U.S., the non-Fancy Food Show attendees among us can get ahold of them, too—including my mom, who's about to receive several packages in the mail. Just call me the best daughter ever.