Recipes
Paneer Tikka Kebabs
Your vegetarian grilling options just got bigger.
Serves

serves 8

Cook

1 hour 45 minutes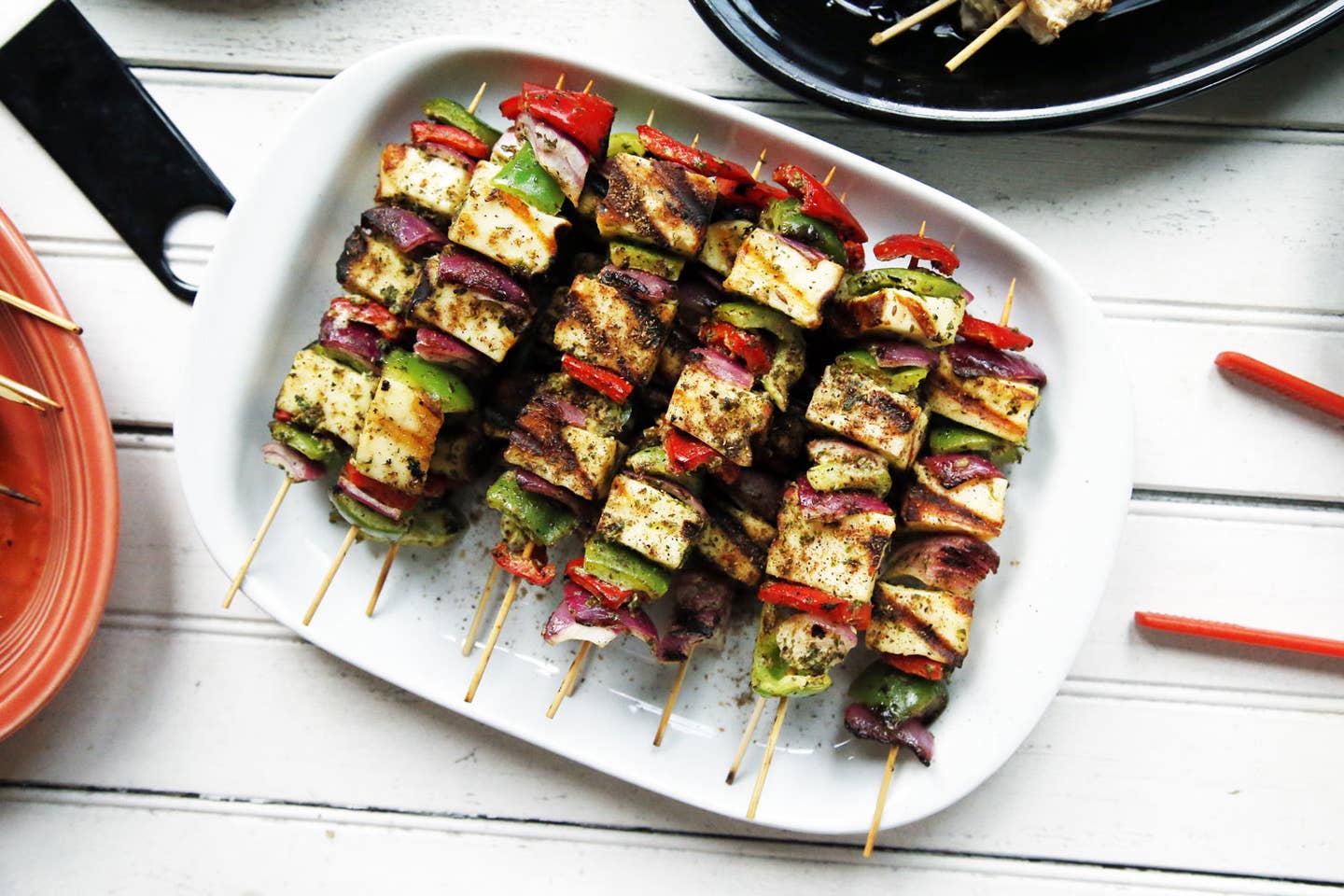 These skewers from chef and restaurateur Meherwan Irani are made of grilled cheese (literally). Paneer is not very absorbent and has a hard time holding on to marinade, so give it an extra zing with a sprinkling of chaat masala—a spice mix that's traditionally used to finish grilled Indian dishes. Although these kebabs are best cooked in a tandoor, paneer tikka also holds up well over a gas or charcoal grill—just be sure to oil the cheese generously to prevent sticking.
Ingredients
For the marinade:
2 cups finely chopped cilantro
1 cup finely chopped fresh mint
1 tbsp. finely chopped fresh ginger
1-2 medium green bird's eye chiles, coarsely chopped
2 tbsp. fresh lime juice
1 1⁄2 tsp. kosher salt
1⁄2 tsp. sugar
1⁄4 tsp. cumin seeds
1⁄4 cup Greek yogurt
For the kebabs:
1 lb. paneer, cut into 1-inch pieces
1 medium red bell pepper (7 oz.), stemmed, seeded, and cut into 1-inch pieces
1 medium green bell pepper (7 oz.), stemmed, seeded, and cut into 1-inch pieces
1 large red onion (13 oz.), cut into 1-inch pieces
Vegetable-oil cooking spray
1⁄2 cup melted ghee or unsalted butter, for basting
1 tsp. chaat masala
Instructions
Step 1
Make the marinade: To a small food processor, add the cilantro, mint, ginger, chiles, lime juice, salt, sugar, cumin seeds, and 2 tablespoons cold water. Pulse until very finely chopped, then transfer to a large bowl and whisk in the yogurt. Add the paneer, red and green bell peppers, and onion; toss well to coat. Refrigerate for at least 1 hour and up to overnight.
Step 2
Make the kebabs: Meanwhile, soak ten 8-inch bamboo skewers in cold water for at least 30 minutes before grilling.
Step 3
When ready to cook the kebabs, preheat the grill to medium-high (about 400°F) or a grill pan over high heat. Drain the skewers and shake off any excess water. Gently thread 3 pieces of paneer on each skewer, adding peppers and onions on either end and in between. Adjust the paneer and vegetables so that on at least one side they align into a flat surface.
Step 4
Once the grill is hot, liberally spray the flattest side of each skewer with cooking spray. (This will prevent the paneer from sticking to the surface of the grill.) Add the skewers to the grill, sprayed-side down, and cook with the grill open until the paneer forms grill marks, about 3 minutes. Using a long, offset spatula, gently loosen the paneer from the grill and flip the skewers. Baste the tops of the skewers with ghee, and continue cooking until the peppers and onions are slightly tender and the marinade no longer looks wet, about 3 minutes more. Transfer to a platter, sprinkle with chaat masala, and serve hot.