Recipes
Peruvian Street Cart Ceviche with Sweet Potato and Toasted Corn (Ceviche Carretillero)
Chef John Evans Ravenna's version of Lima's iconic specialty.
Serves

serves 4 People

Cook

2 hours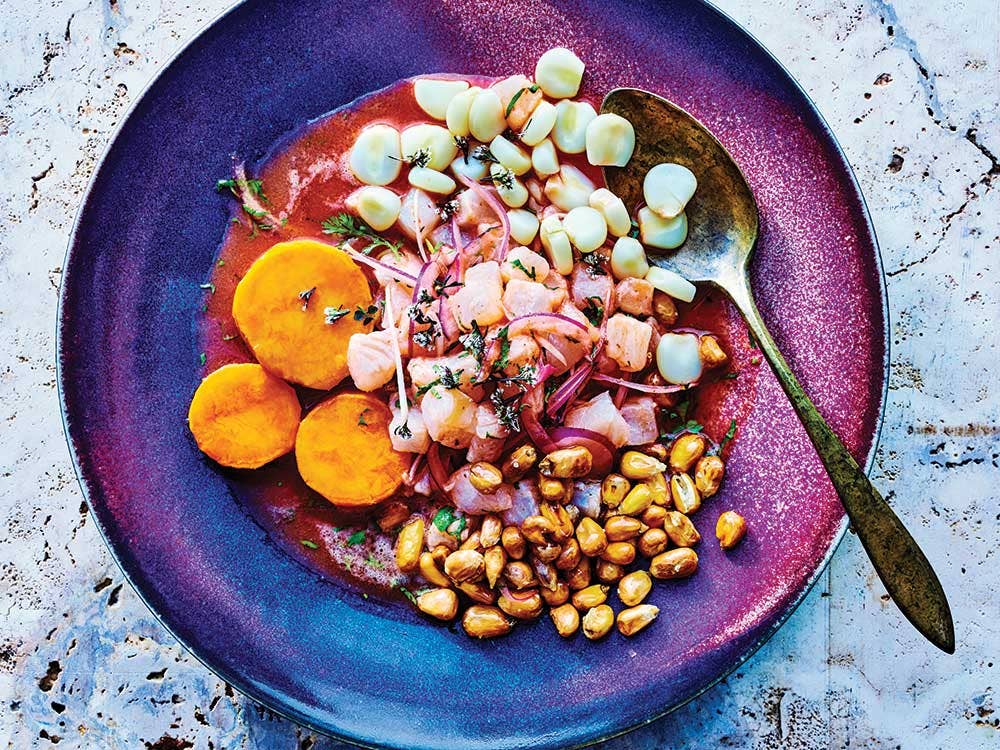 Versions of this dish, Lima's iconic ceviche, are served around the city at beaches, parks, and markets. Chef John Evans Ravenna of Barra Lima sprinkles his with fried quinoa—long grown in Peru—and whimsical foraged garnishes such as edible flowers and seaweeds. For ease, you can leave off the glazed sweet potato, though it provides welcome relief from the spicy ají limo chile.
Ingredients
14 oz. white fish fillet such as fluke, seabass, flounder, or sole
1 small sweet potato (4 oz.)
3⁄4 cup fresh orange juice
1⁄4 cup plus 2 Tbsp. sugar
1⁄3 cup plus 3 Tbsp. lime juice, divided
3 Tbsp. passion fruit purée or strained fresh passion fruit pulp
Kosher salt and ground white pepper
1⁄2 cup quinoa, optional
Canola oil, for frying (optional)
1 1⁄2 tsp. ají limo paste
2⁄3 cup very thinly sliced red onion
2 Tbsp. cilantro leaves, finely chopped
1⁄3 cup leche de tigre
1⁄2 clove choclo (large-kernel Peruvian corn), blanched according to package directions, then chilled
1⁄2 cup toasted chullpi corn
Instructions
Step 1
At least 2 hours and up to 1 day before serving, rinse the fish. Pat dry. Cut into ½-inch cubes. Spread out on a baking sheet and refrigerate, uncovered, for 2 hours or up to 1 day. (If longer than 2 hours, top with parchment paper.)
Step 2
Make the sweet potato: Set a steamer in a small pot and add the potato. Cover and steam over medium heat until barely softened, 10–12 minutes. Remove and let cool slightly. Discard the peel, then cut the potato into 1⁄2-inch slices.
Step 3
In a medium skillet, combine the orange juice, sugar, 3 tablespoons of lime juice, and the passion fruit; bring to a simmer over medium heat. Cook at a low simmer until syrupy, 8–10 minutes. Add the potato slices and cook, flipping and basting with the sauce occasionally, until the potato is tender and the liquid is reduced to a thick glaze, 10–14 minutes more. Transfer to a shallow bowl, cover with plastic wrap, and chill.
Step 4
Make the crispy quinoa, if desired: In a medium pot, boil 3 cups salted water. Add the quinoa and cook 10–12 minutes. Drain and let dry. Fry at 325°F in a few inches of oil, 5–8 minutes. Drain on paper towels and salt.
Step 5
To serve, in a chilled bowl, add the fish and a pinch each of salt and white pepper. Let stand for 30 seconds, then add the ají limo paste and remaining lime juice, and stir for 10 seconds to combine. Stir in the onion, cilantro, and ⅓ cup of the prepared leche de tigre (save any remaining liquid for another use). Place a few slices of glazed sweet potato beside the fish, then add the choclo and chullpi corn in piles around the plate. Sprinkle with the crispy quinoa, if using, and serve immediately.