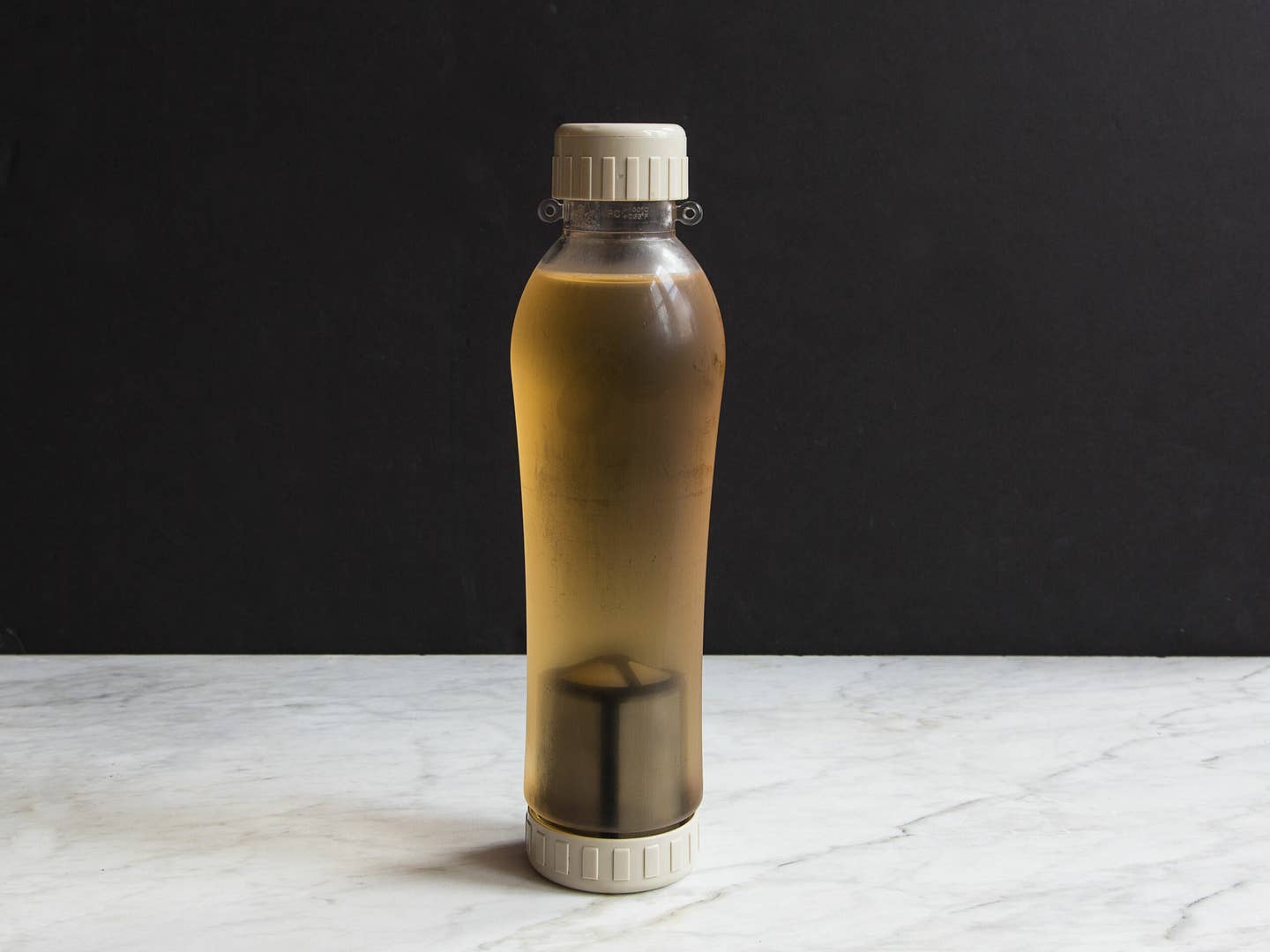 Shopping & Reviews
The Only Thermos a Tea Drinker Needs
The goofily-named Travel Buddy is a precision-engineered marvel
Even for the most casual tea drinkers, a portable and desk-friendly device for brewing and toting tea is a gadget that's surprisingly difficult to find. Travel mugs spill. Double-walled glass can break and stainless steel is heavy. If you're brewing with loose leaves instead of tea bags, a good filter that stays put, but is easy to clean, might as well be a unicorn. And even if your bottle or carafe does maintain a good seal? You only need one volcanic spray of heat-pressurized tea over everything to convince you how tricky, and even dangerous, most of these seemingly straightforward devices can be.
It's an unexpectedly hard set of engineering problems to overcome, and since most Americans get along just fine with a paper coffee cup and a tea bag, it's one that domestic engineers don't take too seriously. (Blame the distractions of the razor industry.)
Fortunately this is not the case the world around. Over in China and Taiwan, where for many tea is enough of a daily necessity to warrant the most exhaustive design and engineering research, drinkers figured this problem out a while ago. And this curvy bottle, the goofily-named Travel Buddy, may be the most elegant solution of the bunch, and for less than $30.
The bottle is made of a high-grade, high-strength plastic that's feather-light and durable. While some drinkers turn up their noses at the mere notion of hot liquids in plastic, this heat-proof formulation has tested completely safe and leaches no off-flavors into the brew.
If you're brewing loose leaf, there's a fine-mesh basket that gives leaves enough room to unfurl while straining out even fine particulate matter. It's removable so you can really clean it, and it loads from a separate chamber at the bottom of the bottle, not the top, for easy access that doesn't get in your way while you sip. A rubberized plastic gasket keeps the whole thing leak-proof.
And the finishing touch, the kind of detail that wins you a Red Dot design award: a tiny pressure-release gasket in the wide-mouth cap, which keeps hot tea from building up pressure and exploding when you unscrew the top for a drink.
The only downside is that plastic will turn hot to the touch, and while it won't burn your fingers, it can get tricky to handle. An accompanying neoprene sleeve solves that problem, or even a couple layers of paper towel in a pinch. (Yes, this means the Travel Buddy won't keep your tea piping-hot all day long, but when's the last time you really needed more than a few hours of heat from your thermos, especially if you have tea leaves brewing in it?)
But that's is also why, as good as the Travel Buddy is for hot tea, it's even better for cold-brewing. Stick some leaves in the basket, fill the bottle with water, and chill in the fridge for a few hours or up to overnight with no ill effects. No fuss—just better tea through engineering.