Recipes
Pickled Stone Fruit and Burrata Flatbread
Serves

serves 6

Cook

2 hours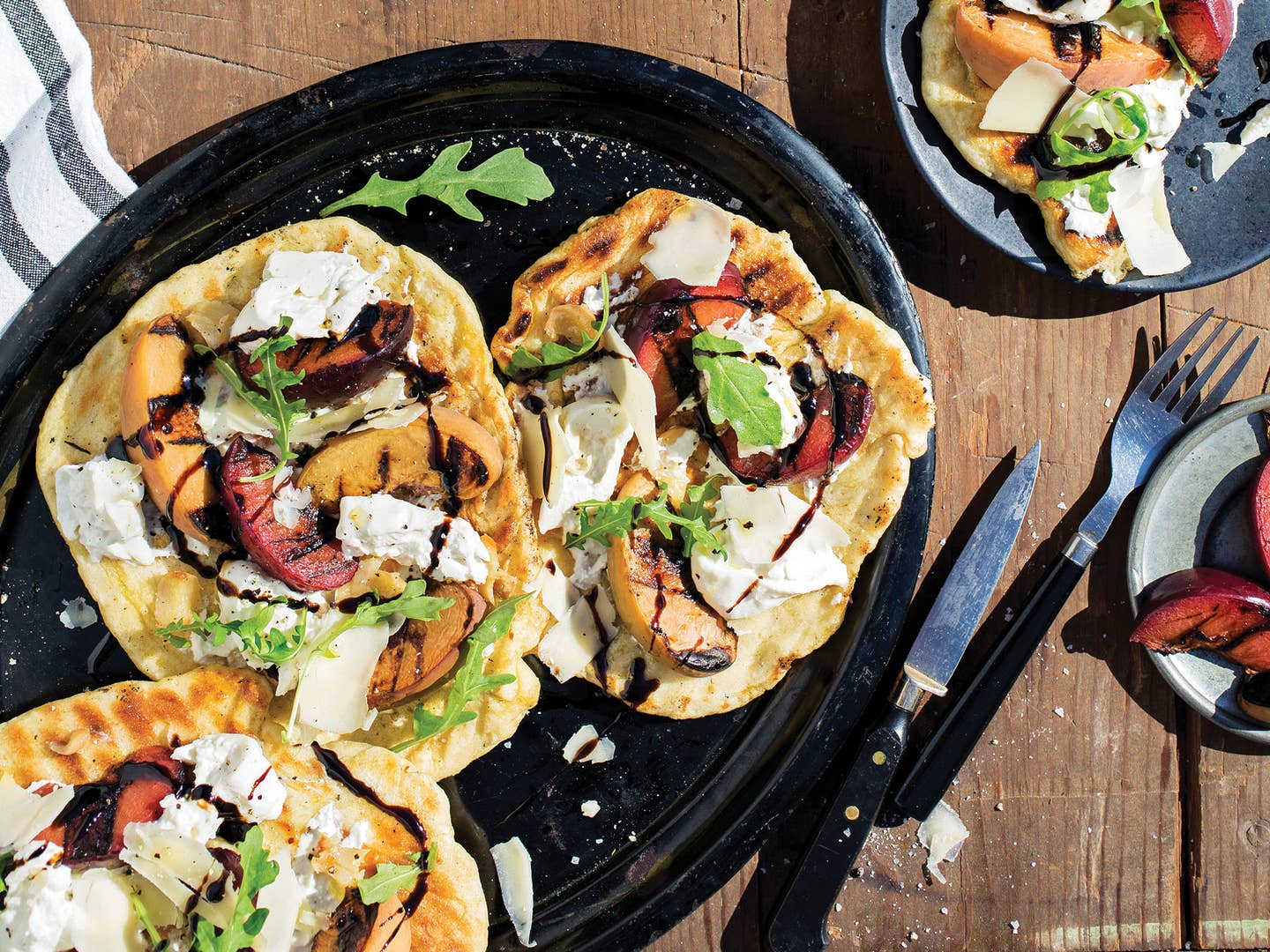 "In Austria, we don't use tomato sauce on flatbreads," says Edi Frauneder, of Edi & the Wolf in New York City, "which allows you to taste the actual flavors of the toppings. It's cleaner." Frauneder brines peaches in a slightly sweet solution before cooking them on the open flame; the sugar in the pickle brine helps the surface of the fruit caramelize more quickly and uniformly than it would if grilled fresh. To ensure that the flatbread dough doesn't stick or burn, you can start them on aluminum foil before moving the breads to the grate for a nice smoky finish.
Ingredients
For the Pickled Fruit
2 cups cider vinegar
1⁄4 cup sugar
1 tsp. coriander seeds
1 tsp. mustard seeds
1 tsp. whole black peppercorns
2 cloves garlic, crushed
2 sprigs thyme
1 sprig dill
2 peaches, pitted and cut into 3/4-inch wedges
2 plums, pitted and cut into 3/4-inch wedges
For the Flatbread, Grilling, and Serving
1 1⁄3 cups water, heated to 115°
4 tsp. active dry yeast
3 cups flour, plus more for dusting
2 tsp. kosher salt
1 egg
Olive oil, for greasing
1 cup canola oil
12 cloves garlic, peeled
6 tbsp. crème fraîche
3 tbsp. shaved aged Gruyère
2 lb. mini burrata, cut into 1/4-inch pieces
Baby arugula, for serving
Flake sea salt and freshly ground black pepper, to taste
Aged balsamic, for serving
Instructions
Step 1
Make the pickled fruit: Bring vinegar, sugar, spices, garlic, thyme, dill, and 1 cup water to a boil in a 4-qt. saucepan. Remove from heat and add fruit; let cool completely, then strain, discarding liquid. Cover and refrigerate until ready to use.
Step 2
Make the flatbread dough: Combine water and yeast in the bowl of a stand mixer fitted with the paddle attachment; let sit until foamy, 10 minutes. Add flour, salt, and egg and mix until combined; turn out onto a lightly floured surface and knead until smooth, about 5 minutes. Transfer to a greased bowl and cover loosely with plastic wrap; set in a warm place until doubled in size, about 1 hour.
Step 3
Simmer canola oil and garlic in a 1-qt. saucepan over medium-low; cook until garlic is tender, 30–40 minutes, and let cool. Strain garlic, saving oil for another use. Build a medium-heat fire in a charcoal grill, or heat a gas grill to medium. (Alternatively, heat a cast-iron grill pan over medium-high.) Divide dough into six 4-oz. balls and place on a lightly floured baking sheet; cover loosely with plastic wrap and let rest 20 minutes. Working with one ball of dough at a time and on a lightly floured work surface, roll dough into a 4″ round about 1⁄4″ thick. Brush with olive oil and grill, turning once, until golden brown and almost cooked through, about 5 minutes. Top each flatbread with 1 tbsp. crème fraîche, 1⁄2 tbsp. Gruyère, 2 pieces confit garlic, and 4–5 slices fruit; continue grilling until bread is crisp and brown at edges, 2–3 minutes longer. Transfer to a serving platter and top with burrata, arugula, sea salt, and pepper; drizzle with balsamic.
Pairing notes: "The stone fruit characteristics of the 2012 Qupe Marsanne ($22; sussexwine.com), from the Santa Ynez Valley, or the 2013 L'École No. 41 Old Vines Chenin Blanc (from $14; wine-searcher.com), from the Columbia Valley, reinforce the charred fruits' flavor."