Recipes
Portuguese Squid, Bean, and Sausage Stew (Feijoada de Lulas)
Serves

serves 4-6

Cook

1 hour 55 minutes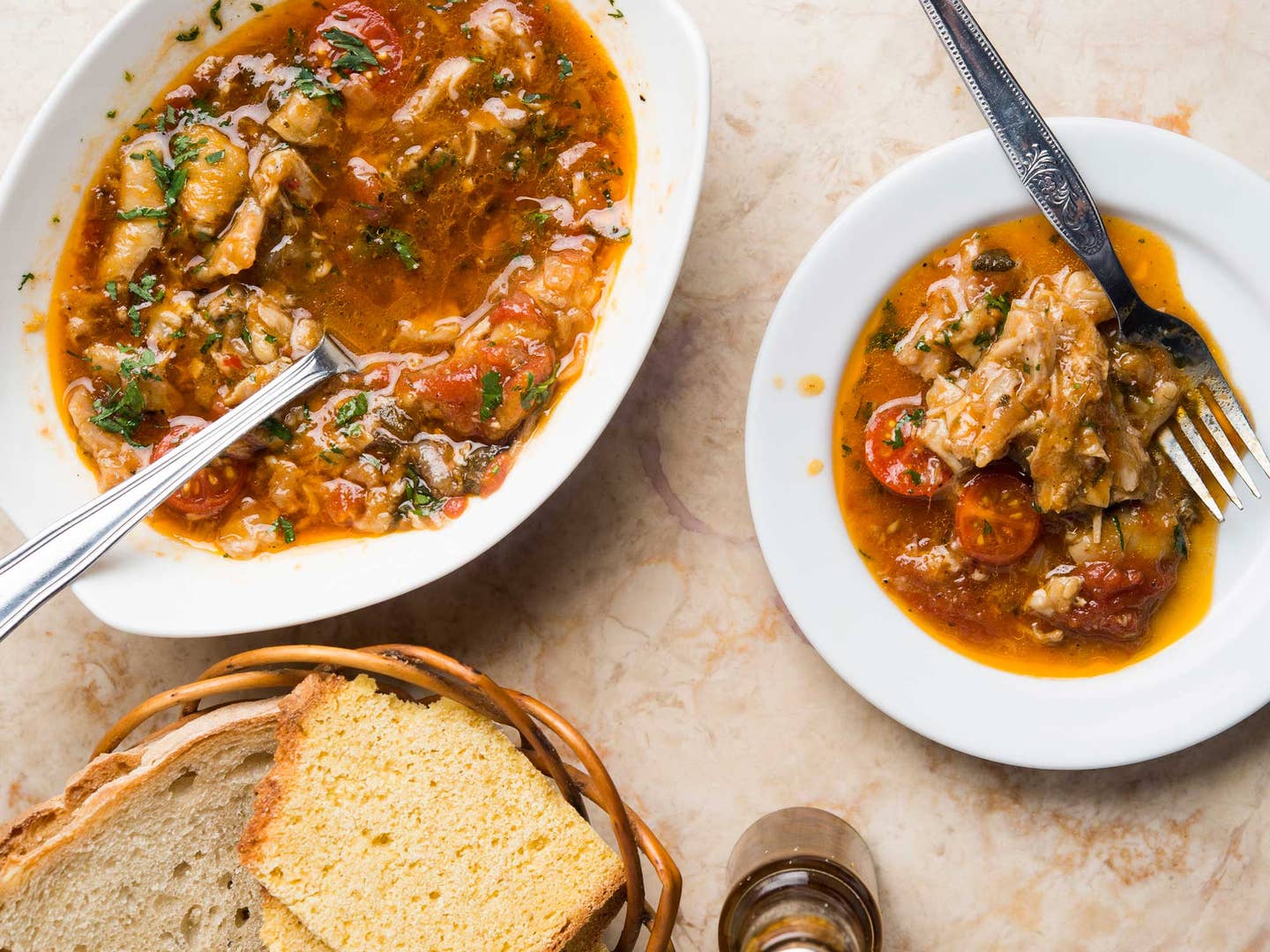 This dish from Taberna da Rua das Flores highlights chef André Magalhães' willingness to take quintessential Portuguese dishes—in this case, a rich stew of black beans and meat, often including chorizo—and use them as a springboard for his own creations. Here, he adds pieces of squid (lulas) for a fresh take on the original.
The Portuguese capital is redefining its cuisine with a new openness to foreign flavors and far-flung influences
Ingredients
1⁄2 cup extra-virgin olive oil, or more to taste
2 large yellow onions, chopped
5 oz. fresh Portuguese sausage or chorizo, cut into 1/2-inch-thick slices
4 cloves garlic, minced (1 Tbsp. plus 2 tsp.)
2 bay leaves
Pinch ground cumin
1 3⁄4 lb. cleaned squid bodies, cut into 2-inch squares (2 1/2 cups)
1 cup dry white wine
4 1⁄2 cups cooked, drained pinto beans
4 small vine-ripe tomatoes, quartered and cored
1 bird's-eye or piri-piri chile
Salt to taste
1⁄4 cup chopped cilantro leaves, for garnish
Flaky sea salt, for garnish (optional)
Instructions
Step 1
In a large pot over medium-high heat, heat the olive oil until shimmering. Add the onion and cook, stirring frequently, until softened and translucent, about 10 minutes. Add the sausage, garlic, bay leaves, and cumin and cook, stirring frequently, until the sausage is no longer pink and the garlic is fragrant, about 10 minutes. Stir in the squid, then add the white wine and cook, stirring occasionally, until the liquid is mostly evaporated, about 15 minutes. Stir in the beans, tomatoes, and chile. Cover the pot and let the stew simmer for 45 minutes. Season with salt to taste.
Step 2
Serve immediately, garnished with cilantro and flaky sea salt, and drizzled with more olive oil if desired.