Recipes
Pan-Seared Sesame Swordfish with Blistered Snap Peas and Chili Crisp
We turned a chichi restaurant mainstay into a one-pan weeknight meal that comes together in under 30 minutes.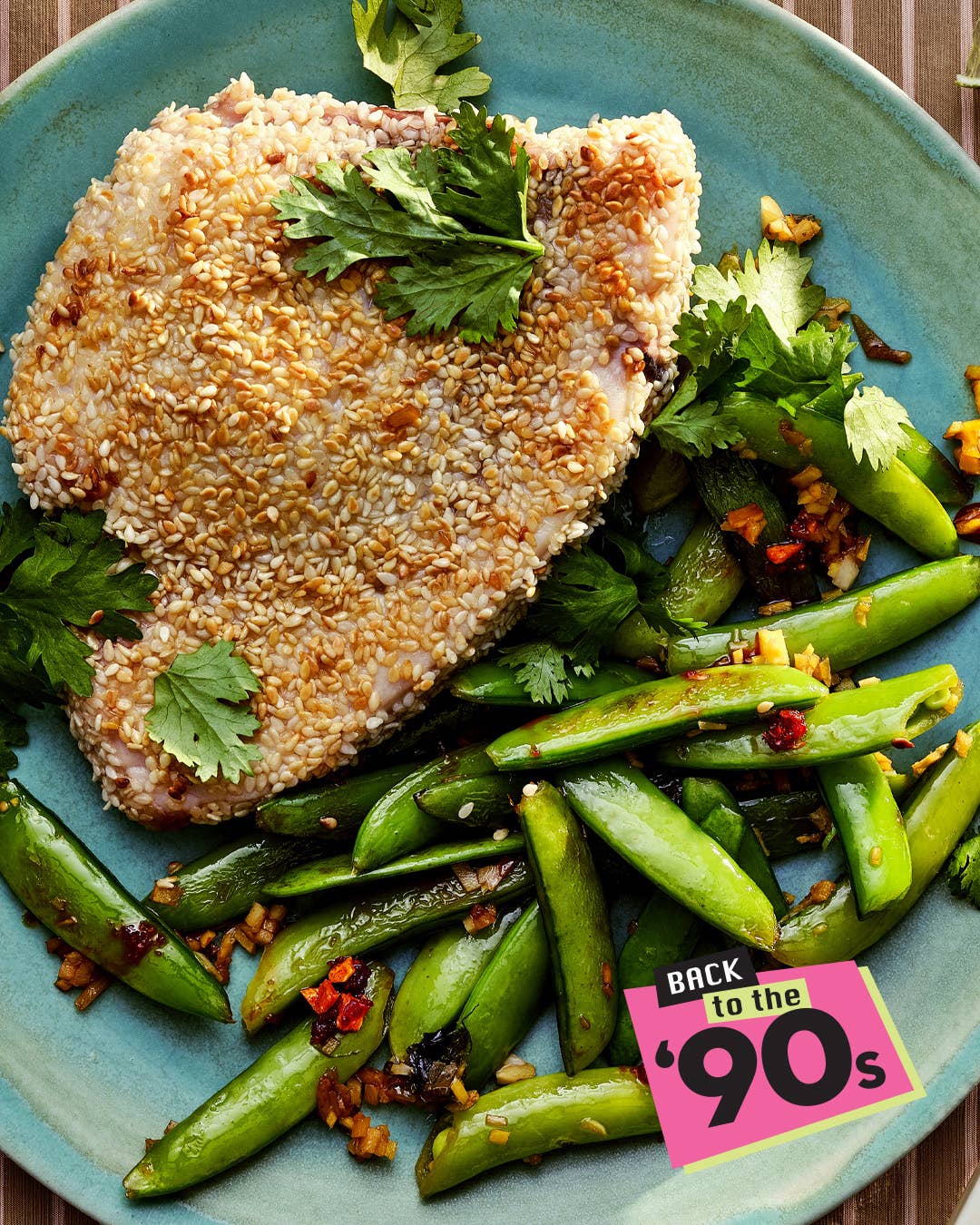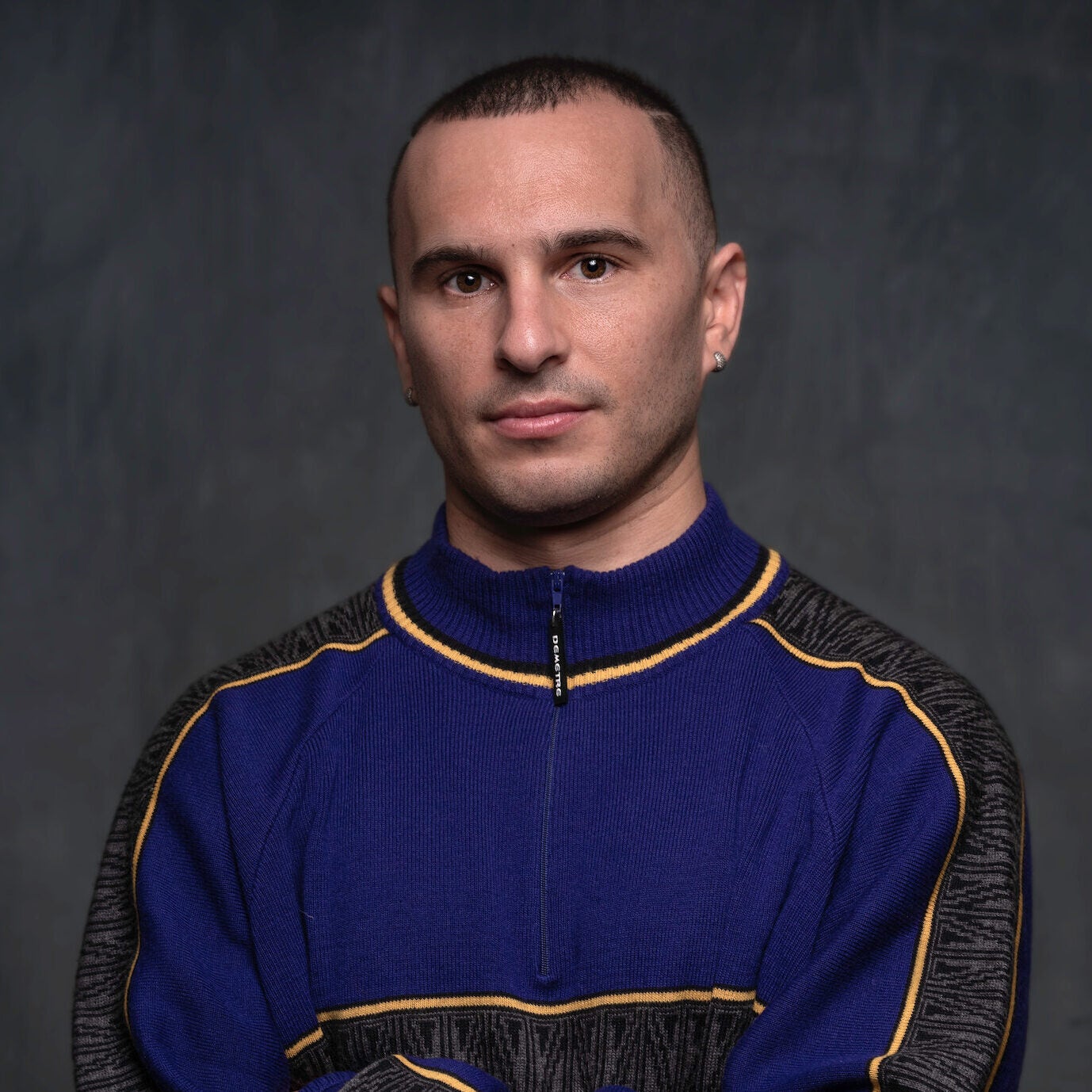 ---
Welcome to One Pot Bangers, Benjamin Kemper's column, where you'll find our freshest, boldest cooking ideas that require just one pot, skillet, or sheet pan. Busy week? We've got you covered with these low-effort, high-reward recipes from around the globe.
Who remembers when the epitome of sophisticated dining was a plate of sesame-crusted tuna fanned out around a tall, sculpted salad? That scandalously rare center! Those exotic (yikes) sesame seeds! The scraggly tuft of mesclun with balsamic vinaigrette!
Having grown up in the 90s, I sure do. And while I can live without many of that decade's culinary mainstays (*cough* portobello burger), sesame-crusted fish still makes me feel fancy inside. Trouble is, I seldom see it on menus anymore.
So I've been making my own at home, and it's kind of a breeze: a quick dredge in sesame seeds and a flash in the pan, et voilà: the house might as well be a power-lunch scene from American Psycho. I bet you a round of appletinis that every dinner guest over 30 will ooh and ahh.
But as a cook whose toxic trait is fixing things that ain't broke, I couldn't help tinkering with the classic formula. Enter swordfish, which I've found makes a wonderful substitute for tuna: Its milder, sweeter flavor lets the fragrant, nutty sesame seeds do more of the talking. Bonus: It's harder to overcook.
While the sword rests—as with steak, tenting thick cuts of fish with foil after cooking keeps them moist—I like to stir-fry whatever vegetables are kicking around the fridge with soy, cilantro, and garlic. (Nobody seems to miss the mesclun.) Taking a page from the 2022 playbook, I then drizzle chili crisp over the whole mess. The final dish may be a far cry from the '90s original, but let's just call it timeless.
Ingredients
2 lb. swordfish steaks (1 in. thick), skin removed
¼ cups vegetable oil, divided
1 Tbsp. kosher salt, divided
1 cup white sesame seeds
12 oz. snap peas, trimmed (3½ cups)
2 Tbsp. finely chopped fresh ginger
2 large garlic cloves, finely chopped
1 Tbsp. dark brown sugar or sweet soy sauce (kecap manis)
1 Tbsp. soy sauce
2 tsp. finely grated lime zest
2 tsp. toasted sesame oil
2 Tbsp. fresh lime juice
Chili crisp, cilantro leaves, and lime wedges, for serving
Instructions
Step 1
Using paper towels, pat the swordfish dry, then transfer to a large zip-top bag with 1 tablespoon of the oil and 2 teaspoons of the salt. Seal and rub gently to coat.
Step 2
In a shallow baking dish or pie plate, spread the sesame seeds in an even layer. Working in batches, coat the swordfish well on both sides with the seeds, pressing so they adhere.
Step 3
To a large skillet set over high heat, add 2 tablespoons of the oil. When it's shimmering and beginning to smoke, add the swordfish and cook, turning once and without moving the steaks, until the seeds are golden brown on both sides and the fish (when pierced with a knife) is nearly opaque in the center, 6–7 minutes total. Transfer to a plate and tent with foil. Wipe out the pan and return it to the stove.
Step 4
To the empty pan, add the remaining oil and turn the heat to high. When the oil begins to smoke, add the snap peas and stir-fry until starting to blister, about 3 minutes. Add the ginger and garlic and cook until fragrant, about 30 seconds. Stir in the brown sugar, soy sauce, lime zest, sesame oil, and remaining salt and cook until evenly coated, about 1 minute more. Stir in the lime juice, then transfer to a platter.
Step 5
To serve, arrange the swordfish over the snap peas, then garnish with lime wedges and cilantro leaves and drizzle with chili crisp.