Recipes
Easy Apple Tartlets
Impress your guests this season with these quick, flaky pastries.
Serves

Makes 12 tartlets

Cook

1 hour 5 minutes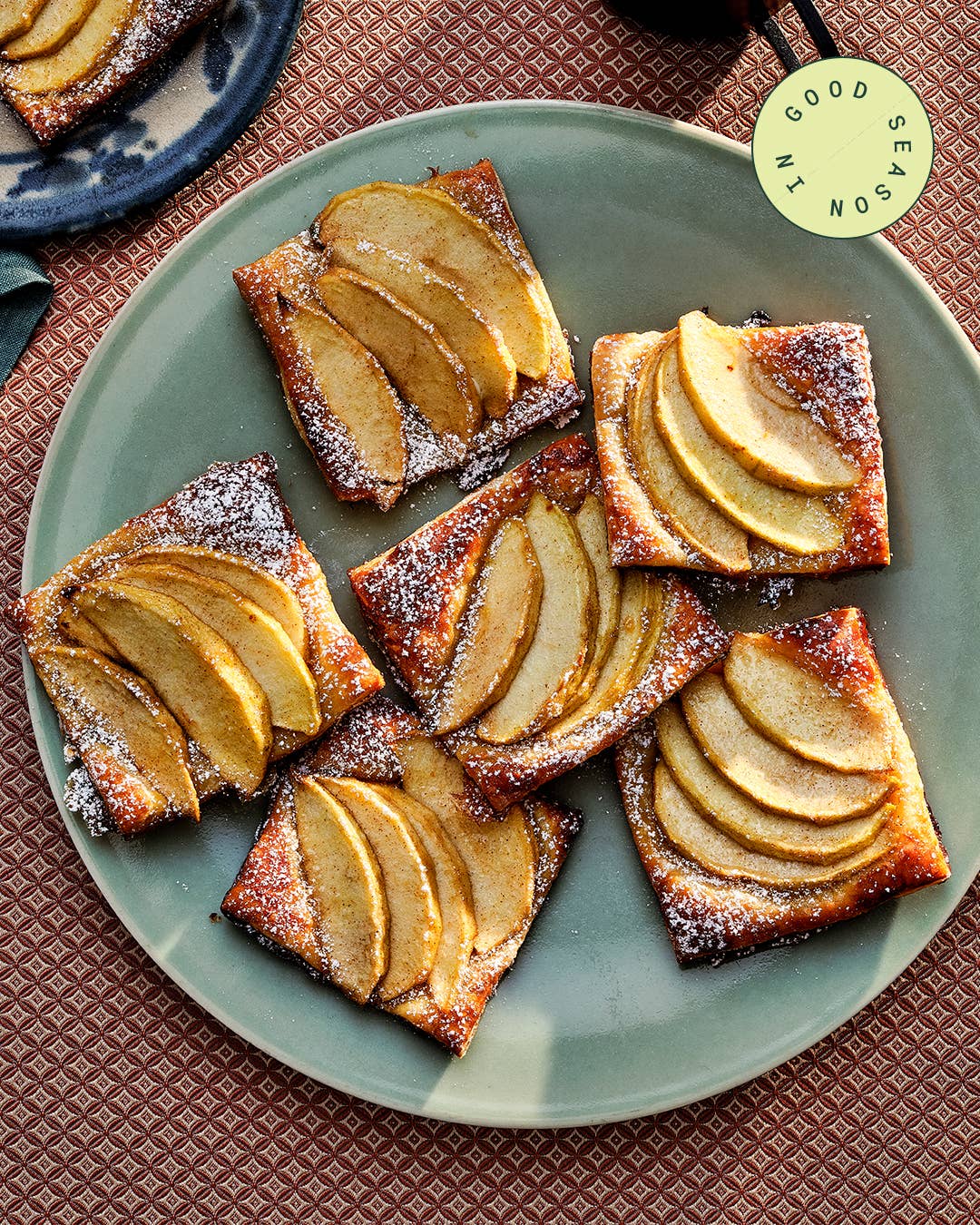 Welcome to SAVEUR's column on making the most of local produce according to chef and recipe developer Fatima Khawaja. This is where you'll find creative, unfussy meal ideas plus plenty of cooking advice—like what to do with that bumper crop of zucchini or how to store delicate heirloom tomatoes. Follow along, and you'll learn how to turn the season's bounty into easy plant-based meals that'll be on the table in under an hour.
As a private chef, I'm always looking for gorgeous desserts that are deceptively easy to make. In these tarts, a few pantry staples, apples, and store-bought puff pastry (all-butter Dufour is excellent) come together to make a fragrant autumnal treat. Serve the apple tartlets drizzled with caramel sauce or dusted with powdered sugar.
Ingredients
¼ cup light brown sugar
¼ cup sugar, plus more for sprinkling
¼ tsp. ground cinnamon
Pinch kosher salt
¼ tsp. vanilla extract
3 Granny Smith apples, peeled, cored, and cut into ¼-in. slices
All-purpose flour, for dusting
10 oz. frozen puff pastry (1 sheet), thawed overnight in the fridge
1 egg, beaten with 1 tsp. water
Powdered sugar
Instructions
Step 1
Position a rack in the center of the oven and preheat to 400ºF. Line two large baking sheets with parchment.
Step 2
In a bowl, stir together the brown sugar, sugar, cinnamon, and salt, then add the vanilla and apples and toss to coat. Set aside.
Step 3
Lightly dust a clean work surface with flour. Unwrap the puff pastry; if the dough feels brittle right out of the fridge, set aside at room temperature until just pliable, 10–15 minutes. Lightly flour the surface of the dough, then, using a rolling pin, roll the sheet out to a 12-by-14-inch rectangle. Prick the dough all over with a fork, then use a large knife or a pizza wheel to cut it into twelve 3-inch squares.
Step 4
Assemble the tartlets: Transfer the pastry squares to the prepared baking sheets, leaving at least 1½ inches between each. Arrange the apple slices in a shingled pattern evenly over the squares, reserving any apple juices that have collected in the bowl. Brush the tartlets evenly with the egg wash, then sprinkle generously with sugar. Bake until the apples are soft and the pastry is golden-brown and slightly puffed, 20–25 minutes. Brush the hot tartlets with the reserved apple liquid and cool slightly, about 5 minutes. Dust the apple tartlets with powdered sugar and serve warm or at room temperature.