Recipes
Budae Jjigae
Cookbook author Eric Kim's take on the classic Korean "army base stew."
Serves

serves 6

Cook

35 minutes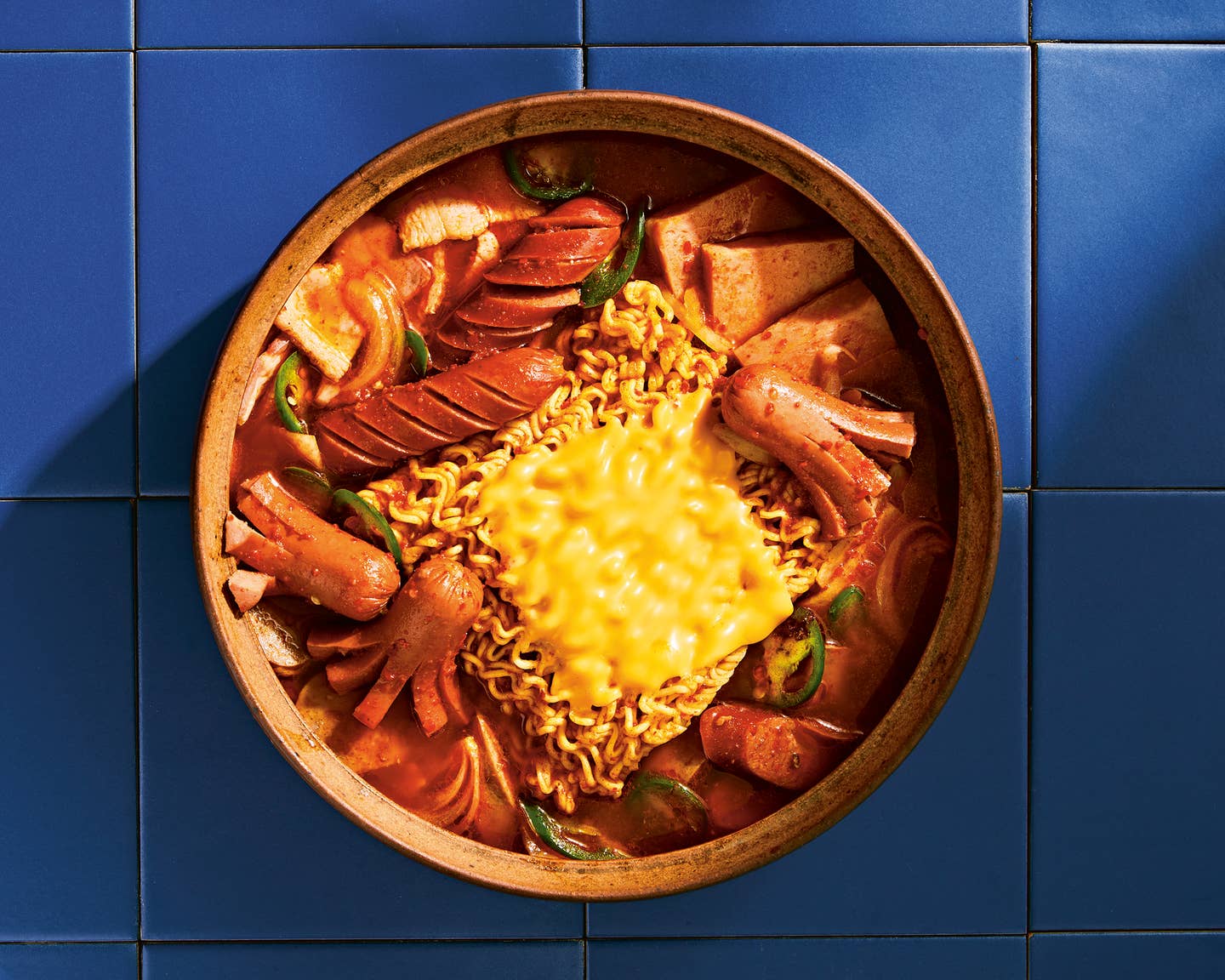 Budae jjigae is a really delicious way to feed a crowd in one fell swoop, using mostly pantry ingredients. All you need is the pot, a ladle, and a few bowls of white rice to soak up all the accoutrements, a landing pad for the cheese. Don't sleep on the rich soup, fortified with all of those incredible canned meats. It tastes special, and lived in. It helps that everyone I've ever served this dish to seems to love it, especially once you add the ramyun noodles.]
The word "ramyun" refers to Korean-style instant noodles. Where Korean ramyun is always
instant, Japanese ramen can be fresh or instant. The brand here doesn't matter so much. Though Shin is arguably the most popular, cookbook author Eric Kim enjoys the chewiness of Samyang and Jin, but use whatever you like and whatever you have on hand.
Ingredients
For the sauce:
2 large garlic cloves, thinly sliced
2 tbsp. gochugaru
2 tbsp. gochujang
2 tbsp. soup soy sauce
1 tsp. sugar
For the stew:
4 oz. Korean radish, thinly sliced into 2-in. squares
1⁄2 medium yellow onion, thinly sliced
1⁄2 can Spam (about 6 ounces), thickly sliced into 2-in. squares
1 lb. assorted sausages, such as sweet Italian sausages, Vienna sausages, and hot dogs, cut into bite-size pieces
4 slices thick-cut bacon, cut into bite-size pieces
1 cup coarsely chopped napa cabbage kimchi, store-bought or homemade
1 large jalapeño, halved, seeded, and thinly sliced crosswise
2 daepa or 4 large scallions, thinly sliced on the diagonal
1 package instant ramyun noodles, seasoning packs reserved for another time
1 slice American cheese
Cooked white rice, for serving
Instructions
Step 1
Make the sauce: In a small dish, stir together the garlic, gochugaru, gochujang, soup soy sauce, and sugar.
Step 2
Make the stew: In a large, wide pot, neatly arrange—in groups—the Korean radish, onion, Spam, sausages, bacon, kimchi, jalapeño, daepa, and the prepared sauce. Add 4 cups of water, set over high heat, and bring to a boil. Turn the heat down to medium-low and gently boil until the bacon and any raw sausage is cooked through, 15–20 minutes.
Step 3
Add the ramyun noodles and let cook according to package directions. Remove from the heat and blanket the slice of cheese over the cooked noodles. Serve the budae jjigae immediately with white rice.