Recipes
Couteaux en Persillade (Razor Clams in Parsley Sauce)
Dress flawless local shellfish in a simple green sauce.
Serves

serves 4

Cook

20 minutes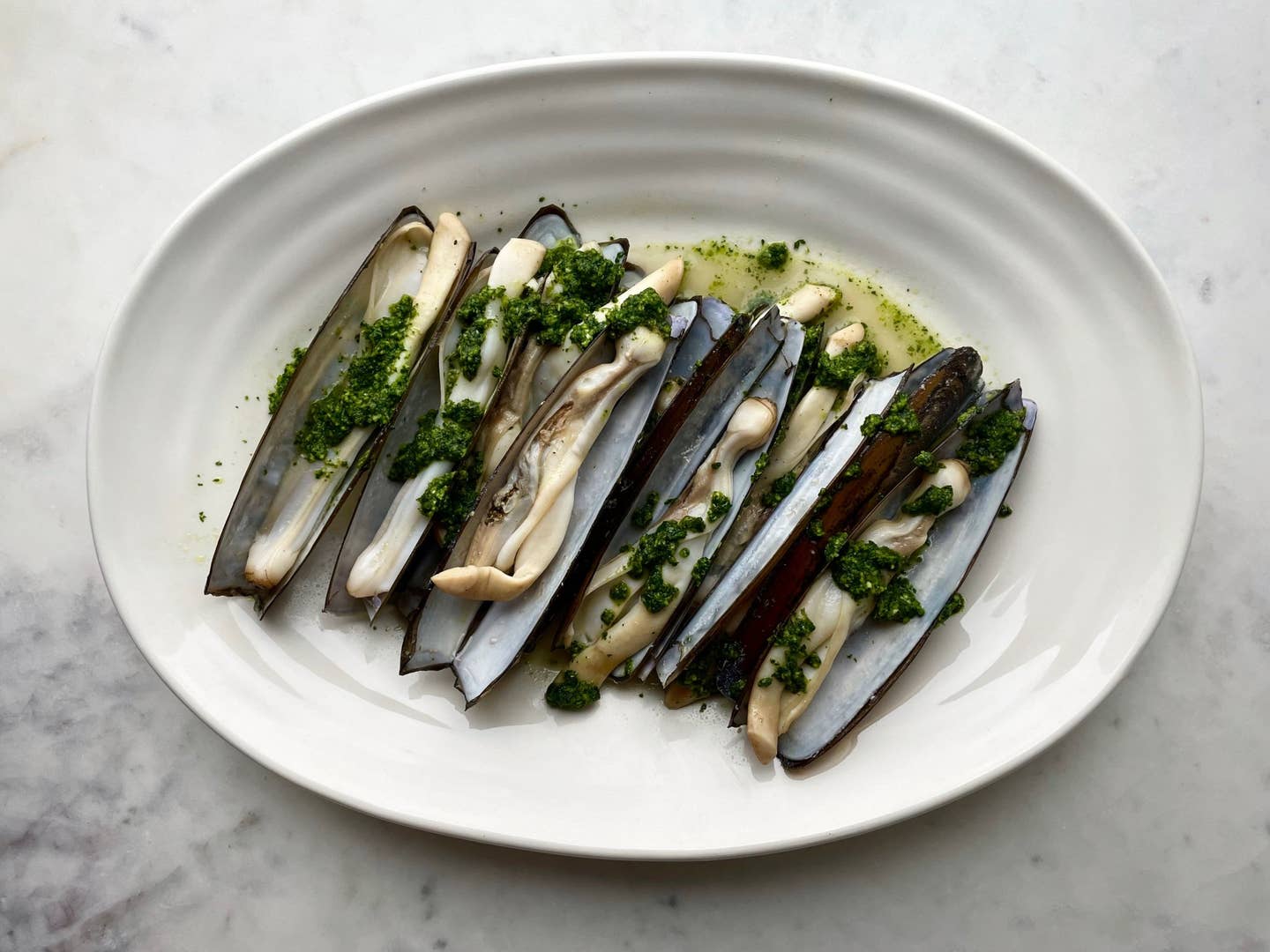 Razor clams, so named for their straight-razor-like shape, grow in the shallow waters of sandy beaches around the world. In Languedoc-Roussillon, chef Laurent Chabert of Château l'Hospitalet steams the delicate shellfish quickly, then drizzles them with their own cooking juices and a bright green and garlicky persillade sauce, the area's parsley-based answer to basil pesto. Find razor clams at your local fishmonger, or order them online from a reputable source, such as FultonFishMarket.com. When not available, this preparation can be used for any small, tender bivalves, including little necks, mussels, or even shrimp.
Ingredients
2 lb. razor clams
2½ cups Italian parsley, picked and cleaned (2 oz.)
8 garlic cloves, peeled (2 oz.)
1 tbsp. almond flour
½ cups plus 2 Tbsp. extra-virgin olive oil, divided
Kosher salt
Instructions
Step 1
Clean the razor clams: Inspect the shells for cracks and discard any which are damaged or remain open after scrubbing. Fill a large bowl with cold water and add the clams. Using your hands, agitate the water to rinse, then transfer the clams to another bowl or strainer, discarding the water. Repeat until the water runs clear.
Step 2
Make the parsley sauce: In the bowl of a food processor, combine the parsley, garlic, almond flour, and ½ cup of olive oil, and process to a fine paste. Season to taste with salt and set aside.
Step 3
Heat a large skillet over high heat; add the remaining olive oil and the clams in a single layer. Cover with a lid and cook just until the shells have opened and the flesh looks opaque, 1–2 minutes.
Step 4
Using tongs, transfer the cooked clams to a platter. Pour any accumulated cooking juices over them, then drizzle over the reserved parsley sauce. Serve hot.