Drinks
Once Upon a Paris Bar
Honey, pear, and Irish whiskey take the lead in this Dublin take on the classic sidecar cocktail.
Serves

serves 1

Cook

5 minutes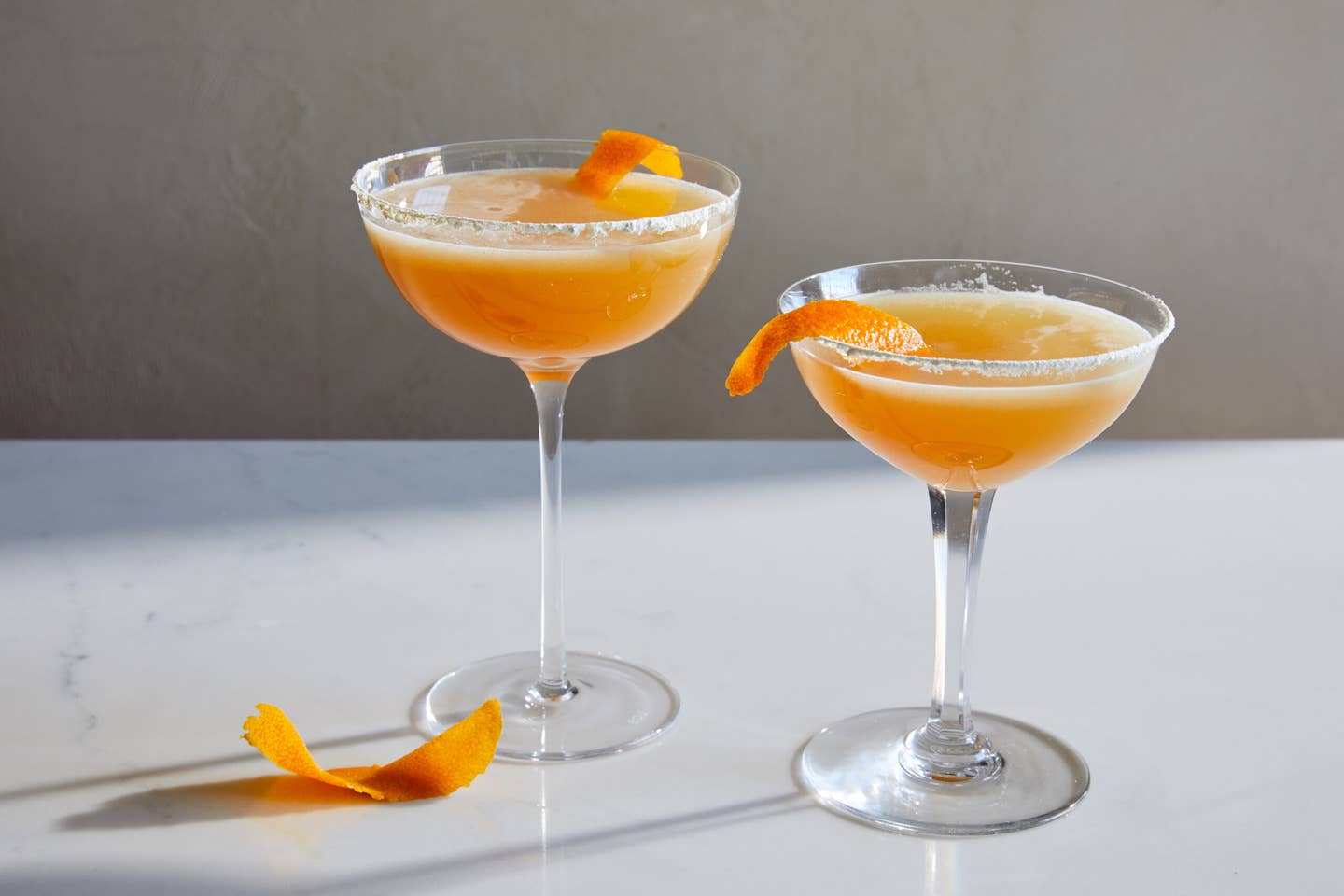 This is an Irish take on the classic triple sec-and-cognac sidecar cocktail, first credited to the Ritz Hotel in Paris. The recipe, which is adapted from one served at the Sidecar Bar in Dublin, has a distinctive sweetness from locally sourced Wicklow honey and bee pollen. You can substitute a lightly floral honey with notes of lavender, nettle or heather; bee pollen is available in health food stores and online. Sidecar Bar head bartender Oisin Kelly suggests using Roe & Co. blended whiskey, which is distilled in a former Guinness Brewery powerstation.
Ingredients
½ cups honey
¾ cups plus 1 Tbsp. confectioners' sugar
2 tbsp. plus 1 tsp. bee pollen
1 tbsp. plus 2 tsp. superfine sugar
2½ tsp. citric acid
1 tsp. baking soda
1½ oz. Roe & Co. blended whiskey
¾ oz. Grand Marnier
¾ oz. fresh lemon juice
¾ oz. pear juice
Wide strip of orange peel, for garnish
Instructions
Step 1
Make the honey syrup: To a small glass, add the honey and a ¼ cup of boiling water. Stir until the honey is dissolved. Set aside to cool to room temperature.
Step 2
Make the bee pollen sugar: To a small spice grinder or large mortar and pestle, add the confectioners' sugar, bee pollen, superfine sugar, citric acid, and baking soda. Pulse or grind until the mixture has a powdery texture, then transfer to a small bowl or saucer. Moisten the rim of a chilled coupe glass on one side, roll the edge in the bee pollen sugar, and set aside. (Reserve the remaining rimming mixture for more cocktails.)
Step 3
To a cocktail shaker filled with ice, add the whiskey, Grand Marnier, lemon juice, pear juice, and ¼ oz. of the reserved honey syrup. Shake until chilled, then strain into the coup. Garnish with the orange peel, and serve immediately.