Recipes
Fried Sesame Balls With Sweet Red Bean Filling
This dim sum staple by Kristina Cho is both crunchy and chewy, with a sweet and creamy center.
Serves

12 balls

Cook

1 hour 25 minutes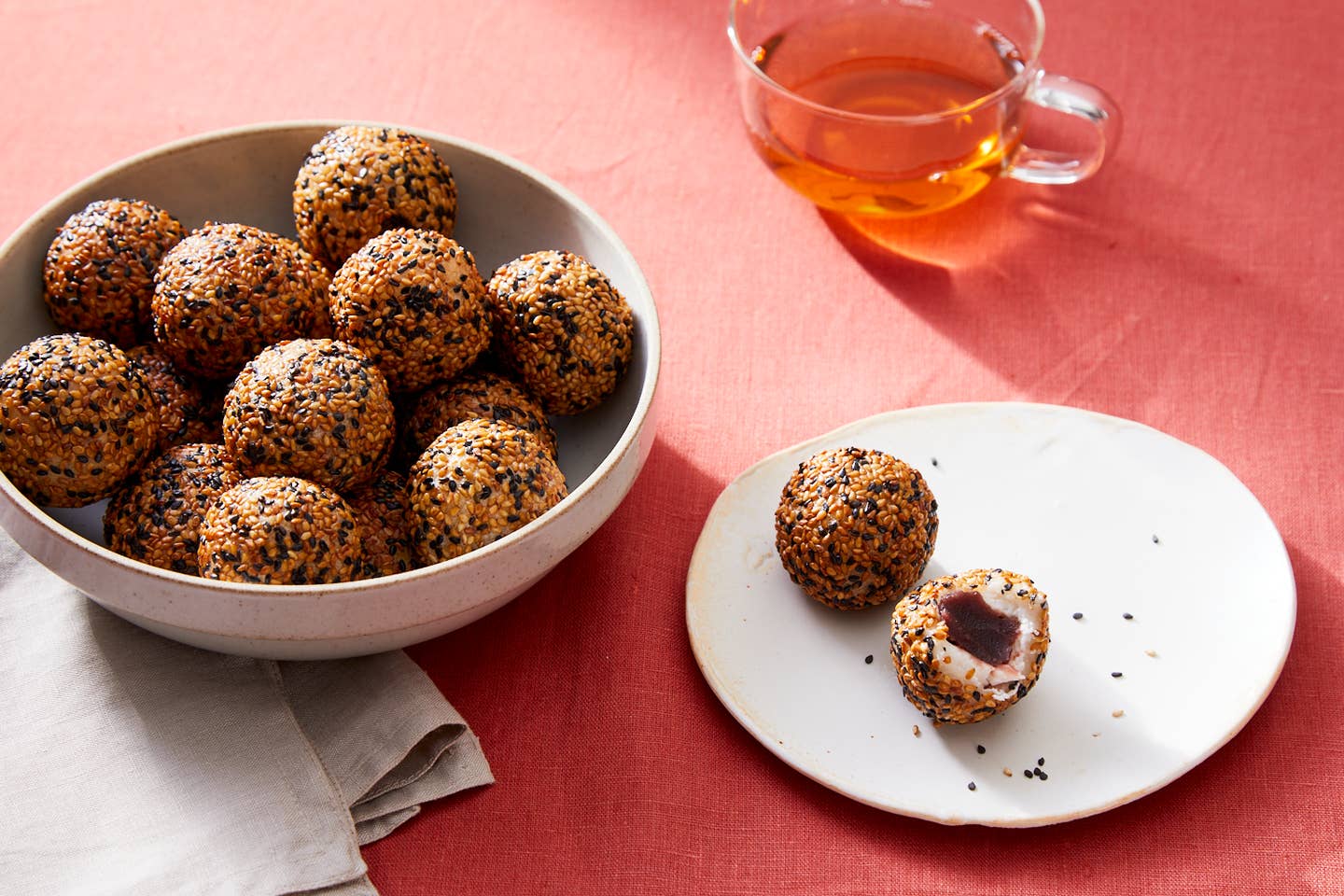 These traditional sesame balls are filled with sweet red bean paste and rolled in sesame seeds. While the treat can be found in Chinese bakeries and dim-sum restaurants year-round, it's considered particularly auspicious to serve them at home in celebration of the Lunar New Year. Round foods symbolize not only the moon, but also the gathering of families.
Ingredients
For the red bean paste:
¼ cups dried red azuki beans, picked over and rinsed
¼ cups sugar
¼ cups canola oil, divided
For the dough:
1 cup glutinous rice flour
½ cups sugar
Canola or other neutral oil, for frying
For the coating:
1 tbsp. glutinous rice flour
⅓ cups white sesame seeds
⅓ cups black sesame seeds
Instructions
Step 1
Make the red bean paste: To a medium bowl, add the beans and enough water to cover by 4 inches. Refrigerate for at least 8 and up to 24 hours.
Step 2
Drain the beans, discarding their soaking liquid. Rinse well, then transfer to a small pot. Add enough cool water to cover by 2 inches, set over medium heat, bring to a boil, then lower the heat to simmer and cook, stirring occasionally, until the beans are tender, about 40 minutes. Place a sieve in the sink and drain the beans, discarding their cooking liquid. Rinse and drain well, then transfer to a small food processor. Add the sugar then process to a smooth purée.
Step 3
Transfer the bean paste to a small skillet and set over medium-low heat. Add 2 tablespoons of the oil and cook, stirring and scraping the bottom of the skillet frequently with a silicone spatula until smooth, about 2 minutes. Add the remaining oil and continue cooking, stirring frequently, until the paste is darker in color and the oil is completely incorporated, about 10 minutes. Transfer to a heatproof container and set aside to cool to room temperature. Use immediately or cover tightly and refrigerate for up to 2 weeks or freeze for up to 3 months.
Step 4
To a medium bowl, add the flour and set aside. To a medium pot over medium-high heat, add the sugar and ½ cup of water; bring to a simmer, stirring occasionally until the sugar dissolved, about 2 minutes. Immediately pour the sugar syrup into the flour. Using a silicone spatula, stir the mixture until a shaggy dough forms. Set aside until cool enough to handle, about 10 minutes.
Step 5
Knead the dough in the bowl until it is smooth, about 5 minutes. Cover with plastic wrap and set aside until cooled to room temperature, about 30 minutes.
Step 6
Turn the dough out onto a clean work surface, then use a knife or a bench scraper to divide it into 12 equal pieces. Using your hands, roll each piece into a smooth ball (cover the dough balls with a clean kitchen towel as you work to prevent them from drying out).
Step 7
Using a rolling pin, roll one ball out to a 3-inch circle. Spoon a tablespoon of the reserved bean paste in the center, then pull the edges of the dough up and around the filling, pinching the seams together to seal. Cently roll the filled dough in the palm of your hand to form a smooth ball, then transfer to a baking sheet. Repeat with remaining dough and bean paste.
Step 8
Into a medium pot, pour oil to a depth of 2 inches. Attach a deep-fry thermometer, and turn the heat to medium-high. While the oil is preheating, set a wire rack over a rimmed baking sheet and set it by the stove.
Step 9
Meanwhile, make the coating: In a small bowl, whisk together the rice flour and ½ cup of cool water. In a second small bowl, stir together the white and black sesame seeds. Dip each dough ball into the flour-and-water mixture and then roll in the sesame seeds, shaking off any excess.
Step 10
When the thermometer reads 360°F, fry the balls: Using a slotted spoon or spider skimmer and working in batches of four or five to avoid overcrowding the pot, drop the balls gently into the oil and cook, turning frequently, until evenly golden brown, about 5 minutes. Transfer to the wire rack while you finish cooking the rest. Serve warm or at room temperature on the same day as frying.