With Courage and Confidence, Bring Good Fortune to Your Table for the Lunar New Year
Celebrate the Year of the Tiger with the most auspicious of dishes.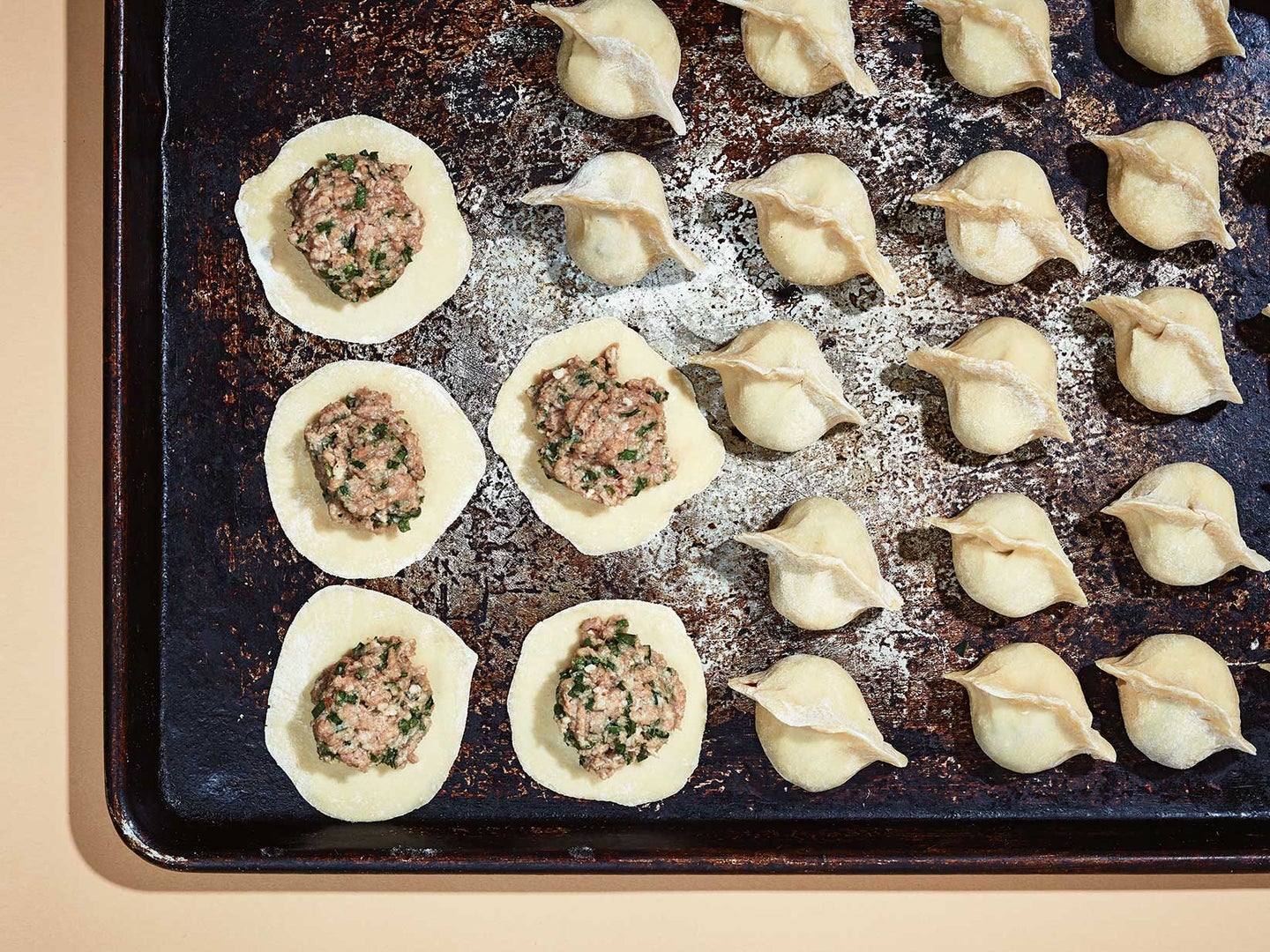 While often referred to as the "Chinese New Year" for its connection to the Chinese lunisolar calendar, the Lunar New Year is actually observed throughout much of Asia, including Korea, Singapore, and Vietnam, just to name a few, making it one of the largest celebrations in the world. As families and friends gather to exchange wishes for good fortune and cash-filled red envelopes, they also enjoy a wide range of foods intended to usher in prosperity and health in the coming year. Noodles like changshou mien are stretched as long as possible, representing longevity. Steamed whole fish, which signifies abundance, almost always centers the table. And sticky rice cakes, or nian gao, are a homonym in Mandarin Chinese for the alternately intonated "nian gao" which means to grow every year, a sweet way to usher in prosperity. The Year of the Tiger is approaching fast so celebrate with the most auspicious and fierce of spreads.
The go-to Chinese filling: juicy pork mixed with the fresh onion flavor of garlic chives. Try to find a fatty blend of ground pork; it will improve the filling's flavor and juiciness. Chopped garlic chives, which have a peppery raw-garlic flavor, and fresh ginger cut through the rich meat. Make sure the dumplings are completely sealed and devoid of air bubbles to prevent any leaks during boiling. This recipe is adapted from The Dumpling Galaxy Cookbook. Get the recipe >
Cornstarch adds a silkiness to bao dough, mimicking the bleached, low-protein flour commonly used in Chinese bakeries (but harder to find in supermarkets). Lard adds tenderness, richness, and a subtle porky finish to this fluffy addition to your Chinese New Year recipes. Get the recipe >
At Nom Wah Tu restaurant in New York City, chef Jonathan Wu removes all of the bones from whole fish before steaming and serving it family style. Bones or not, remember to transport the fish carefully once cooked, since the meat will be very delicate and flaky. "It's also important to leave leftovers for the next day," Wu says, "because this signifies that prosperity will overflow [into the new year]." Get the recipe >
This recipe employs a "reverse" stir-fry technique, in which the vegetables are cooked before the meat. It tends to be forgiving for a novice stir-fryer, since vegetables release water as they cook and won't stick the way that meat will if the wok isn't quite hot enough. Get the recipe >
Peanut butter, sesame paste, and chile-garlic paste combine to make a silky, savory sauce for these noodles—a Chinese-American restaurant staple. Chopped peanuts and a flurry of slivered cucumber and carrot add crunch. Get the recipe >
A Chinese New Year treat, these daikon and rice flour cakes are flavored with savory dried sausage and served with a spicy hoisin sauce. Get the recipe >
In Japan, China, and many other Asian countries, tradition calls for eating long noodles, which signify longevity, on New Year's Day. This ginger scallion sauce from NYC restaurant Momofuku is the perfect bright and spicy condiment for a bowl of lucky noodles. Get the recipe >
This chewy steamed cake, with flavors of almond and caramel, is traditionally eaten for the Lunar New Year. Eat it warm or let the cake cool completely, then cut into slabs, batter with beaten egg, and fry them until crisp. Get the recipe for Sticky Rice and Almond Cake (Nian Gao) »
Originally from rural northern Vietnam, this dish was traditionally cooked in a clay pot. Get the recipe >
Like a tropical version of mochi, these chewy rice cakes, often eaten on sweltering Hainan days with a tall glass of coffee, hold a brown sugar and coconut filling. Get the recipe >
To form single-bite wontons, be sure to restrict the filling amount to 1 teaspoon. (This recipe includes a few extra wonton wrappers in case of breakage or dryness.) Keeping the pork well-chilled will help you cut it into the required fine texture for the filling. Get the recipe >