Georgian Roast Chicken With Bazhe Sauce
A simple, juicy bird shines alongside this richly spiced walnut gravy.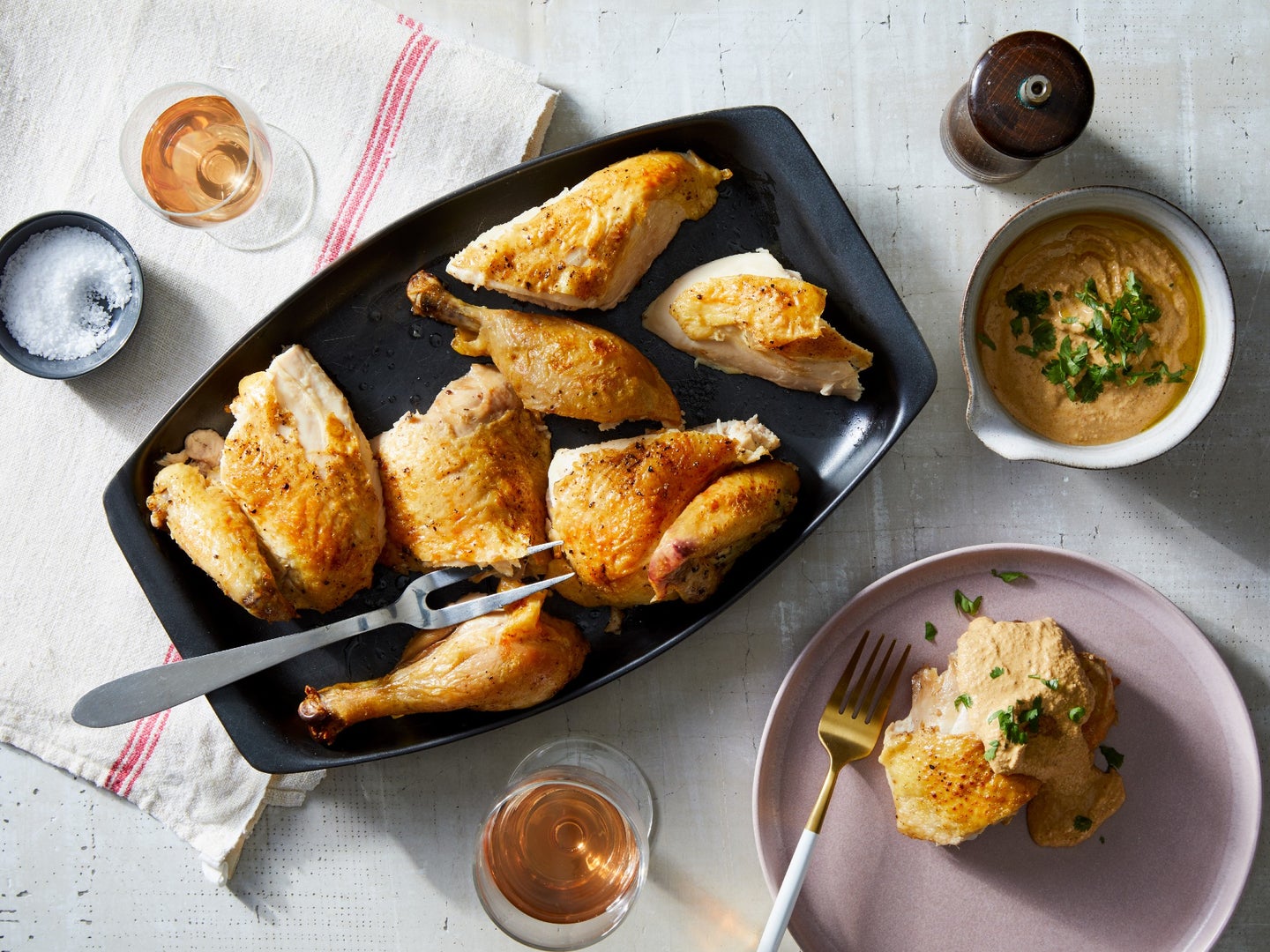 Bazhe is a velvety, coriander-scented walnut sauce that's a staple of Georgian home cooking. In Georgia you'll often find it served chilled as a sidekick to cold boiled chicken, but we love it even more alongside a freshly roasted bird. The heat draws out the spices' bouquet and the walnuts' fragrant oils. Dribble walnut oil over the sauce for extra decadence. 
This recipe is adapted from a dish made by Meriko Gubeladze, chef of Ninia's Garden and Shavi Lomi in Tbilisi, Georgia.
Featured in: "The Walnut Whisperers of Georgia."
Yield: serves 4
Time: 1 hours 15 minutes
Ingredients
One 3–4 lb. chicken
Kosher salt and freshly ground black pepper
2 tbsp. vegetable oil
1 large onion, thinly sliced (3 cups)
2½ cups (10 oz.) walnuts, lightly toasted
1 tbsp. plus 2 tsp. fresh pomegranate juice
1 tbsp. plus 2 tsp. white wine vinegar, plus more as needed
1 medium garlic clove, peeled
1½ tsp. ground coriander seed, preferably Georgian
¾ tsp. ground fenugreek, preferably Georgian blue fenugreek
¾ tsp. ground dried marigold petals (aka Georgian "saffron"), or ¼ tsp. ground turmeric
¾ tsp. Aleppo pepper or crushed red chile flakes
Walnut oil, for garnish (optional)
Instructions
Preheat the oven (with one of its racks positioned in the center) to 375°F. Using paper towels, pat the chicken dry and season generously inside and out with salt and black pepper. Place the chicken breast side up on a large, rimmed baking sheet, then transfer to the oven and cook until the skin is crispy, the juices run clear, and a thermometer inserted between the breast and the thigh reads 165°F, about 1 hour. Set aside to rest at room temperature for 10 minutes before carving.
Meanwhile, prepare the bazhe sauce: To a small skillet over medium-high heat, add the vegetable oil. When it's hot and shimmering, add the onion and cook, stirring frequently, until softened and just beginning to brown, 7–8 minutes. Lower the heat to low, partially cover with a lid, and continue cooking the onions, stirring occasionally, until deep brown and jammy, about 20 minutes. Remove from the heat and set aside.
To the bowl of a food processor, add the walnuts, pomegranate juice, vinegar, garlic, coriander, fenugreek, marigold, Aleppo pepper, reserved onions, and 1¼ cup cold water. Blend thoroughly, pouring in additional water by the tablespoon as needed to achieve a smooth sauce with the consistency of a thick gravy. Season to taste with salt and additional vinegar, then transfer to a serving bowl and drizzle with walnut oil, if desired.
Carve the reserved chicken and transfer the pieces to a platter. Serve with the bazhe sauce on the side.